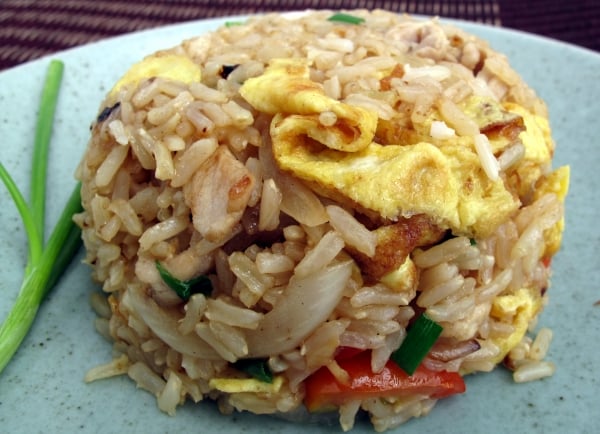 Thai name: Khao Pat Moo Fried rice may seem like a common food across Asia, but like everything else the Thais bring their own special tastes to the style of cooking. Even something as seemingly simple as pork fried rice has a uniquely Thai twist. Thai fried rice is a simple yet satisfying dish. It's perhaps one of the first dishes any tourist learns to order. Even after all these years, I still enjoy this basic dish.
Read More…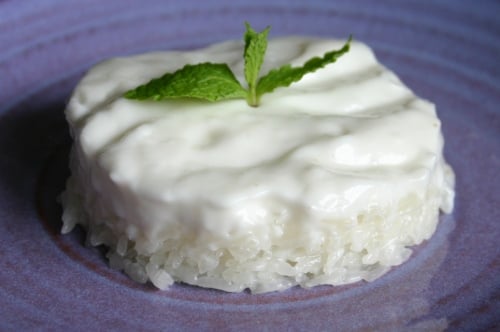 Credit where it's due: I got the idea for this dessert from Thai Airways. They served it on one flight, and I though it was a great simple idea that combined two of my favorites: sweet sticky rice and coconut cream topping. Sweet sticky rice is usually made with palm sugar, but I like the crisp whiteness that using fine white sugar gives this dish. As a variation, you can try adding a tablespoon of pandan flavoring to the sticky rice layer, which will give it a light green color, like fine jade.
Read More…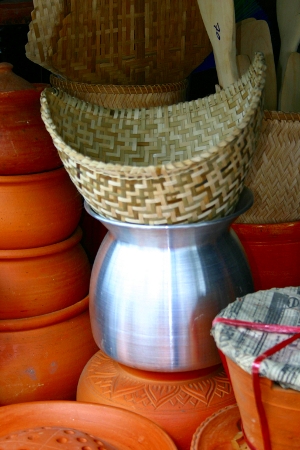 A traditional set for steaming sticky rice. Sometimes there's a trick to preparing certain foods, or ingredients. It may be as simple as knowing how long to soak rice before cooking, or maybe it's something more complicated, like the best utensils to use for steaming sticky rice. This category of articles is where you'll find all the tips and tricks I've learned over the years. Check the list below for suggestions on how to prepare certain ingredients.
Read More…