Pork Fried Rice
Thai name: Khao Pat Moo
Fried rice may seem like a common food across Asia, but like everything else the Thais bring their own special tastes to the style of cooking. Even something as seemingly simple as pork fried rice has a uniquely Thai twist.
Thai fried rice is a simple yet satisfying dish. It's perhaps one of the first dishes any tourist learns to order. Even after all these years, I still enjoy this basic dish. It's an easy choice when nothing else on a menu appeals, and curiously, khao pat is one of the more consistent things you can order in Thailand. Where-ever I travel in the country, I can be relatively sure of getting almost exactly the same thing.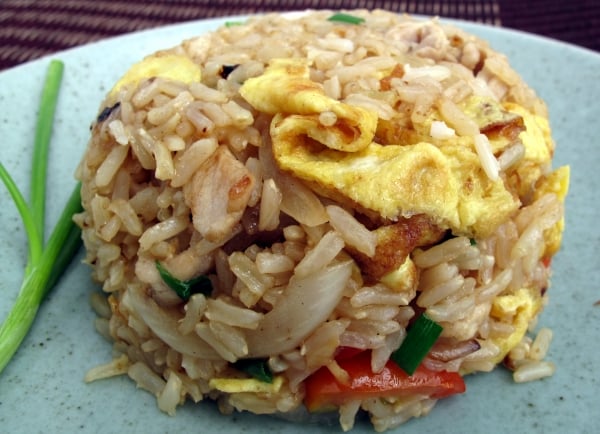 A note about 'molding' may be in order: It seems to be a common thing to serve rice 'molded' by pressing it into a rice bowl and then tipping it onto a plate. It does look neat, and some places use fancier molds, like hearts and teddy-bear shapes. I suspect this is a relatively modern practice, which may be borne in part from a need for portion control.
Ingredients
Servings: 2
3

/

4

cup cooked
White rice
2
oz cut in bite-sized pieces
Pork tenderloin
1
large
Egg

1

/

4

cup quartered
Tomatoes
1
tbsp chopped
Onions

1

/

2

tbsp chopped
Spring onions
1
tsp chopped
Garlic

1

/

2

tsp
Sugar
1
tbsp
Soy sauce
3
tbsp
Vegetable oil
Preparation
Heat the oil in a wok. When hot, add the garlic and stir-fry until fragrant.
Add the pork and stir-fry until cooked through.
Break the egg into the wok and scramble it for just a moment, then add the tomatoes and onion. Stir-fry for just a few seconds and then add the rice. Mix everything thoroughly.
Season with the sugar and soy sauce. Continue to stir-fry to mix, then add the spring onions stir-fry until cooked.
Fried rice is usually served with a wedge of lime, and perhaps a spring onion and slices of cucumber.
Of course, fried rice is also accompanied with some sliced mouse dropping chillies in fish sauce to allow you to turn up the heat of this otherwise mild dish.
Nutrition Facts

Servings Per Recipe 2

Amount Per Serving
Calories 587
Calories from Fat 230
Total Fat 26g
39%
Saturated 3g
15%
Cholesterol 148mg
49%
Total Carbohydrate 60g
20%
Dietary Fiber 1g
5%
Sugars 2g
Protein 27g