Garlic-Pepper Fried Pork
This has to be one of the most common dishes in Thailand, from food stalls to fancy restaurants. Some variation of this recipe will appear very regularly at the curry stalls, often several times a week. The dish is easy to prepare and can be made hours in advance, since it is quite acceptable to serve at room temperature.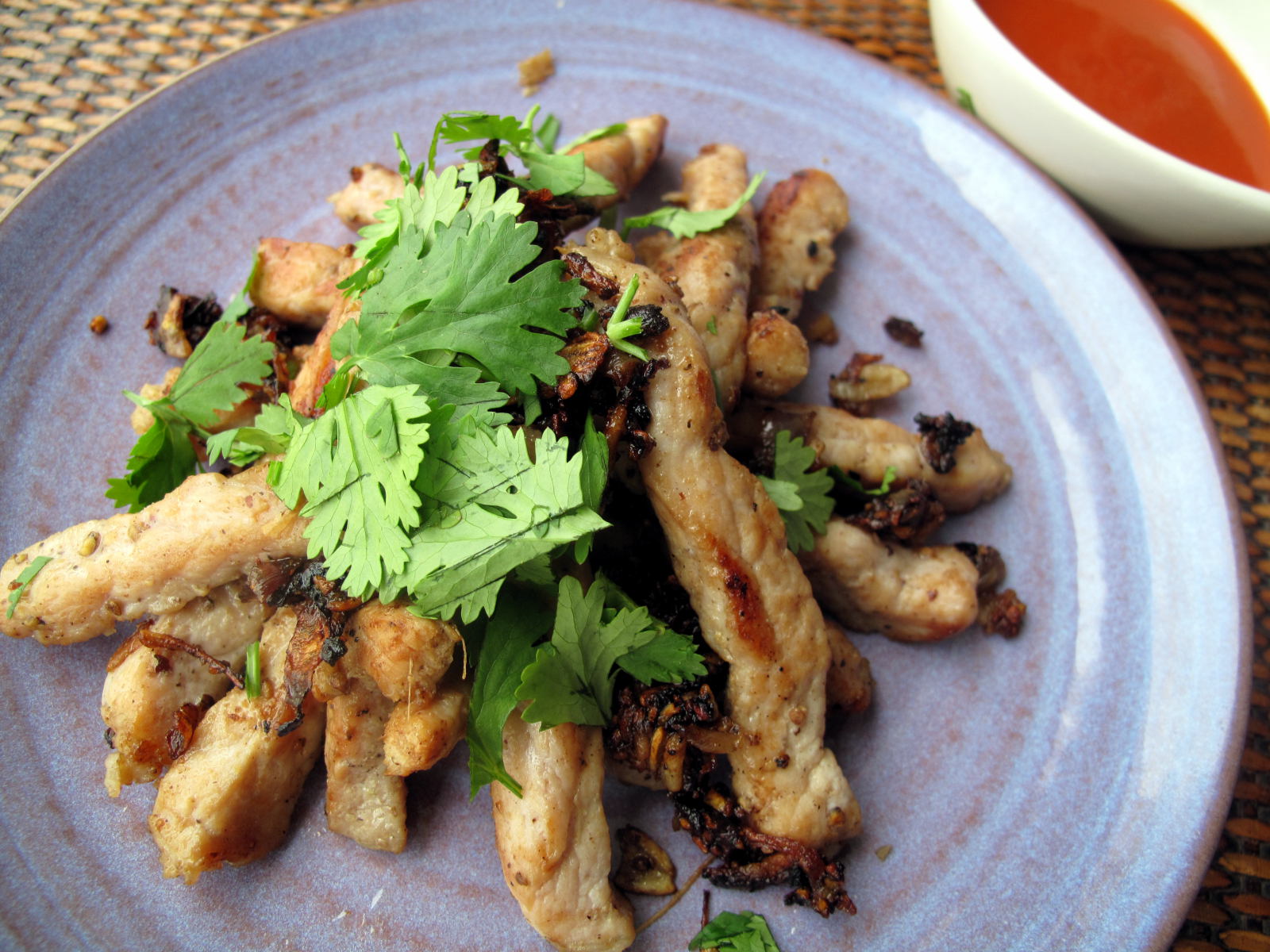 Fried garlic-pepper pork also does double duty. It can be eaten with a main meal, but is often ordered as a snack, especially at night, when the spicy meat makes a great accompaniment to beer and other drinks. Although the dish can sometimes be served 'wet' the more common presentation is quite dry, which makes it easier to eat with your fingers.
Fried garlic-pepper pork is almost always served with a ketchup-like chili sauce. This can either be what is properly called Sri-Racha sauce, or the easier to find chili-ketchup.
Ingredients
Servings: 4
| | | |
| --- | --- | --- |
| 1 | lb cut in strips | Pork tenderloin |
| 2 | tbsp chopped | Shallots |
| 15 | grams About 3 roots | Coriander Roots |
| 6 | cloves a whole bulb's worth, peeled | Garlic |
| 1 | tsp, whole | Black pepper |
| 3 | tbsp | Soy sauce |
| 3 | tbsp | Vegetable oil |
Preparation
Grind together the shallots, coriander roots, garlic and peppercorns.
Stir in the white soy sauce, then pour the mixture over the sliced pork. Stir to make sure the pork is completely coated.
Marinate the pork for about 30 minutes, then stir-fry it until golden brown.
I've long suspected that some restaurants and stalls deep-fry the pork to get it almost crispy on the outside. If you try that method, be sure to drain it well before serving. It another good reason for making it well ahead of time.
Nutrition Facts

Servings Per Recipe 4

Amount Per Serving
Calories 248
Calories from Fat 116
Total Fat 13g
20%
Saturated 2g
8%
Cholesterol 74mg
25%
Total Carbohydrate 7g
2%
Dietary Fiber 1g
3%
Sugars 1g
Protein 26g