Pork Omelet
This "omelet" made with minced pork is a common accompaniment to many Thai meals. In Thai, it's called Kai Geeo Moo Sup. Its mild taste helps to balance a meal where many of the other dishes are quite spicy. You may wish to use a skillet instead of a wok to cook this recipe, since that will make it easier to make the omelette into a thin flat disc. It should be about the size of a dinner plate and about the thickness of your finger. The dish is invariably served with a spicy ketchup called Sri Racha sauce.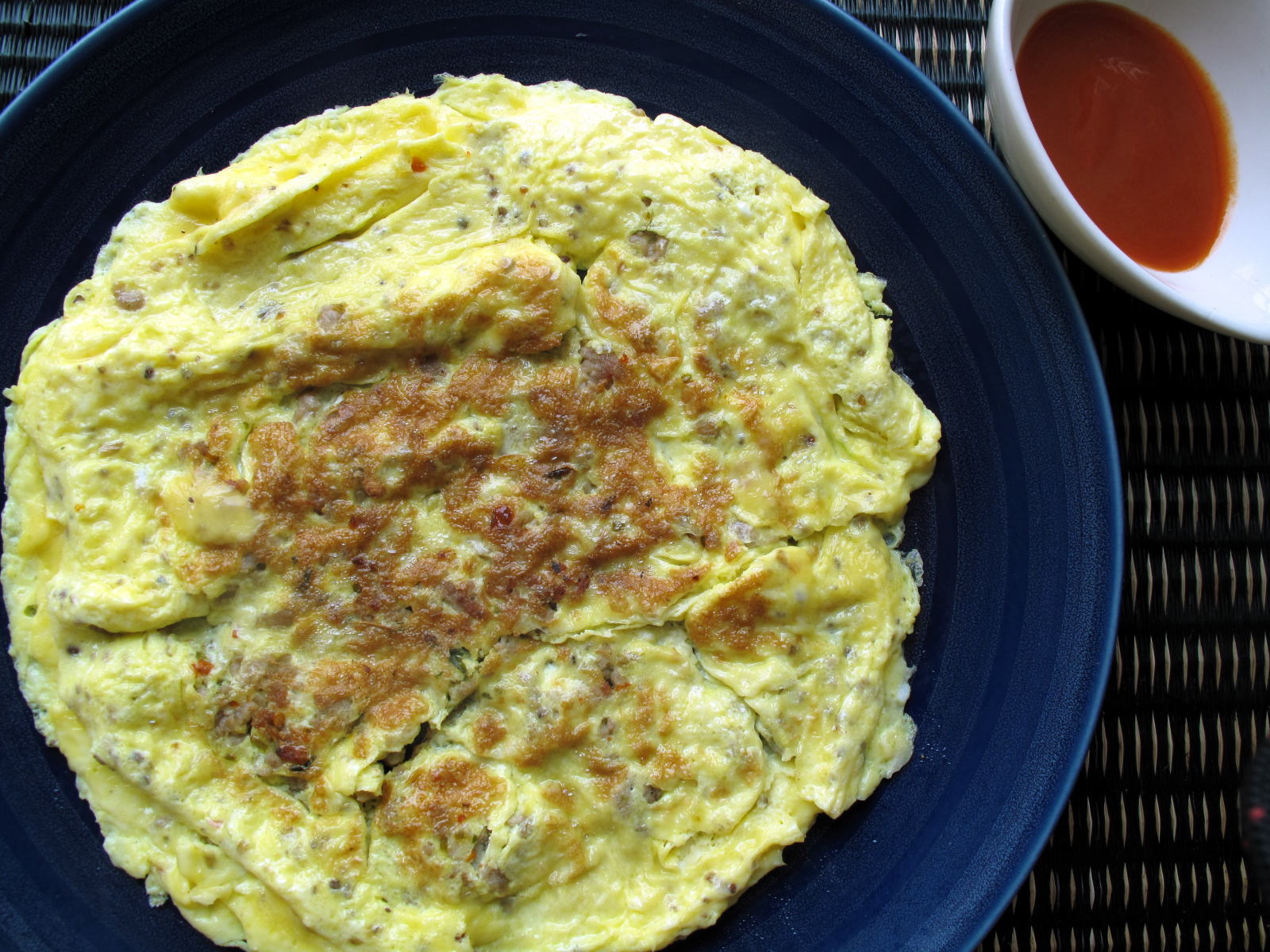 Ingredients
Servings: 4
3
large
Egg
1
oz (3 tbsp)
Pork, fresh, ground, raw
1

1

/

2

tsp chopped
Garlic

1

/

2

tbsp, ground
Black pepper

1

/

2

tsp
Salt
1
tbsp
Vegetable oil
Preparation
Grind the garlic and black pepper together.
Crack the eggs into a bowl. Add the garlic-pepper mixture and salt. Beat until thoroughly mixed.
Heat a wok over medium heat. Add a generous amount of oil, and when hot toss in the ground pork and stir it until well browned.
Reduce heat to medium and pour in the egg mixture directly into the center of the wok or frying pan.
Fry until the underside of the omelet is golden brown, then turn and fry the other side until golden.
Garnish with some chopped coriander and serve with a chili sauce.
Variation: I like a little chopped coriander mixed in with the eggs.
Nutrition Facts

Servings Per Recipe 4

Amount Per Serving
Calories 106
Calories from Fat 77
Total Fat 9g
13%
Saturated 2g
10%
Cholesterol 145mg
48%
Total Carbohydrate 1g
0%
Dietary Fiber 0g
1%
Sugars 0g
Protein 6g