Pork Stir-fried with Long Beans
This is a very common Thai stir-fry that makes a frequent appearance, with variations, at many food stalls. Thai cooks will almost always use what translates to "three story pork" for the meat. This is pork meat with a bit of fat and inner skin layer still attached. Since this probably won't appeal to western palates, I've suggested pork loin as an alternative.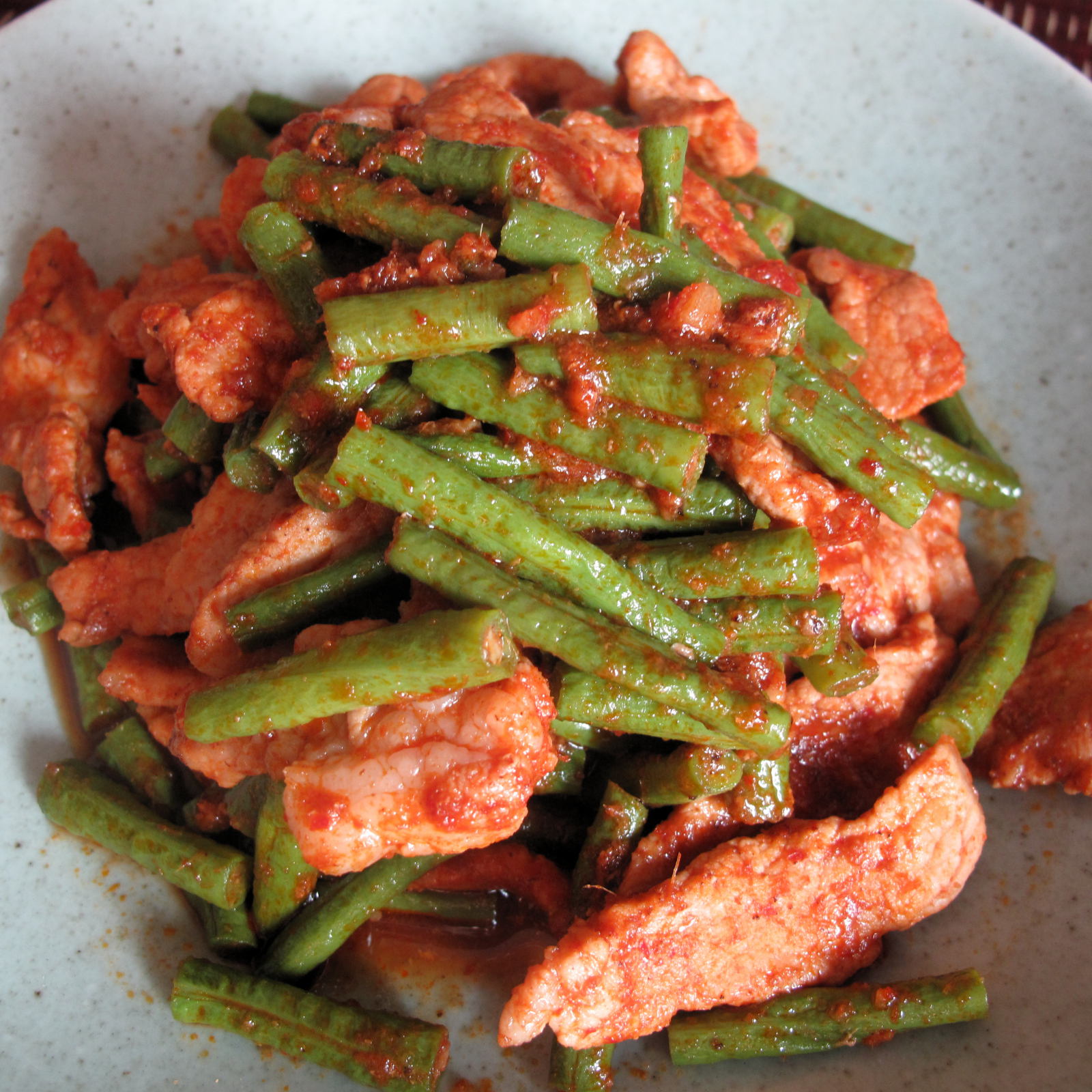 This recipe also calls for red curry paste - krueng gaeng ped - to be used. You should be able to find this in an oriental grocery, or use our recipe. You can of course use fresh string beans if long beans aren't available. If you can find real long beans, one thing some cooks like to do is tie the beans in a knot. Cut the beans in four to six-inch lengths and then just tie them in a knot. Long beans are flexible enough to do this. Regular string beans will snap if you try this.
Ingredients
Servings: 4
1

/

2

lb cut in bit-sized pieces
Pork tenderloin
10
pod parboiled
Yardlong bean
1
tbsp
Red curry paste
1
tbsp
Palm sugar
2
tbsp
Fish sauce

1

/

4

cup
Chicken stock
3
tbsp
Vegetable oil
Preparation
Fry the curry paste in the oil over medium heat until the paste releases its fragrance, add the pork and stir- fry until cooked.
Add chicken stock, sugar and fish sauce. Mix well. Add the yard-long beans and stir to mix.
The dish is typically garnished with a sprinkling of finely sliced red spur chili and shredded kaffir lime leaves.
Nutrition Facts

Servings Per Recipe 4

Amount Per Serving
Calories 190
Calories from Fat 106
Total Fat 12g
18%
Saturated 1g
6%
Cholesterol 37mg
12%
Total Carbohydrate 7g
2%
Dietary Fiber 0g
0%
Sugars 4g
Protein 14g