Red Pork
Thai name: Moo daeng
Chinese: Char siew
A collection of food stalls in most parts of Thailand would not be complete without a 'red pork' stall. Most of the time, it's a basic rice with red pork outlet, but sometimes you'll happen on a stall selling ba mee noodles with red pork, and on occasion you'll even find green coloured noodles called ba mee yok, or 'jade egg noodles'. They taste the same but look prettier, especially with the red pork on top.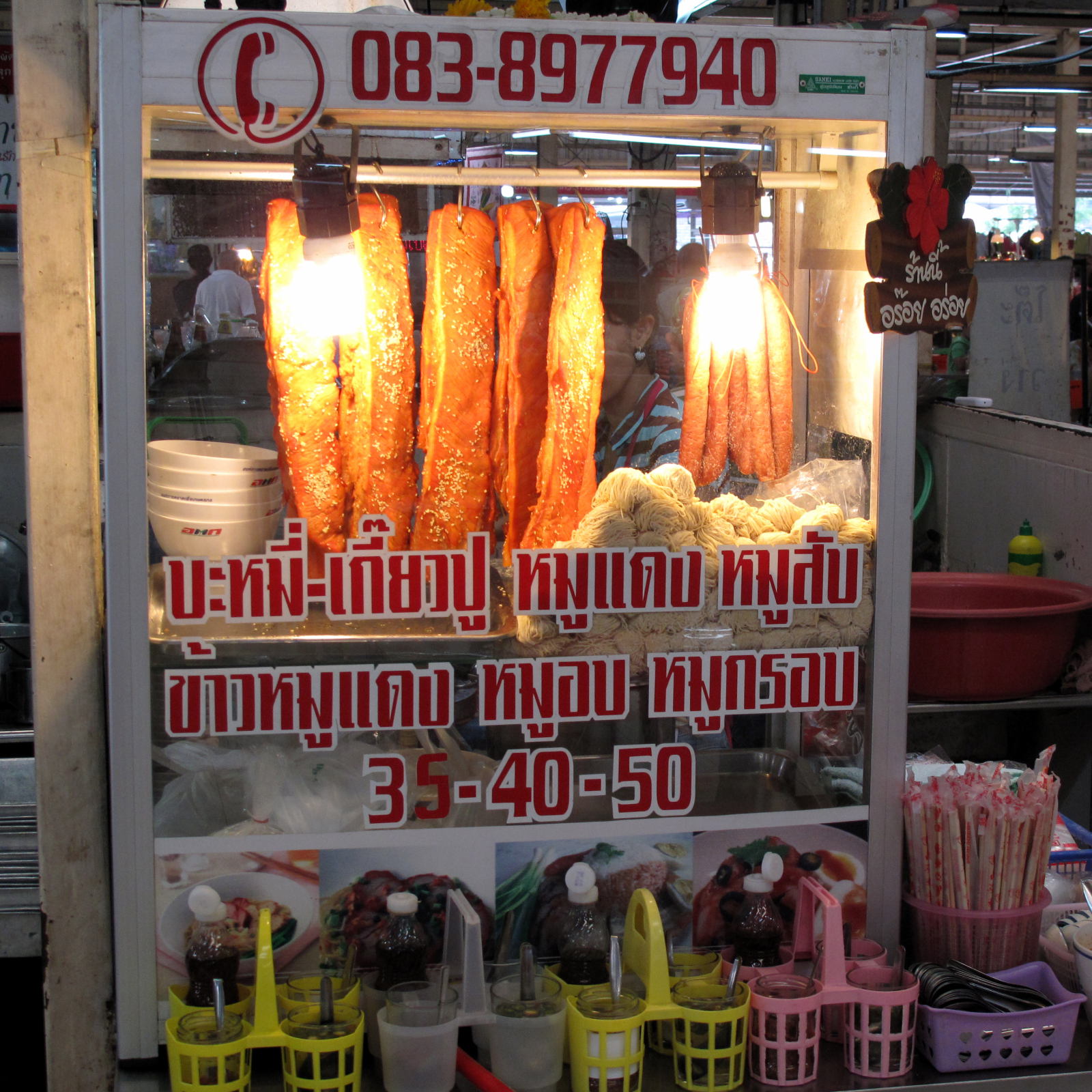 Red pork stalls are easy to spot, since the slabs of pork are usually hanging in a plastic case at the corner of the counter. The stalls are usually a simple production-line affair, since all of the basic components are prepared in advance. When a customer orders a plate, the stall owner will spoon some rice onto a plate, slice off some red pork from the slab and place the slices on the rice. Many stalls will also add some Chinese sausage (goon chieng) slices and some crispy fried pork to the red pork. Gravy is ladled over the rice and pork, and then a little chopped coriander is sprinkled over it all. Most stalls add a hard boiled egg to the side of the dish, along with some sliced cucumbers.
It's then up to the customer to season the dish to their taste. The one unusual and indispensable seasoning is a black chilli sauce made with sugar, black soy sauce and vinegar with fresh sliced chillies added. The sauce has a taste that comes close to molasses, but of course the chilli adds a whole new dimension.
Rice with red pork is a simple but satisfying dish. The pork and gravy over rice gives it a hearty 'meat and potatoes' feel, while the spicy, sweet and sour sauce gives it great tang. Granted, it's not the most calorie-conscious of meals, but all those complex carbohydrates will have your brain serotonin levels so high you won't care!
Most food stalls will buy their red pork and other meats already prepared from a supplier. But you won't have that luxury if you want to try this delicious and satisfying lunch. The recipe below will allow you to create a close approximation of the Thai meat. The pork is traditionally artificially colored. Originally a root called klang was used, but now most producers use food coloring.
Ingredients
Servings: 6
1
lb
Pork tenderloin

1

/

4

cup
Tomato sauce
1

1

/

2

cup
Water
4
tbsp
Soy sauce
2
tbsp
Sugar
1
tbsp
Flour
Preparation
The pork loin should be cut in strips about two inches wide and no more than one inch thick. Make sure the pork is dry and pierce it all over with a fork. If you want it to be completely authentic, work a few drops of red food coloring into the pork.
Stir together the tomato sauce, soy sauce and sugar. Pour over the pork and allow to marinate about two hours, turning occasionally to ensure the seasoning is evenly absorbed.
Transfer the pork and marinade to a heavy pot. Add the water and heat over a low flame. Cook until the liquid is reduced slightly and the pork is done, or if you prefer, transfer the pork to a medium oven once it is browned to bake through.
To finish the gravy, heat it over low heat and stir in the flour to thicken. You may adjust the seasoning if necessary.
Nutrition Facts

Servings Per Recipe 6

Amount Per Serving
Calories 113
Calories from Fat 16
Total Fat 2g
3%
Saturated 1g
3%
Cholesterol 49mg
16%
Total Carbohydrate 7g
2%
Dietary Fiber 0g
1%
Sugars 5g
Protein 17g