Pork Red Curry
Don't let the relative simplicity of the ingredients fool you, with the full compliment of fresh ingredients, this curry can be surprisingly complex. That said, finding fresh kaffir lime leaves and sprigs of green peppercorns is probably the biggest challenge you'll face in making this dish, and it really won't taste the same without them.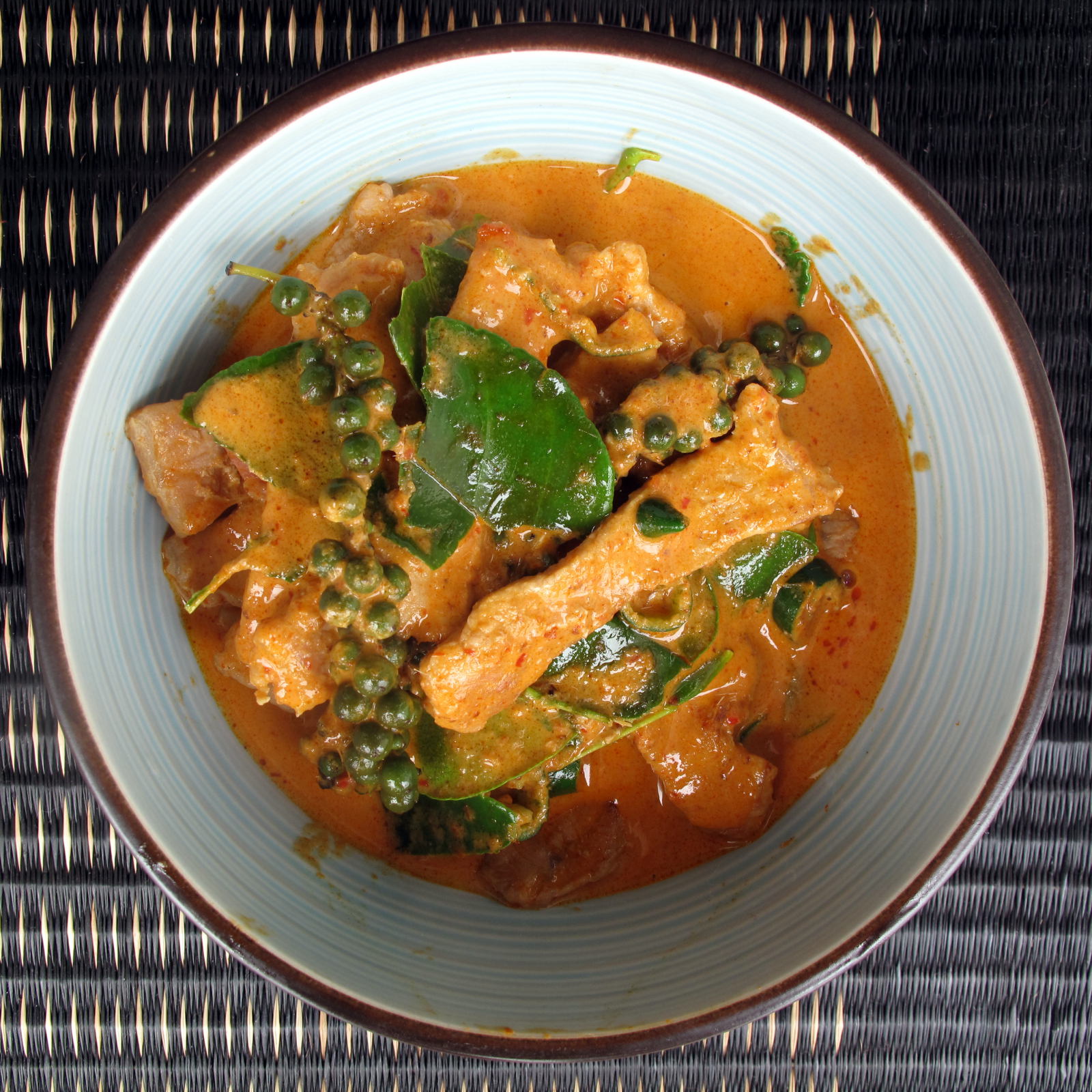 You'll want to tear the kaffir leaves before stirring them into the curry. Tearing seems to work much better than cutting for getting the leaves to release their flavor into the sauce.
You can make this curry with chicken or beef as well. Thai cooks will usually increase the sugar when cooking with beef.
Ingredients
Servings: 6
1
lb sliced
Pork tenderloin
15
grams tbsp
Red curry paste
1
tbsp
Vegetable oil
1
cup
Coconut Milk
1

1

/

2

tbsp
Fish sauce

1

/

4

tsp
Salt

1

/

2

tbsp
Sugar
1
tbsp (3 to 5 leaves)
Kaffir lime leaves
2
pepper thinly sliced
Red hot chilis (Thai)
3
sprigs (about 6 tbsp)
Green peppercorns
Preparation
Heat the vegetable oil in a wok over medium heat. Add the pork and red curry paste. Stir-fry until fragrant, about 5 minutes. Pour in half the coconut milk and continue cooking for another 10 minutes, stirring occasionally.
Once the pork is cooked through, add the remaining coconut milk, fish sauce, lime leaves, salt and sugar. Stir well and allow to come to a boil.
Add the chilies and green peppercorns. Stir well, then remove from heat.
Nutrition Facts

Servings Per Recipe 6

Amount Per Serving
Calories 211
Calories from Fat 109
Total Fat 12g
19%
Saturated 8g
39%
Cholesterol 50mg
17%
Total Carbohydrate 8g
3%
Dietary Fiber 0g
1%
Sugars 2g
Protein 17g