Pork with Lime Salad
This is one of my old favorites. The taste is rather unusual and quite extraordinarily spicy. I must admit to taking a bit of perverse pleasure in watching western visitors not familiar with Thai cuisine dig into moo manao on the assumption that a 'salad' - especially one served cool - will not be too spicy.
This recipe is extremely easy to make. You can prepare it first and set it aside while cooking a curry or other dish that should be served hot. This dish should be served with some raw 'cooling' vegetables to help take the heat off. Common choices are long beans and the stalks of Chinese kale.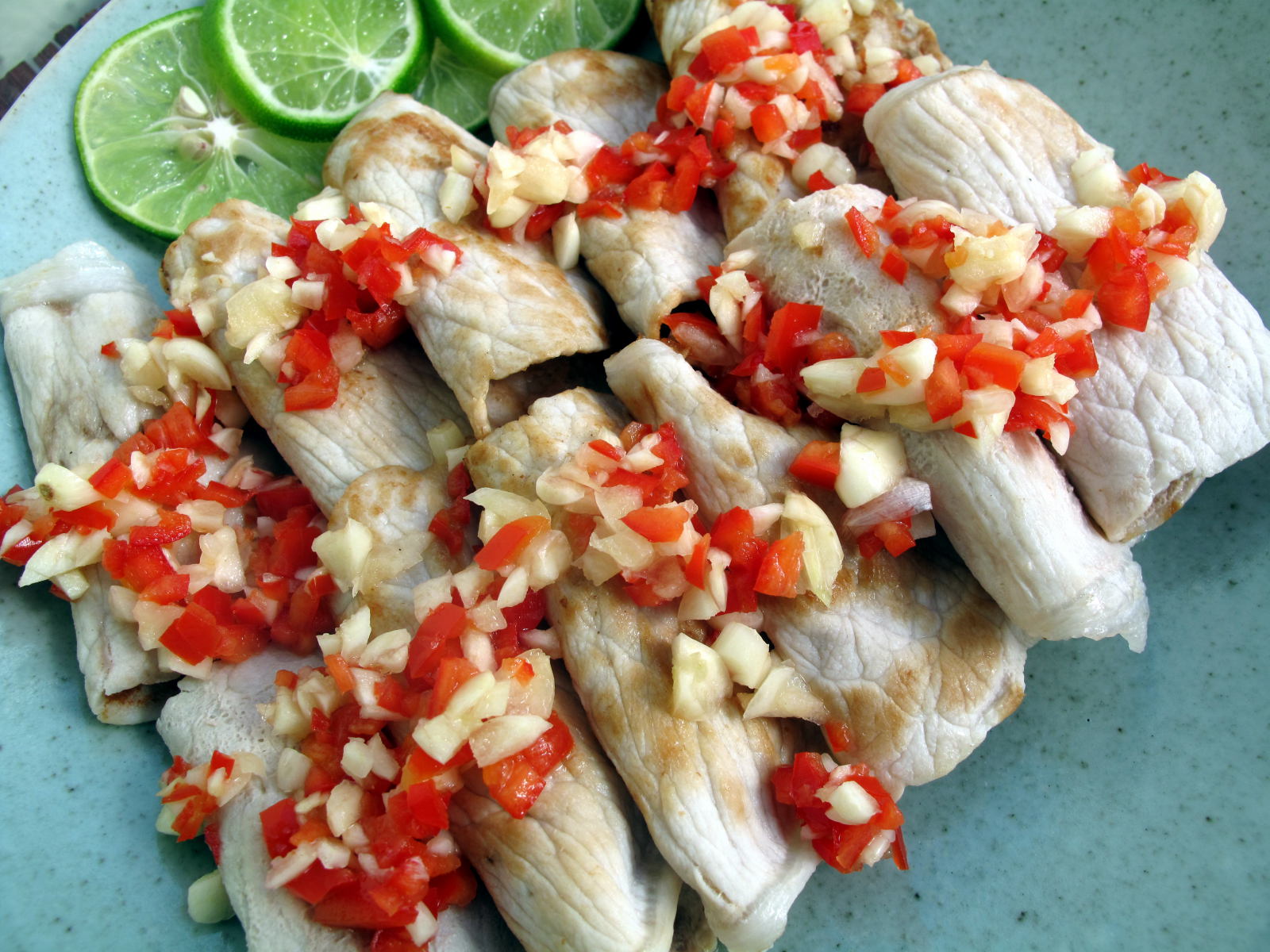 Ingredients
Servings: 4
| | | |
| --- | --- | --- |
| 6 | oz | Pork tenderloin |
| 2 | pepper finely chopped, about 2 tbsp. | Red hot chilis (Thai) |
| 2 | tsp minced | Garlic |
| 1 | tbsp | Sugar |
| 1 | tbsp | Fish sauce |
| 3 | tbsp | Lime juice |
Preparation
Grill the pork until cooked through, then slice about one centimeter / ¼ inch thick. Arrange the slices on a serving plate. For the dish in the photo, I went with an easier route of using pork that was already thinly sliced from my local Thai supermarket.
Grind the garlic and chillies together until well mashed. Mix in the sugar, fish sauce and lime juice.
Pour the spice mixture over the pork. Serve garnished with lime slices. Some cooks serve this cold, or even iced.
Nutrition Facts

Servings Per Recipe 4

Amount Per Serving
Calories 167
Calories from Fat 26
Total Fat 3g
4%
Saturated 1g
5%
Cholesterol 83mg
28%
Total Carbohydrate 7g
2%
Dietary Fiber 0g
2%
Sugars 5g
Protein 28g