Floating Lotus
Among Thais as well as expats around Thailand, this dessert called Bua Loy in Thai is definitely a favorite. It's surprisingly simple to make, although it does take some time.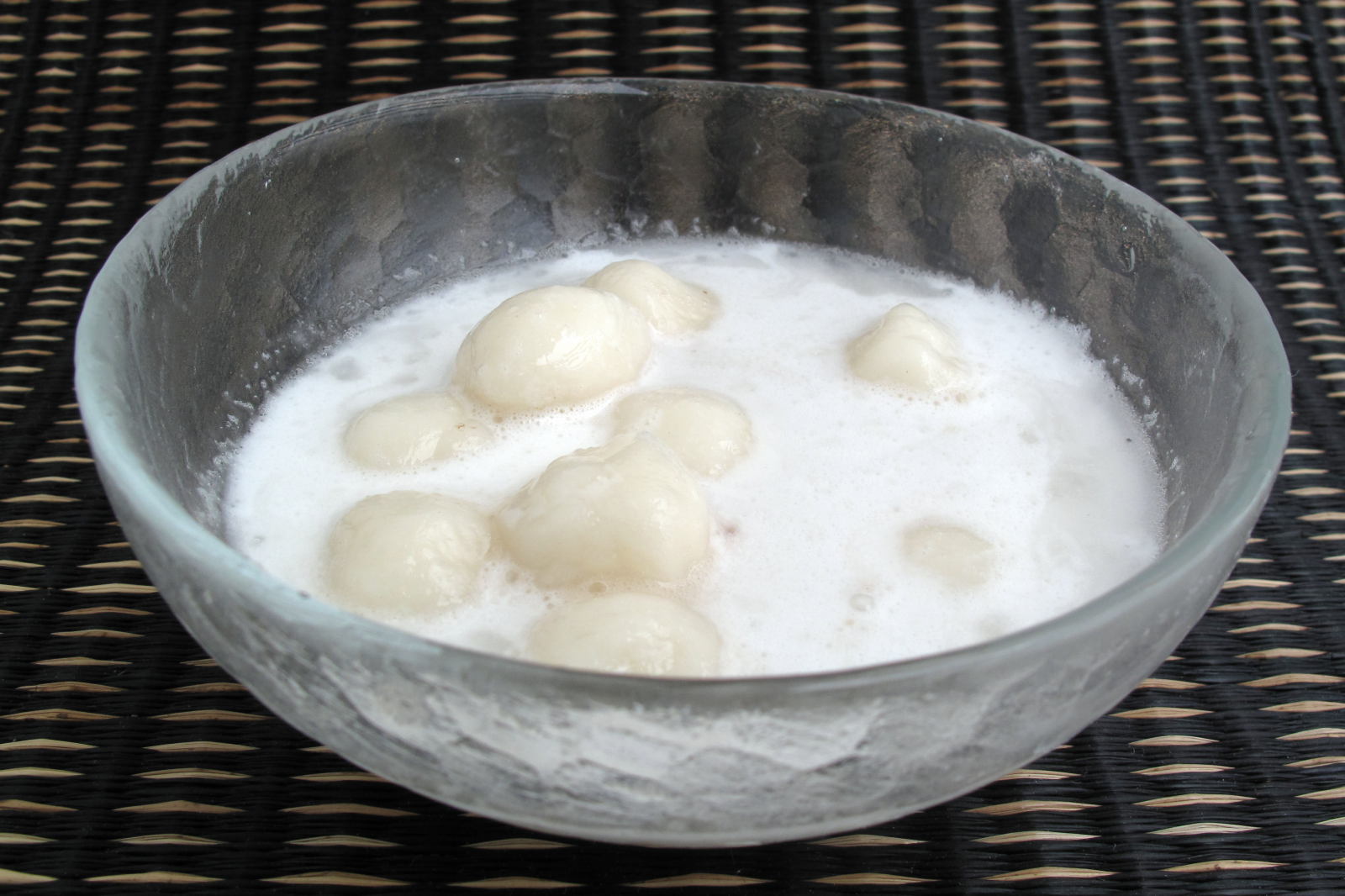 The taro is not a traditional addition to this dessert, but I had some left over from another dish and found it was a good fit. Taro in sweet coconut milk is a common enough thing, so this is like combining the two. I've also been served this dish with some diced water chestnut added, which is also very good.
The cinnamon is definitely non-traditional, as Thais never use it in sweets, thinking it's just for savory dishes. However, I find it adds a nice aroma to the dish. Clove or crystallized ginger might also be interesting alternatives.
Ingredients
Servings: 6
1
cup
Coconut cream

1

/

2

tsp
Salt
1

1

/

2

cup
Coconut Milk
1
cup
Sugar
1
cup, sliced optional
Taro, raw
1
cup
Sticky (glutinous) rice flour

1

/

4

cup
Water
2
tbsp (2 sticks) Optional
Cinnamon
Preparation
Stir together the coconut cream and salt and set aside.
Stir the sugar into the coconut milk in a saucepan. Heat to boiling, and then pour into a serving dish.
If using taro, cook it in boiling water for 5 to 10 minutes, and then add it to the prepared sweet coconut milk.
Slowly work the ¼ cup water into the sticky rice flour. You may need to add a little more water to get a paste that's about the same consistency as modeling clay. Form the paste into small balls about half an inch in diameter.
Heat a large pot of water to boiling. If using cinnamon, break up the sticks and add them to the water. When it reaches a roiling boil, drop the rice balls into the water one-by-one. The balls will sink when you drop them in, but float to the surface when cooked. Remove the balls as they're cooked and add them to the coconut milk.
Before serving, spoon the coconut cream over the top of the dessert.
This dish should be served at room temperature or warmer. It does not refrigerate well, as the sticky rice flour balls will get hard, and even warming the dish up in a microwave won't get them completely soft again. Also note that the balls will get
very
sticky if allowed to dry even a little bit, so be sure to transfer them from the cooking pot right into the sweet coconut milk.
Nutrition Facts

Servings Per Recipe 6

Amount Per Serving
Calories 495
Calories from Fat 237
Total Fat 26g
41%
Saturated 23g
116%
Cholesterol 0mg
0%
Total Carbohydrate 65g
22%
Dietary Fiber 4g
15%
Sugars 33g
Protein 5g