Black Rice Pudding
Black rice pudding is a relatively common dessert in Thailand as well as Indonesia. It is a very warming dish, so it is usually more easily found in the cool season. The naturally sweet taste of the rice is why you find it used in desserts rather than served with main courses. Black rice has a well deserved reputation for taking forever to cook, since it's a more 'natural' grain with a strong husk. However, I've found that if I soak the rice for much longer than just the 'overnight' usually recommended, it reduces the cooking time considerably. Soaking the rice about 36 hours allowed me to cook the rice in just around an hour.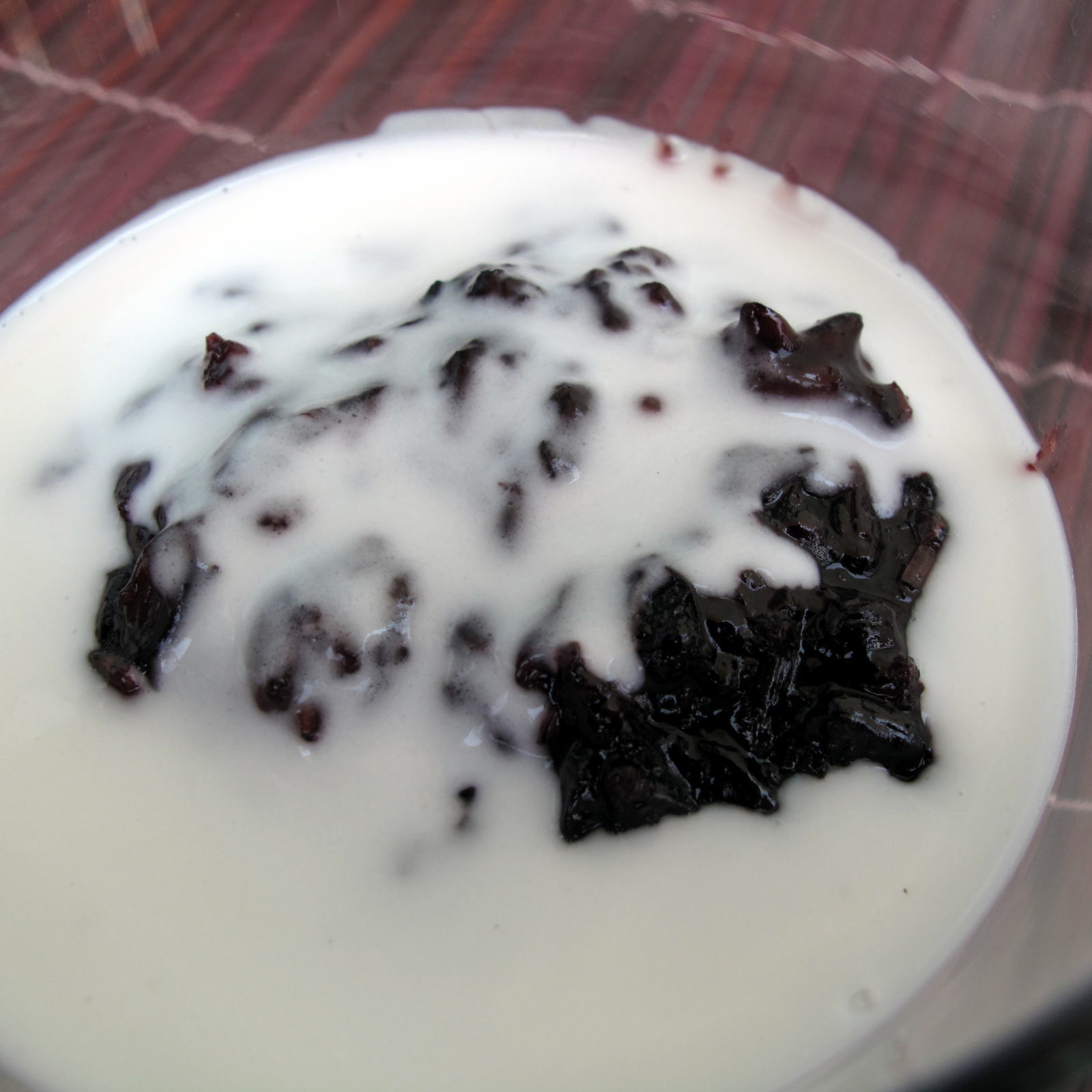 Ingredients
Servings: 4
1

/

2

cup
Black Rice
2
tbsp about 1 large 'puck'
Palm sugar

1

/

2

cup
Sugar
1
cup
Coconut cream
1
tbsp dissolved in a little water
Rice flour, white
dash
Salt
Preparation
Black rice must be soaked before it is cooked. The longer you soak it, the faster it will cook. At a minimum you should soak it at least 12 hours (overnight) but I've found that letting it soak for up to 36 hours will shorten the cooking time to an hour or so.
When you're ready, bring 2 cups / 440 ml of water to a boil, then add the rice and reduce heat to a simmer.
Cook the rice covered for 30 minutes or so, then remove the lid. Continue cooking until most of the water is absorbed. This can take several hours if you haven't soaked the rice very long.
Add the palm sugar and stir the mixture constantly until it is dissolved. This can take a few minutes.
Remove from heat and allow to cool. The pudding is best served warm, but it can be refrigerated and re-heated in a microwave.
To create the coconut cream topping, heat the coconut cream over low heat, then stir in the rice flour and salt. Keep stirring until the mixture begins to thicken, then stir in the sugar. Remove from heat as soon as the sugar is dissolved.
To serve, spoon some of the rice pudding into a dessert dish, then cover with a little coconut cream.
Nutrition Facts

Servings Per Recipe 4

Amount Per Serving
Calories 366
Calories from Fat 188
Total Fat 21g
32%
Saturated 18g
92%
Cholesterol 0mg
0%
Total Carbohydrate 46g
15%
Dietary Fiber 1g
6%
Sugars 31g
Protein 3g