Fruit Compote
This is an old recipe that I've changed and adapted over the years to accommodate what was available in Bangkok. The original recipe called for dates rather than figs, but lately the dates you can get here, in addition to being very expensive, aren't really the kind suited to this dish.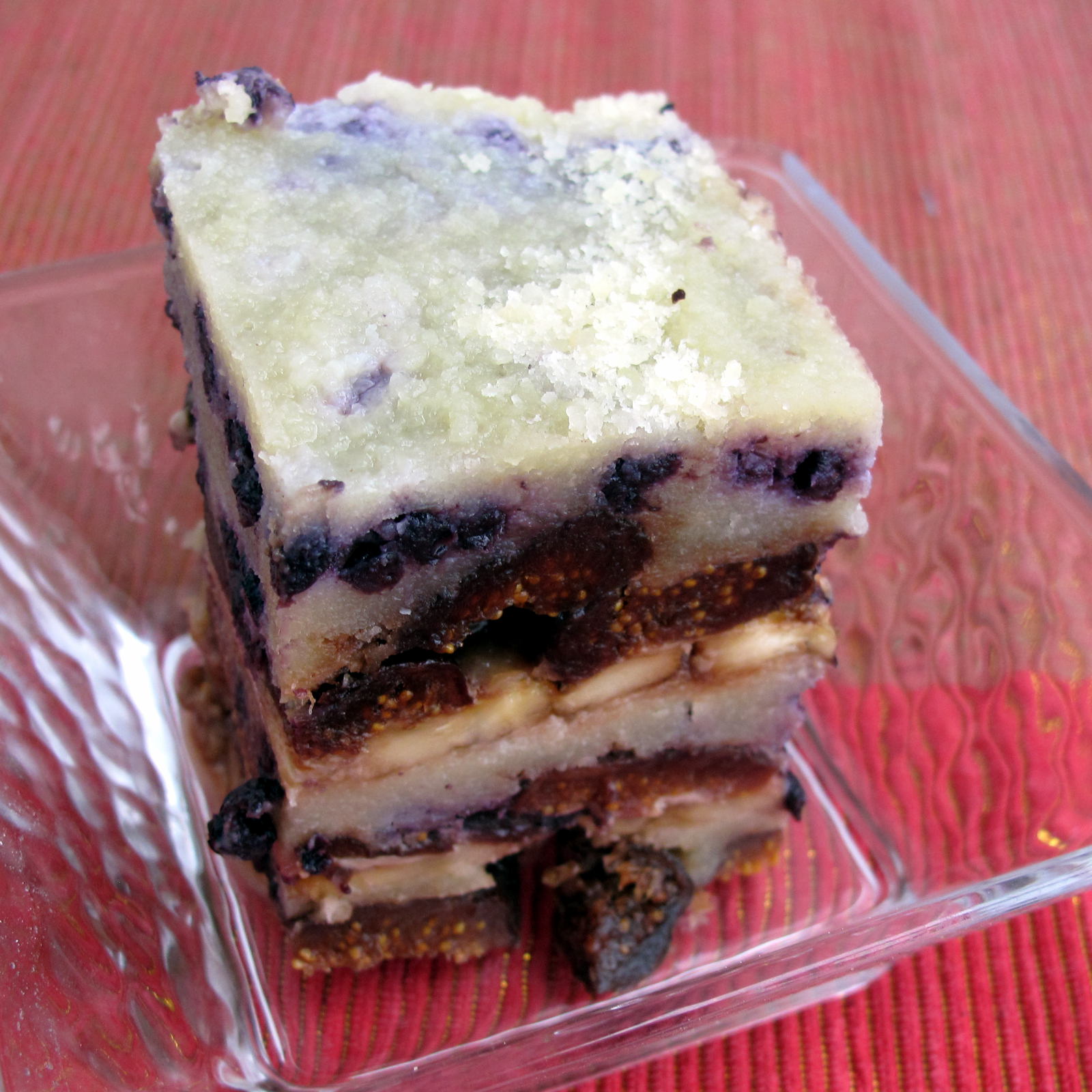 The original recipe also called for chopped or sliced nuts, but after trying out the ground almonds, I found I liked the cake-like texture they gave the dish. The blueberries I added for some color and flavor.
Back in the states, this was a great dish for potlucks, since you can make it days ahead of time. These days, I'm more likely to make it when I want a break from the usual fruit, yogurt and muesli for breakfast. It's a bit heavy, but with all the vitamins and minerals a small dish of it will keep you going until lunch-time easily.
Ingredients
Servings: 8
| | | |
| --- | --- | --- |
| 6 | medium (7" to 7-7/8" long) sliced | Banana |
| 2 | cup chopped | Dried figs |
| 1 | cup | Dried blueberries, sweetened |
| 2 | cup whole kernels finely ground | Almonds, blanched |
| 4 | cup, fluid (yields 2 cups whipped) | Light whipping cream |
Preparation
A seal-able container works well for this dish, but if you're going to serve it at a party with a burnt sugar glaze, then use a ceramic dish. A large soufflé dish works well.
Place a layer of banana slices in the bottom of the dish. Cover this with a layer of sliced or diced figs. Sprinkle some blueberries over this, and then cover it all with a layer of ground almonds.
Slowly drizzle the cream over the almonds until it fills up all the spaces between the fruit.
Repeat the above until you've used up all the fruit and nuts, and have three or four layers. You may not use all the cream. I like it a little on the 'dry' side and often only use around three cups, but you can make it wetter if you like.
Keep in the refrigerator for at least two days before serving.
If you want to 'dress' this up a little for serving at a party, sprinkle some brown sugar over the top and then put it under an oven broiler until the sugar melts, or use a torch to burn the sugar. This is best done the day you're going to serve the dish.
Nutrition Facts

Servings Per Recipe 8

Amount Per Serving
Calories 750
Calories from Fat 511
Total Fat 57g
87%
Saturated 25g
124%
Cholesterol 133mg
44%
Total Carbohydrate 58g
19%
Dietary Fiber 10g
40%
Sugars 37g
Protein 13g