Custard Filled Pumpkin
This relatively simple recipe nonetheless provides an interesting "wow" factor. It's a quite simple idea, and I only recently found out that the great American traditional pumpkin pie is thought to have originated when the early colonists cut the top off a pumpkin (provided, like corn, by the Native Americans) and filled it with milk, spices and honey, then baked it in the coals of a dying fire.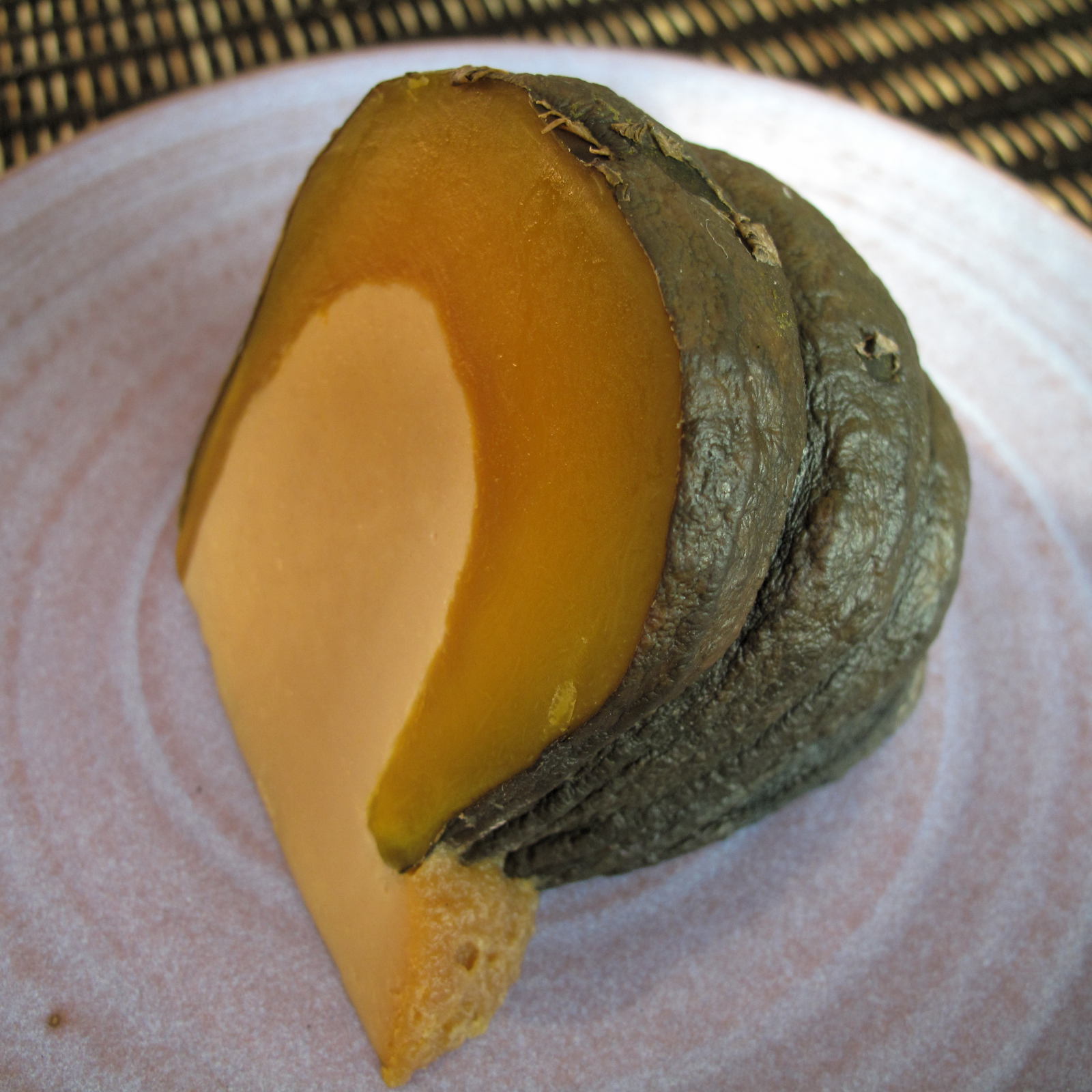 The difficulty with this recipe is, of course, finding a pot large enough to fit your pumpkin, or a pumpkin small enough to fit in your pot! The size favored for this weighs in at around 500 grams, or one pound.
In the interest of full disclosure, I should note that I didn't make this dish for the photograph. I purchased the slice of ready-made dessert from a stall in the market where I lived in Bangkok.
Ingredients
Servings: 8
1
whole
Pumpkin
4
large
Egg

1

/

2

cup
Coconut cream
1
cup
Palm sugar
Preparation
Thoroughly wash the outside of the pumpkin. Cut a circular hole around the stem at the top, about three to four inches in diameter. Use a tablespoon to scoop out the seeds and stringy bits inside the pumpkin. Rinse out the inside of the pumpkin and dry with a clean cloth or paper towels.
Beat the eggs in a mixing bowl. Add in the coconut cream and palm sugar, and mix slowly until thoroughly blended to a smooth texture.
Fill the pumpkin with the custard mixture. Now comes the tricky bit: the entire pumpkin needs to be steamed in a double boiler. You can improvise one with a large sturdy ceramic bowl placed in a soup pot. Thais use a woven basket wedged over a pot of boiling water.
Keep the water boiling until the custard begins to set, then reduce the heat and continue to steam for about 20 to 25 minutes more. Remove from heat and allow to cool.
The dish is usually served at room temperature, and is simply sliced like a cake, then served whole – skin and all.
Nutrition Facts

Servings Per Recipe 8

Amount Per Serving
Calories 193
Calories from Fat 69
Total Fat 8g
12%
Saturated 5g
27%
Cholesterol 93mg
31%
Total Carbohydrate 29g
10%
Dietary Fiber 1g
2%
Sugars 26g
Protein 4g