Mock Pomegranate Seeds
This simple dessert, also sometimes called "red rubies" is often served with crushed ice, like many Thai sweets. The gem-like quality of this dish makes it a rather elegant finish for a dinner party. Although red is the traditional color, you can try other colors to suit your mood, or match the décor of your dining room.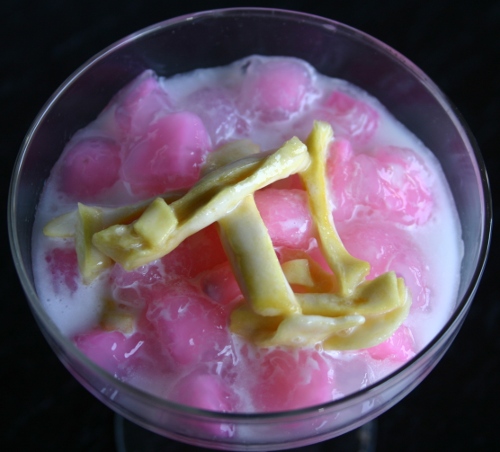 Ingredients
Servings: 6
4
oz (½ cup) cut in very small cubes
Chinese chestnuts

1

/

4

cup
Corn flour, masa, unenriched, white

1

/

2

cup
Sugar

3

/

4

cup
Coconut cream

3

/

4

cup
Water
dash
Red food coloring
Preparation
Mix a few drops of food coloring in enough water to cover the chestnuts. Soak the water chestnuts for about 10 minutes, then drain. Don't worry if the color is quite dark, it will lighten considerably when cooked. Coat the wet chestnuts with the tapioca flour. The simplest way is to put the flour and wet chestnut chunks in a plastic bag, seal it and shake!
Bring a medium pot of water to a rapid boil. Drop the floured chestnuts into the water. When the chestnuts float to the top, they're done and can be skimmed off the boiling water. Immediately drop the chestnuts into some iced water. The chestnuts will be a little cloudy when first removed from the hot water, but will take on their jewel-like quality when dropped into the cold water.
Combine the sugar with ¾ cup of water in a saucepan. Bring to a boil over medium heat and continue boiling until it becomes syrupy. Add the coconut milk, stir to combine and remove from heat.
To serve, spoon some of the mock pomegranate seeds into a small serving bowl, top with some of the sweet coconut milk and crushed ice.
I dressed this dish up a bit for the photograph with the addition of a few slivers of jackfruit, which is quite a common addition to this dish.
Nutrition Facts

Servings Per Recipe 6

Amount Per Serving
Calories 226
Calories from Fat 97
Total Fat 11g
17%
Saturated 9g
46%
Cholesterol 0mg
0%
Total Carbohydrate 32g
11%
Dietary Fiber 1g
4%
Sugars 17g
Protein 2g