Cashew Chicken
As a seemingly obvious "Chinese" import, cashew chicken often gets dismissed as not really a "Thai" dish, but it definitely helps to balance out a meal that already has many spicy dishes. Although they make the dish look spicy, the dried chillies usually don't impart much heat to the rest of the ingredients. In Thailand, this dish is almost always mild, with little or no spiciness. Since they can be a bit tough, most people just push the chillies to the side of their plate and don't eat them. Their presence in the recipe seems to be mostly decorative, since without them the dish looks a bit dull.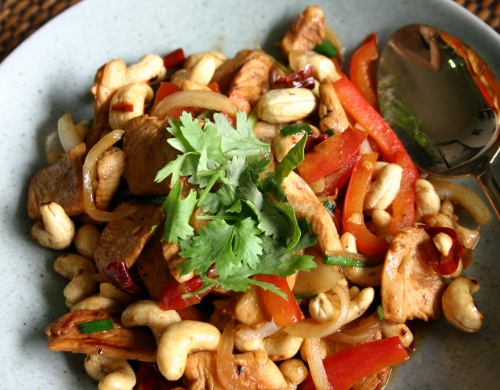 I've jazzed up the typical recipe a little with the addition of a marinade and some sweet peppers. I also like to pan roast the cashews for use in this dish.
Ingredients
Servings: 4
4
oz cut in bit-size pieces
Chicken breast meat
1
tbsp
Vegetable oil
2
tsp chopped
Garlic
4
oz
Cashews (raw)
2
pepper
Dried red chilis
1
cup, sliced
Onions

1

/

4

medium (approx 2-3/4" long, 2-1/2 dia.) sliced
Red bell pepper
3
tbsp chopped
Spring onions
1
fl oz
Orange juice

1

/

4

tsp
Salt
dash
tsp, ground
White pepper
1
Tbl
Sweet Soy Sauce
Preparation
Pour the orange juice, soy sauce, salt and pepper over the chicken and marinate for about 30 minutes.
Heat the oil in a wok over medium flame. Stir-fry the garlic. When it begins to color, add the chicken and continue stir-frying until the chicken is cooked through, about three minutes.
Add the cashews, chillies, onions and pepper. Continue cooking and stirring until the onions are soft, about four minutes.
When serving, garnish with the sliced spur chili, coriander leaves and some additional spring onions.
Nutrition Facts

Servings Per Recipe 4

Amount Per Serving
Calories 330
Calories from Fat 165
Total Fat 18g
28%
Saturated 3g
15%
Cholesterol 62mg
21%
Total Carbohydrate 18g
6%
Dietary Fiber 2g
8%
Sugars 7g
Protein 25g