Chicken Green Curry
Thai name: Gaeng Keeo Waan Gai
Green curry is perhaps the most ubiquitous of all Thai curries. You'll find it on the menu in practically every restaurant in the kingdom, and it makes a frequent appearance at the curry stalls. Although the dish has its origins in the central plains, it's found and appreciated throughout the country. Much of the attraction of green curry is its flexibility. It works well not only with rice, but is also quite popular as a topping for the spaghetti like rice noodles called khanom jeen. It has also proved quite popular for adding a Thai twist to Italian pastas. The flexibility also extends to the meats used. Although chicken is the most common, you'll find almost any meat used in green curries, from beef and pork to fresh water fish.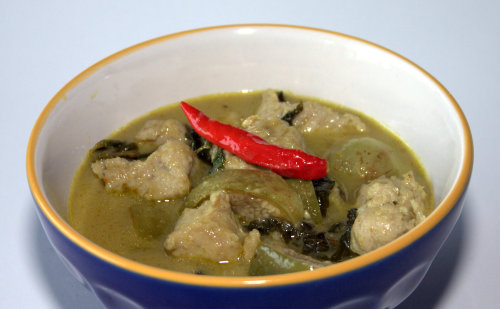 Ingredients
Servings: 4
1
tbsp
Green Curry Paste
2
oz
Chicken breast meat

1

/

4

cup
Thai eggplant (brinjal)

1

/

2

cup
Pea eggplant
1
tbsp, chopped
Thai basil (horopa)
1

1

/

4

cup
Coconut Milk
1
pepper
Green hot chilis (Spur or Serano)
3
leaves
Kaffir lime leaves

1

/

2

tbsp
Palm sugar
2
tsp
Chicken bouillon, dry
1
tbsp
Fish sauce
1

1

/

2

tbsp
Vegetable oil

1

/

4

tbsp
Fresh milk
Preparation
Fry the green curry paste in vegetable oil until the aroma is released. Add the thick portion of the coconut milk and continue stir-frying until the aroma returns.
Add chicken and when the chicken is about half cooked, add the remaining coconut milk.
Add eggplants and lime leaves. When cooked through, add seasoning: chicken powder, fish sauce, palm sugar, fresh milk, chillies and sweet basil leaves.
Nutrition Facts

Servings Per Recipe 4

Amount Per Serving
Calories 258
Calories from Fat 195
Total Fat 22g
33%
Saturated 14g
71%
Cholesterol 32mg
11%
Total Carbohydrate 6g
2%
Dietary Fiber 1g
3%
Sugars 3g
Protein 12g