Steamed Dumplings
These little wrapped meatballs are quite a popular afternoon snack. They would make quite a good appetizer, or finger food for a party. Stalls will specialize in this and nothing else. As with noodle stalls that get a reputation, people will drive a long distance just to get to a good dumpling stall.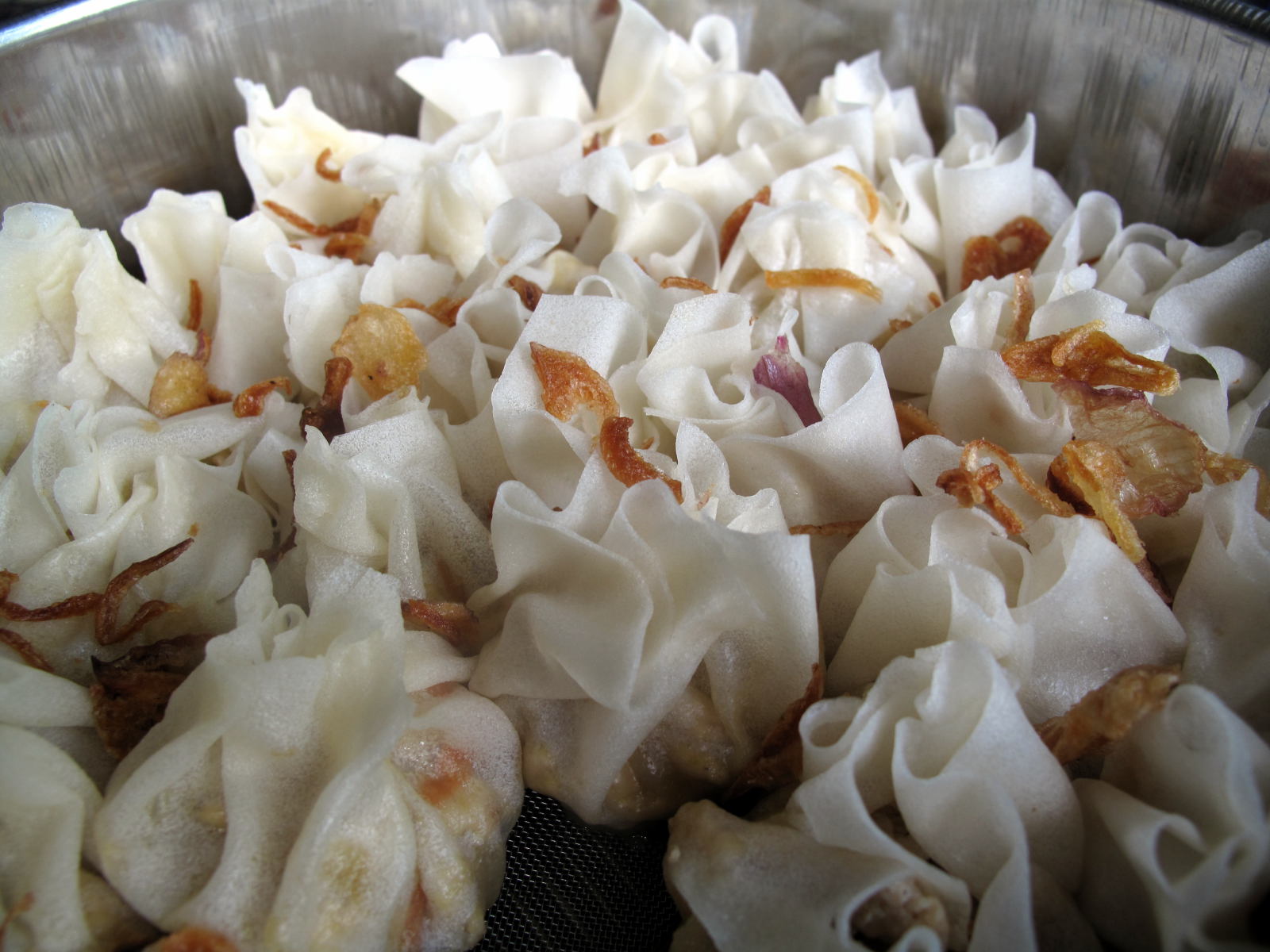 These little dumplings are closely related to a Chinese dim-sum dish called siu mai. The Thai name, khanom jeeb, for these steamed dumplings has some interesting connotations. The word jeeb has two meanings: One simply means "to crimp" or "gather in folds", much as is done with the won ton wrappers when making this recipe. The other meaning of jeeb is "to talk amorously, to make love." Perhaps, given their rough similarity to a certain American chocolate drop, we should call this dish "Thai kisses."
There are a number of different filling possibilities. You can replace the chicken with pork, or for a more central Thailand taste, mix pork with chopped prawns. I added in a little shredded carrot for color.
Ingredients
Servings: 20
4
oz crumbled
Chicken, ground, raw

1

/

2

cup, chopped
Onions
1
sprigs chopped
Coriander (cilantro) leaves
3
tsp
Garlic

1

/

2

tsp, whole
Black pepper
1
tsp
Sugar
1
tbsp
Fish sauce
2
tbsp
Vegetable oil
20
wrapper, wonton (3-1/2" square)
Wonton wrappers (includes egg roll wrappers)
Preparation
Grind together the coriander roots, garlic and peppercorn to a fine paste.
Heat the oil in a wok. Stir-fry the paste, then add the chicken and onions. Stir fry and mash to a fine paste. Season to taste with the fish sauce and sugar.
The won ton skins should be cut to a circular shape. Spoon a bit of the chicken mixture onto the centre of a won ton skin. Gather up the edges of the won ton to form a bag around the filling, pleating the edges. A little dab of water will help the edges of the won ton stick together. Press the dumpling down a bit to flatten the bottom.
Arrange the dumplings in a steamer basket and steam, covered, over boiling water for about 5 minutes.
When serving, sprinkle the fried garlic over the dumplings. A little soy or gyoza sauce also goes very well with these.
Nutrition Facts

Servings Per Recipe 20

Amount Per Serving
Calories 71
Calories from Fat 30
Total Fat 3g
5%
Saturated 1g
3%
Cholesterol 20mg
7%
Total Carbohydrate 5g
2%
Dietary Fiber 0g
1%
Sugars 0g
Protein 5g