Soto Ayam
Indonesia is a really huge country. The foods and cuisines vary widely from one part of the country to another. However, there are a few dishes that are available in just about every corner of this nation of 10,000 islands. One of these is Soto Ayam, which simply means "chicken soup". You'll find street stalls selling it just about everywhere, and it's a big hit with foreign travelers as well.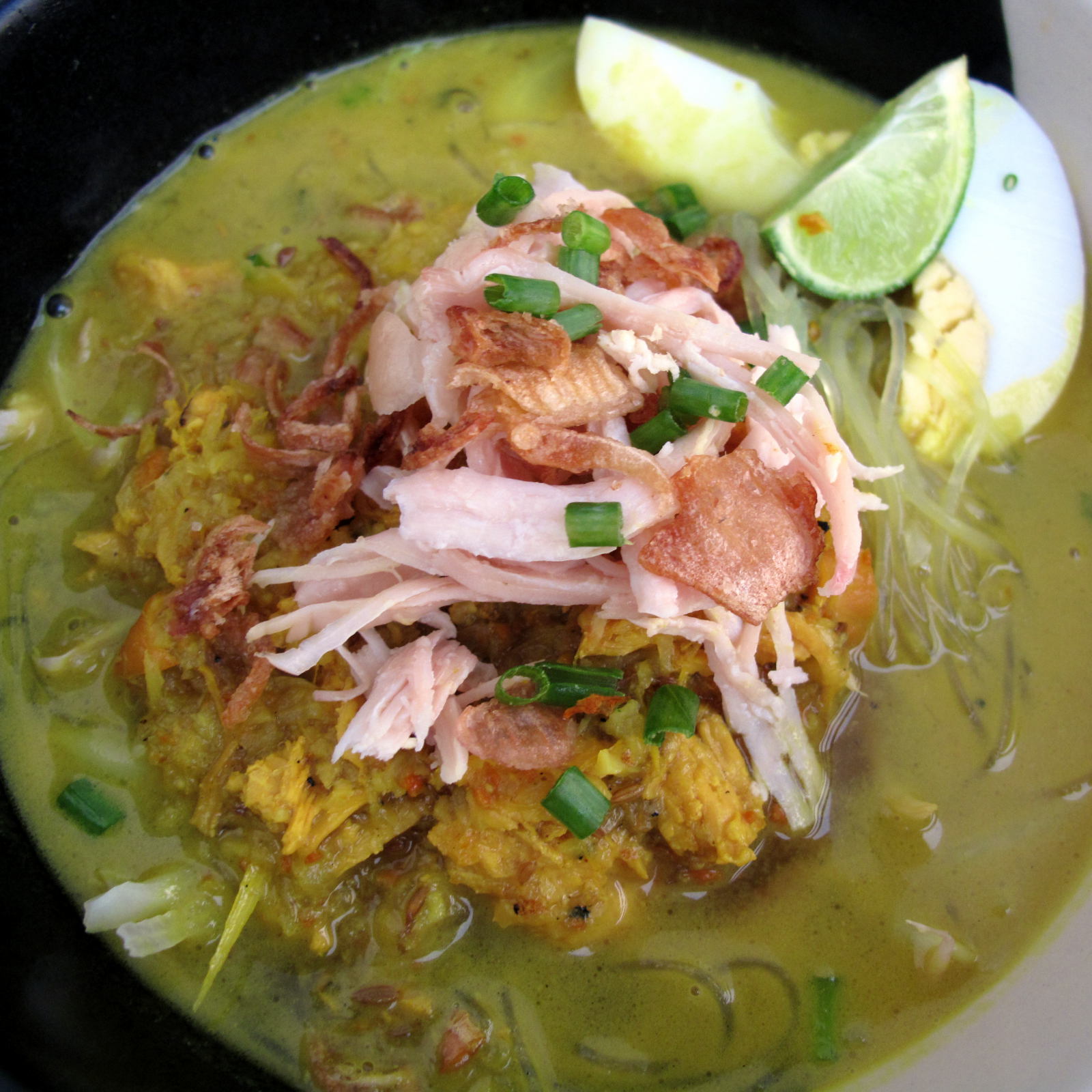 Of course, as with so many popular dishes, what tourist get is often a far cry from the 'real thing'. In many cases, you end up with just some chicken flavored stock with a few bits of chicken in it along with the vegetables. This recipe seems to come fairly close to the authentic version.
Ingredients
Servings: 4
| | | |
| --- | --- | --- |
| 1 | tsp | Coriander seed |
| 1 | tsp, whole | Cumin seed |
| 4 | bulbs chopped | Shallots |
| 3 | cloves chopped | Garlic |
| 2 | tbsp chopped | Turmeric root |
| 3 | tbsp chopped | Galangal |
| 4 | tbsp chopped | Ginger |
| 1 | tbsp | Lime juice |
Preparation
Put the coriander seeds, cumin seeds, shallots, garlic, turmeric, galangal, ginger and lime juice in the bowl of a food processor and blend to a smooth paste. You may need to add a little water.
Heat a large pot over a hot stove. Pour enough vegetable oil to coat the bottom of the pot, and then add the spice paste. Stir-fry the paste until it turns light brown.
Add the lemongrass, chicken broth, coconut milk and water. Once the stock comes to a boil, add the chicken meat. Cover the pot, lower the heat, and simmer for about 30 minutes.
Fill a separate pot with water and bring it to a boil. Blanch the cabbage, bean sprouts and glass noodles (which should have been soaked to soften beforehand).
Transfer the vegetables and noodles to serving bowls. Pour the chicken soup over the vegetables, add a wedge or two of hard boiled egg, and sprinkle some chopped spring onions over all.
Serve with a wedge of lime.
Nutrition Facts

Servings Per Recipe 4

Amount Per Serving
Calories 74
Calories from Fat 13
Total Fat 1g
2%
Saturated 0g
0%
Cholesterol 0mg
0%
Total Carbohydrate 11g
4%
Dietary Fiber 3g
11%
Sugars 2g
Protein 3g