Chicken and Galangal Soup
I often think chicken and galangal soup (tom ka gai) is perhaps the best example of Thai cuisine. Unlike its more famous cousin tom yum the taste of this thick soup is more varied and sublime. The undercurrents given by the galangal, lime juice, lemongrass and pepper make this dish quite remarkable.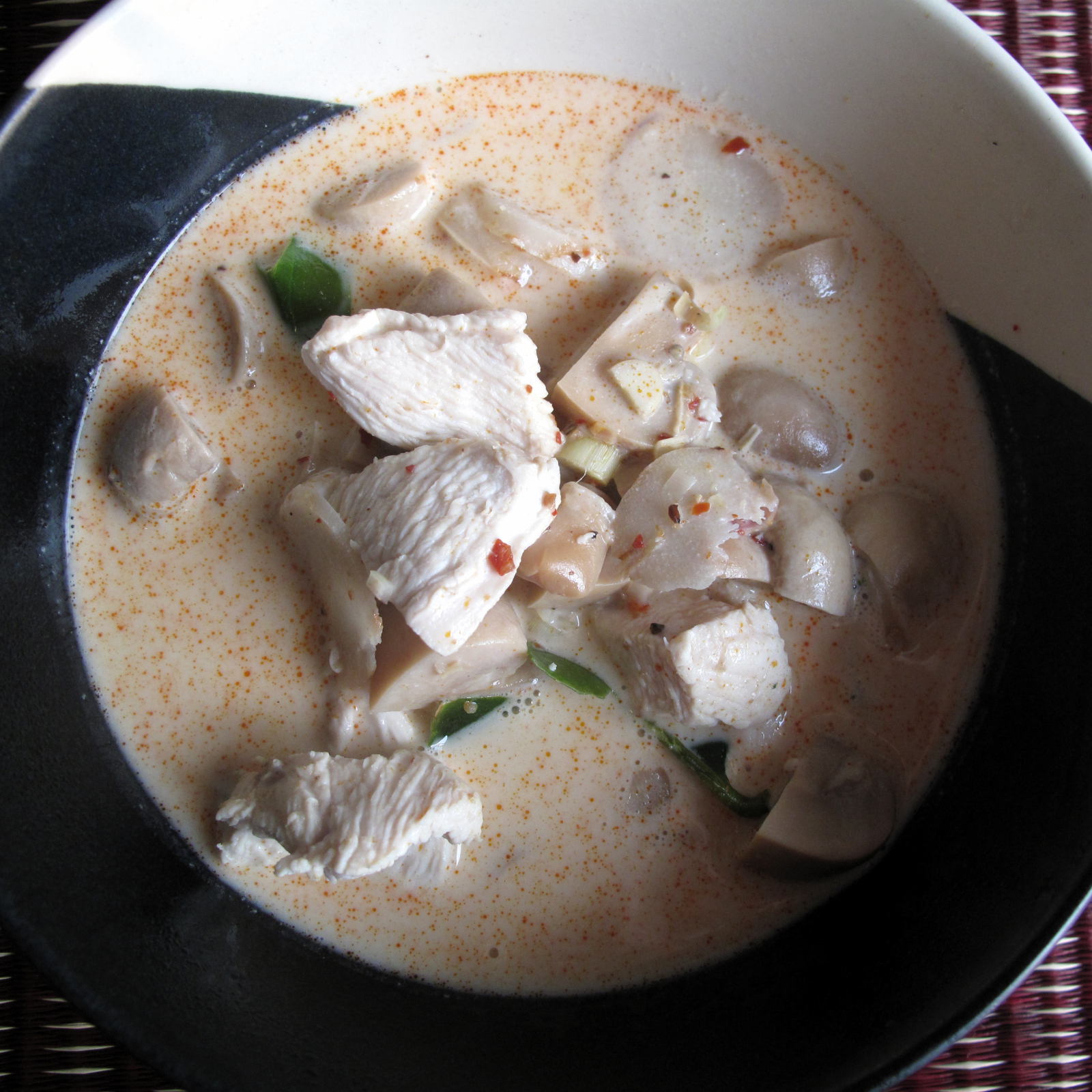 The first part of the Thai name, tom ka, simply means "boiled galangal" while gai is the Thai word for chicken. Although the meat most commonly used in this soup is chicken, tom ka can also be made with fish, shellfish and other poultry, but the somewhat delicate flavour doesn't hold up well against beef or pork.
As with several other Thai dishes, your main challenge here, aside from the herbs and spices, will be the straw mushrooms. Even in Bangkok, they seem to be disappearing from the markets in favor of sturdier 'foreign' varieties. For the photo, I had to resort to canned mushrooms, which better approximate the taste and texture that other types of fresh ones.
Ingredients
Servings: 4
1

/

2

cup
Straw mushrooms
3
oz sliced
Chicken breast meat
1
cup
Coconut Milk

1

/

2

cup
Chicken stock
1
tbsp
Lime juice
1
tbsp
Fish sauce
10
slices
Galangal

1

/

2

tbsp chopped
Lemon grass
1
tsp, ground
White pepper
3
leaves
Kaffir lime leaves

1

/

3

tbsp
Roasted chili oil
Preparation
Combine coconut milk, Kaffir lime leaves, lemongrass and galangal in a pot and bring to a boil.
Add chicken pieces and mushrooms, and return the mixture to a boil.
Add remaining ingredients: Chicken stock, fish sauce, lime juice, white pepper and roasted chili sauce.
Pour into serving bowl and garnish with a few leaves of coriander.
Nutrition Facts

Servings Per Recipe 4

Amount Per Serving
Calories 251
Calories from Fat 142
Total Fat 16g
24%
Saturated 11g
56%
Cholesterol48mg
16%
Total Carbohydrate11g
4%
Dietary Fiber 2g
6%
Sugars 1g
Protein 18g