'Korean' Grilled Beef
I put 'Korean' in quotes because I don't know how authentic this recipe is. Everything Korean is extremely popular in Thailand, as it has been for a few years, so I suspect a lot of things get labeled Korean even if they're adaptations of Thai foods or whatever. Curiously, I got this recipe from a Thai cookbook that came with my new microwave oven (it was a Korean brand, I should note). It had the beef cooked by microwave, which didn't seem to be the best idea, so I just fried it up in a skillet. If you have a grill, it's probably even better.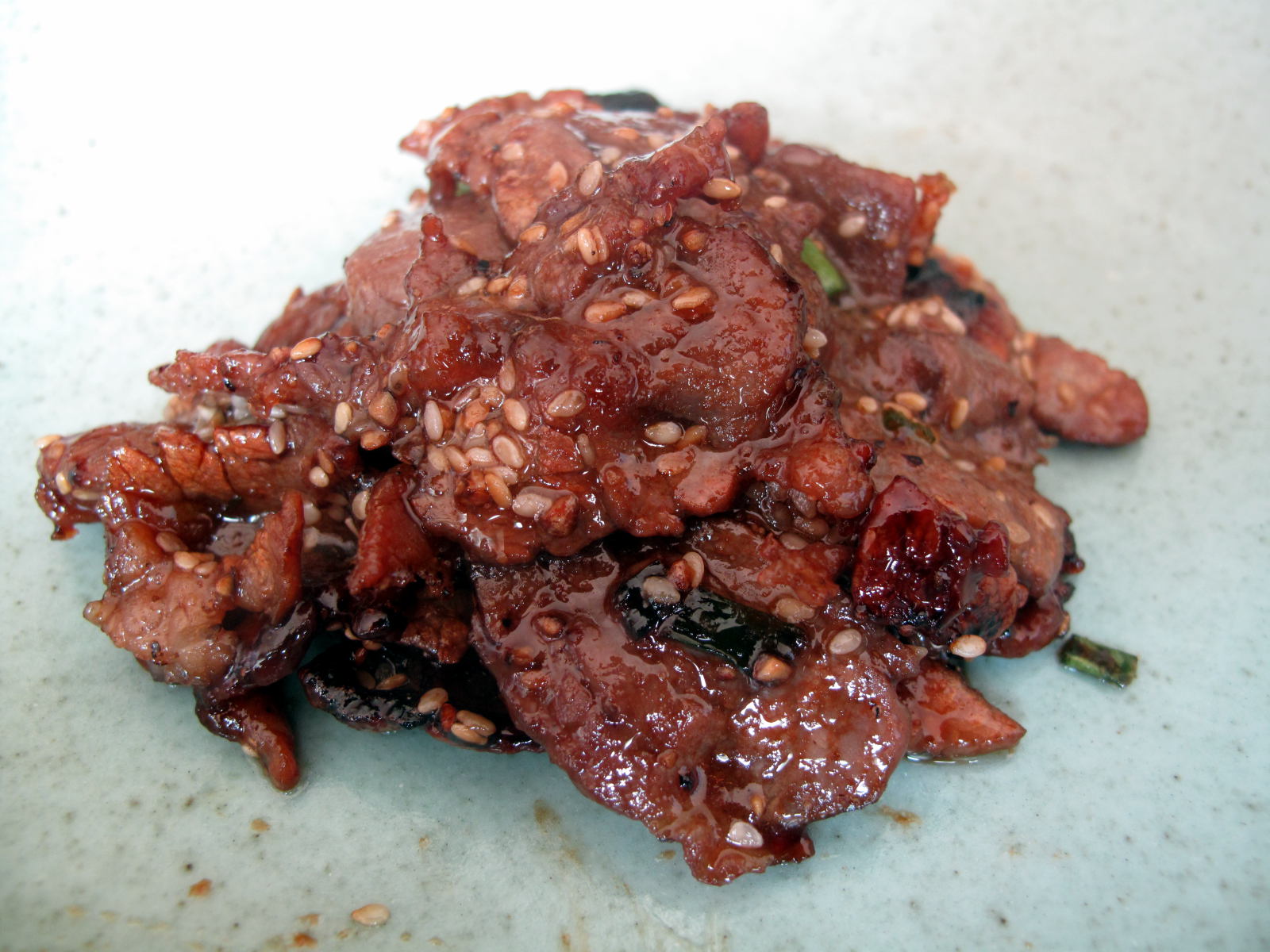 I made this for the photo with just a small amount of beef. If I were using the full 500 grams, I would be tempted to double the marinade to make sure the beef was well coated.
The recipe calls for 'Chinese' cooking sherry, but strangely I could only find Japanese cooking wine in the supermarket. It also provides a recipe for a dipping sauce, but I found that it was totally unnecessary. With a good coating of the marinade, the beef is quite delicious without the sauce. If you can't find pickled garlic to use the juice, then just plain vinegar will probably do.
The recipe calls for the white sesame seeds to be roasted. To do this, just spread the seeds out in a hot dry skillet. Shake the pan once or twice to turn the seeds. They will brown in a few seconds.
Ingredients
Servings: 4
| | | |
| --- | --- | --- |
| 1 | lb sliced thin | Chuck or rump steak |
| 3 | tbsp (Japanese style preferred) | Soy sauce |
| 2 | tsp, ground | Black pepper |
| 2 | tbsp | Sugar |
| 2 | tbsp chopped | Spring onions |
| 1 | tbsp roasted | Sesame seeds |
| 1 | tbsp | Chinese cooking sherry |
| 1 | tbsp | Sesame oil |
Preparation
Mix all of the main ingredients except the beef together in a bowl.
Add the beef to the mix and make sure it gets coated well. Marinate the beef in the sauce for at least one hour in the refrigerator.
Remove the marinated beef from the refrigerator and cook it on a grill, or hot skillet. It will cook very quickly if sliced thin.
The beef can be served with the dipping sauce and some steamed vegetables, such as asparagus, whole baby corn and carrot sticks.
Nutrition Facts

Servings Per Recipe 4

Amount Per Serving
Calories 290
Calories from Fat 113
Total Fat 13g
19%
Saturated 4g
19%
Cholesterol 109mg
36%
Total Carbohydrate 9g
3%
Dietary Fiber 1g
3%
Sugars 7g
Protein 36g