Balinese Pork & Ginger in Sweet Soy Sauce
Be Celeng Base Manis
Time to take a break from Thai food and try a little Balinese cuisine for a change. While Thai dishes tend to be quick light stir-fries, many Balinese and Indonesian dishes often take a bit more time and are a bit heavier.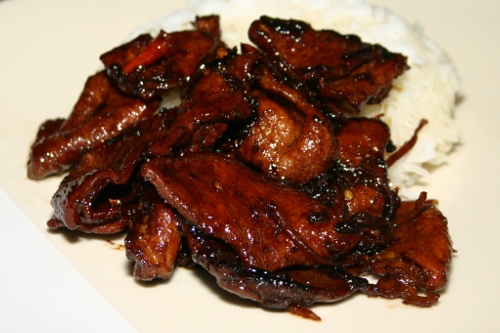 I got this recipe from the Bali Post, which in turn got it from Bali Guide's food section. I've adapted this recipe a bit by using thin-sliced pork and shredded ginger, which are commonly available in Bangkok supermarkets. If I were serving this as a main dish at a party, I would garnish it with a little of the fresh ginger as well as the chilies. I also added the chilies with the chicken stock so they cooked with the sauce, which made the dish very hot. I love it that way, but if you have a limited capacity for spiciness, then use fewer chilies or use them as a garnish only.
Ingredients
Servings: 4
2
tbsp
Vegetable oil
5
bulbs sliced
Shallots
5
cloves sliced
Garlic
1

1

/

4

lb thinly sliced
Pork tenderloin

1

/

3

cup (3-inch piece) shredded
Ginger
4
tbsp
Sweet Soy Sauce
2
tbsp
Soy sauce
1
tsp, whole crushed
Black pepper
2
cup
Chicken stock
8
pepper coarsely sliced
Red hot chilis (Thai)
Preparation
Heat the oil in a heavy skillet or wok (I prefer a skillet for this dish). Add the shallots and garlic, and sauté over medium heat until lightly colored.
Add the pork and ginger; continue to saut&eacut; for two more minutes over high heat. Add the soy sauces and crushed black pepper; continue to stir-fry for another minute.
Pour in the chicken stock (and, optionally, the chilies), lower the heat, and simmer for about an hour. When fully cooked, the meat will be dark and shiny, with very little sauce remaining. If you didn't cook the chilies with the pork, use them as garnish.
Nutrition Facts

Servings Per Recipe 4

Amount Per Serving
Calories 416
Calories from Fat 107
Total Fat 12g
18%
Saturated 2g
10%
Cholesterol 96mg
32%
Total Carbohydrate 40g
13%
Dietary Fiber 4g
16%
Sugars 22g
Protein 37g