Black Pepper Noodles
Just in case you were thinking that every meal at my place is a gourmet feast, I thought I would post a recipe that represents a more typical lunch or dinner for me. Instant noodles have become something of a staple in modern Thailand, since they're quick and easy to make. During the big Bangkok floods of late 2011, it was instant noodles that supermarkets couldn't keep on the shelves, not rice.
Instant noodles come in a wide variety of flavors - enough to fill an entire aisle at most supermarkets - including tom yam, seasoned pork and duck. For the most part, the noodles themselves are dried egg noodles, ba-mee in Thai, but you will also find a few styles of glass and rice noodles as well.
While the various flavors are nice, and I usually have one or two of them around, I also like to use plain noodles and flavor them myself. This recipe is based on a Singapore brand I've tried and quite like, but it's hard to find in Bangkok so I created my own version. Whether using a flavored brand or unflavored generic noodles, I always have some vegetables as well as some cooked ground pork to add into the soup to give it more flavor and substance. Just noodles is rather dull.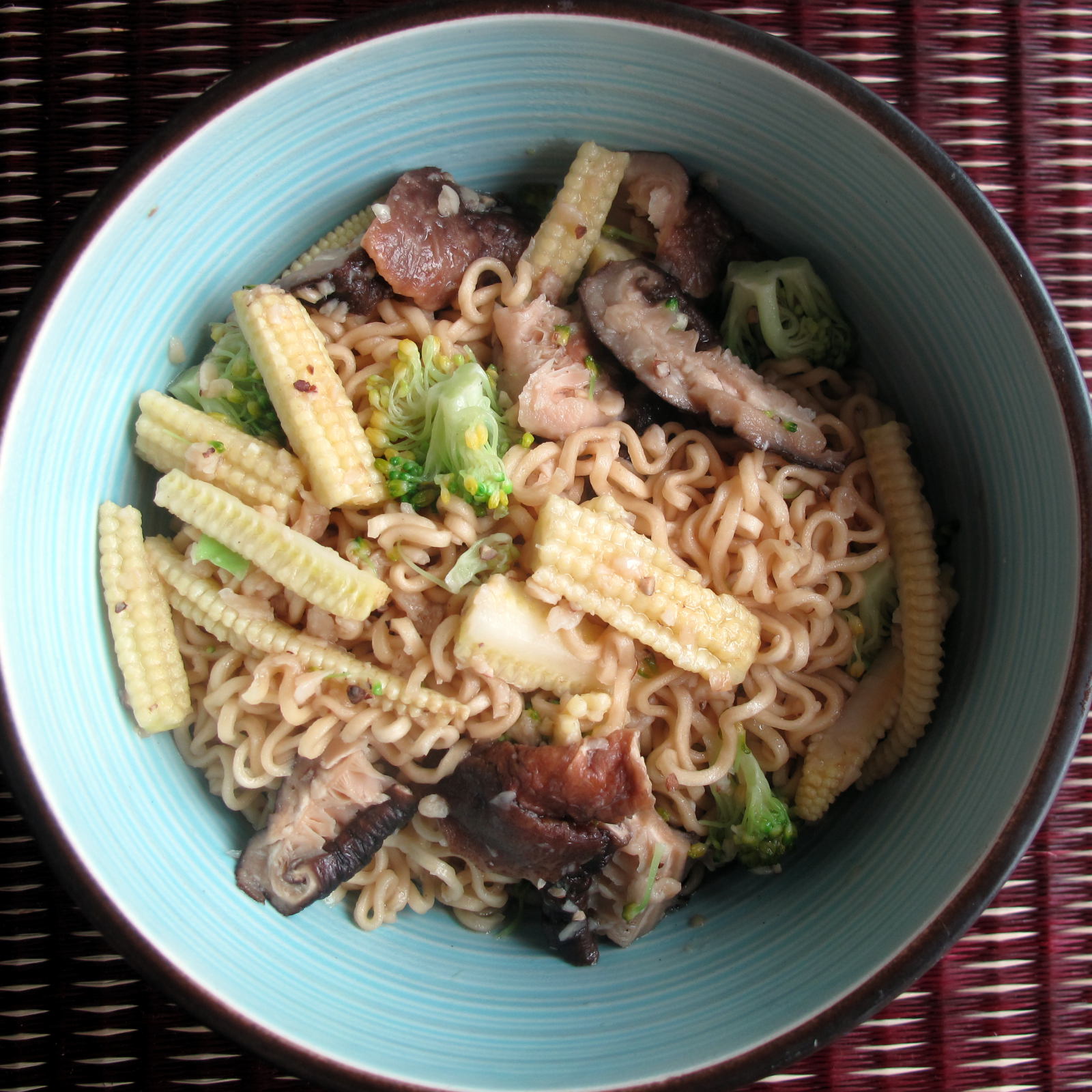 This vegetarian version is quite good, and will probably have enough 'meaty' taste to satisfy non-vegetarians. Broccoli and baby corn are my favorite vegetables to keep around, but asparagus, carrots and others are good. The meaty taste comes from the mushrooms, which I purchase dry. If using fresh ones, they'll need less cooking. I prefer fresh ground pepper for this recipe.
Ingredients
Servings: 1
1
cup (1 'brick')
Egg noodles
1
tsp chopped
Garlic
2
piece whole sliced
Shitake mushrooms
2
cobs sliced
Baby Corn

1

/

2

tsp, ground
Black pepper
1
tbsp
Soy sauce
1
tbsp
Sesame oil
Preparation
Bring a small amount (about one cup) of water to a boil in a small saucepan.
Add the garlic, baby corn and shiitake mushrooms.
Once the mushrooms have softened, add the noodles.
While the noodles are cooking, stir together the black pepper, soy sauce and sesame oil in a small bowl.
As soon as the noodles have softened completely, stir in the broccoli. I prefer broccoli that is only lightly cooked, so as soon as the colors darken, remove the pan from the heat and pour off any excess water.
Stir the pepper mixture into the cooked noodles, mixing thoroughly, and then transfer them to a serving bowl.
Nutrition Facts

Servings Per Recipe 1

Amount Per Serving
Calories 310
Calories from Fat 144
Total Fat 16g
25%
Saturated 2g
12%
Cholesterol32mg
11%
Total Carbohydrate35g
12%
Dietary Fiber 4g
15%
Sugars 3g
Protein 8g