Glass Noodles Stir-fried with Mushrooms
Glass noodle stir-fries are a frequent feature of the curry stall. They are almost always vegetarian dishes with no meat. This recipe makes use of both shiitake and cloud ear mushrooms.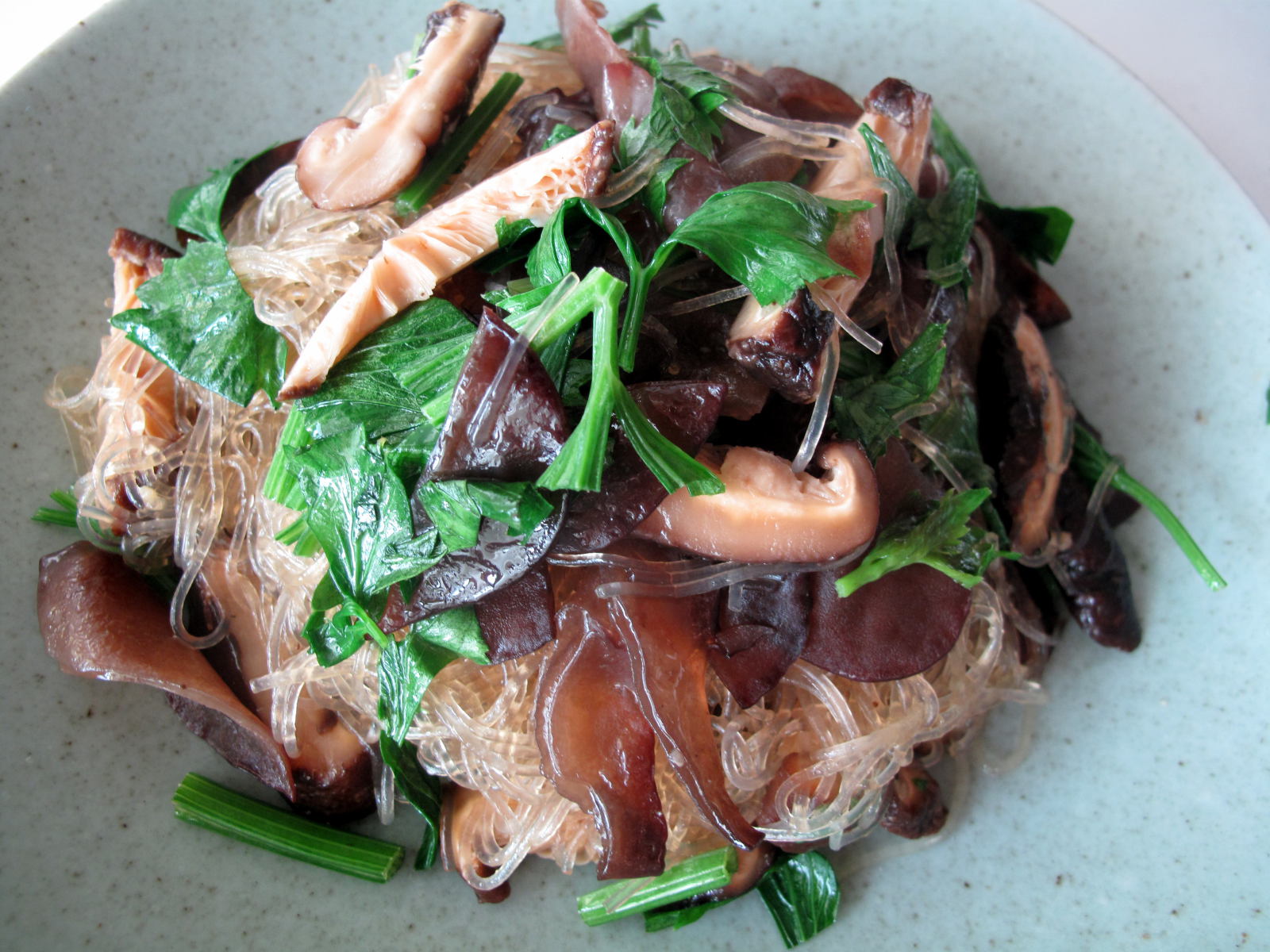 To make this dish completely vegetarian, just leave out the fish sauce and use vegetable broth instead of chicken. I usually leave out the fish sauce anyway, since the soy sauce makes it salty enough for my taste.
Ingredients
Servings: 4
5
piece whole
Shitake mushrooms

1

/

2

cup sliced
Mouse-ear mushrooms
110
grams
Glass Noodles
2
stalk, medium (7-1/2" - 8" long)
Celery, raw

1

/

2

tsp
Sugar
1
tbsp
Fish sauce
2
tsp
Soy sauce

1

/

4

cup
Chicken stock
4
tbsp
Vegetable oil
Preparation
If using dried mushrooms, soak in warm water to soften. Trim off any hard stems and slice.
Heat the oil in a wok over medium heat. Add the glass noodles, stock and both types of mushrooms. Stir well to combine.
Season with the fish sauce, soy sauce and sugar. Stir to combine and then add the celery. Allow everything to cook through and then transfer to a serving platter.
Nutrition Facts

Servings Per Recipe 4

Amount Per Serving
Calories 242
Calories from Fat 125
Total Fat 14g
21%
Saturated 1g
5%
Cholesterol 0mg
0%
Total Carbohydrate 28g
9%
Dietary Fiber 1g
5%
Sugars 2g
Protein 2g