Clear Soup
Clear soups (gaeng jood ) are a favourite at the curry stall. Contrary to any impressions you may have about Thai cuisine, it's not all about heat. A Thai meal is a balance between spicy, salty, sweet and sour. Clear soups provide the perfect middle ground when there are other highly seasoned dishes on the table.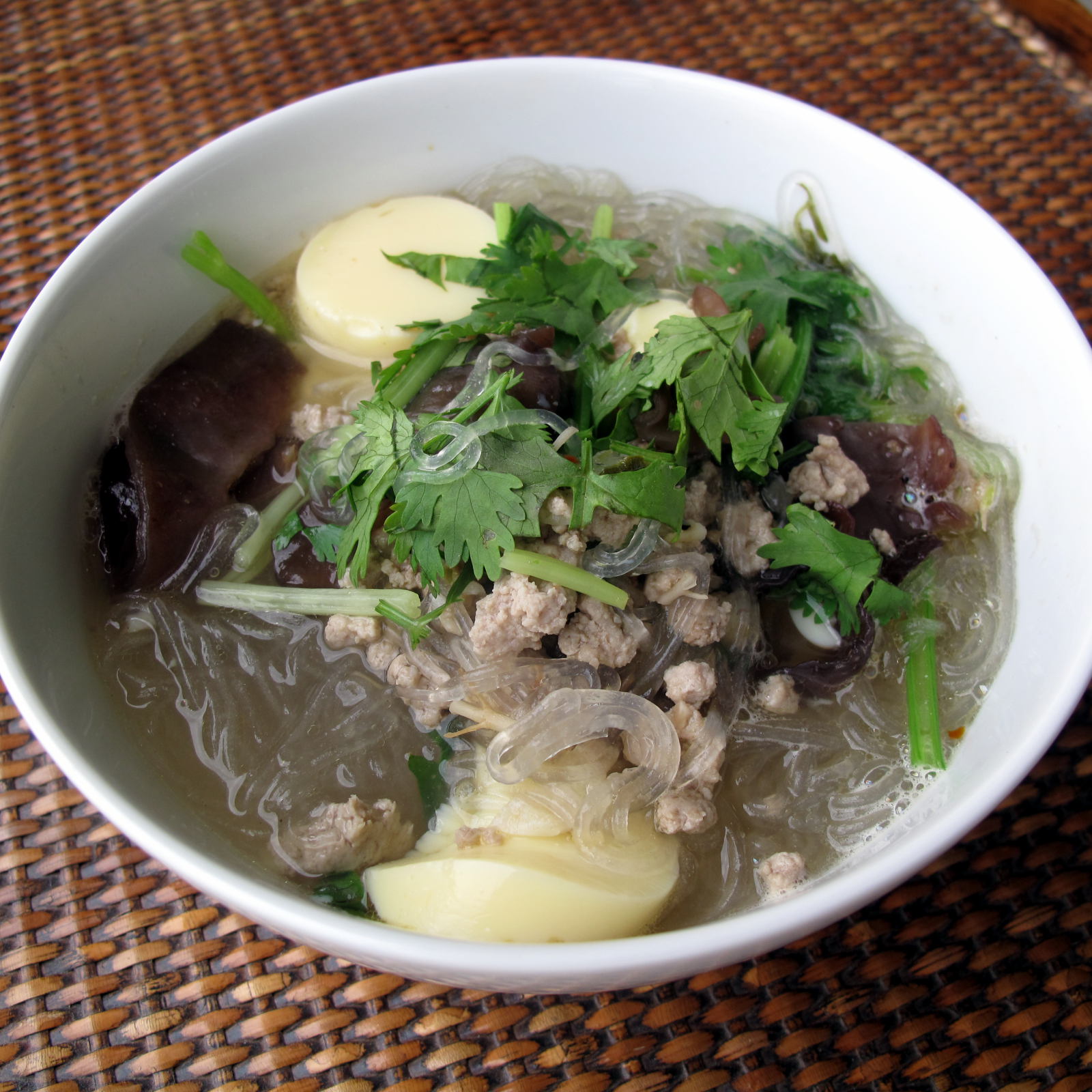 This is a very basic recipe for clear soup. The pork, which will usually be chopped rather than ground is typically added for flavour rather than fill. The tofu and the glass noodles are the real fillers.
The tofu preferred by Thais for this dish is called 'chicken egg' tofu in Thai. It comes in a plastic tube, so that when sliced it looks like a slice of hard-boiled egg.
If you use a chicken soup powder for the stock, you might want to leave out the salt or fish sauce, since the powders are often quite salty already. These days, it seems that most Thai cooks use the powders, and since the soup is expected to be 'clear' the powders actually produce the more 'correct' result for this dish.
Glass noodles usually come in a small packet that makes a single serving. There's usually no point in trying to divide a packet into a smaller portion. Contrary to their name, and unlike Italian pastas, dry glass noodles aren't that brittle. They tend to bend rather than break, so the only way to actual divide up a tangle of noodles is by cutting it with kitchen shears.
Ingredients
Servings: 4
1

/

2

tsp, ground
Black pepper
2
cloves chopped
Garlic
15
grams
Coriander Roots
2
tbsp
Vegetable oil

1

/

2

lb
Pork, fresh, ground, raw
4
cup
Chicken stock
1
large
Mouse-ear mushrooms

1

/

2

cup
Tofu
1
stalk coarsely chopped
Chinese celery
2
tsp
Fish sauce
1
tsp
Salt
50
grams
Glass Noodles
Preparation
Soak the glass noodles in warm water to soften, about 10 minutes.
Grind together the coriander roots, garlic and black pepper in a mortar and pestle to form a smooth paste.
In a large pot, heat the vegetable oil and stir-fry the paste until its fragrance is released. Add the pork and continue cooking over medium heat until the pork is cooked through.
Pour in the chicken stock and bring to a boil. Lower the heat and add in the remaining ingredients. Simmer until all items are cooked through. Sprinkle some chopped coriander leaves over the soup just before serving.
Nutrition Facts

Servings Per Recipe 4

Amount Per Serving
Calories 384
Calories from Fat 209
Total Fat 23g
36%
Saturated 6g
30%
Cholesterol 48mg
16%
Total Carbohydrate 24g
8%
Dietary Fiber 2g
6%
Sugars 4g
Protein 20g