Glass Noodle Salad
Glass noodle salads (yum woon sen) are one of the most common yum salads you'll find in Thailand. They can be quite light, but with a sweet and tangy taste. A bit of ground pork is the most common meat, but you can also add a few shrimp or some cooked squid if you like. You can also leave out the meat entirely for a vegetarian version.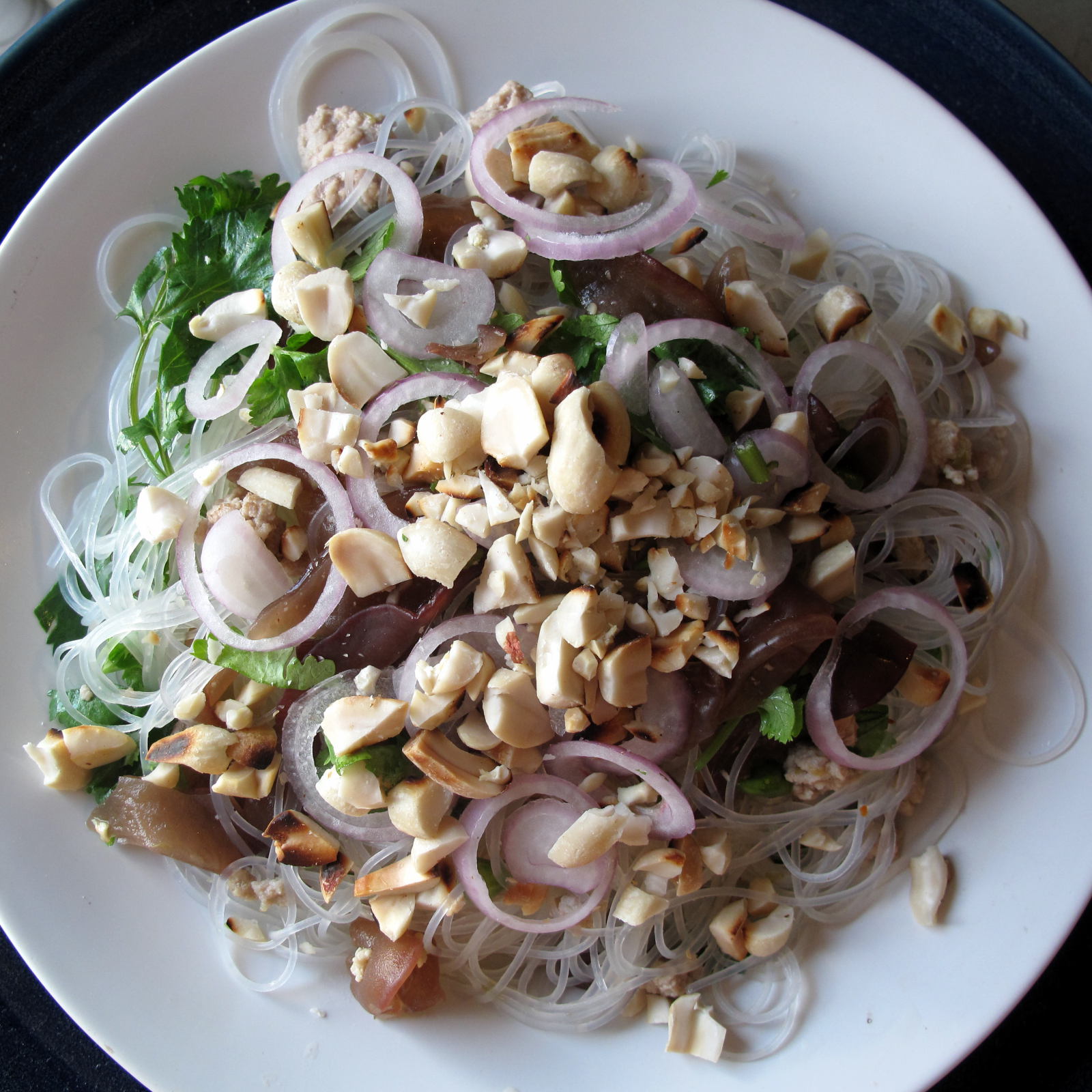 For this recipe, the peanuts are usually pan-roasted. Heat a heavy skillet and toss the peanuts in, shaking the skillet until the peanuts are darkened in spots. You can do this well in advance of needing the nuts.
Ingredients
Servings: 4
100
grams about ¾ cup after soaking
Glass Noodles
3
tsp fried
Garlic
2
oz cooked
Pork, fresh, ground, raw

1

/

2

cup sliced
Mouse-ear mushrooms

1

/

2

cup toasted and crushed
Roasted peanuts
2
sprigs chopped
Coriander (cilantro) leaves
2
Tbl
Lime juice
2
tbsp
Fish sauce
1
pepper finely chopped
Red hot chilis (Thai)
1
tsp
Sugar
Preparation
Prepare the dressing first. Mix lime juice, fish sauce, chilis and sugar together and set aside.
Mix the noodles, cooked ground pork, mushrooms and coriander together - hands work best!
Pour the dressing over the noodle mix and stir.
Transfer to a serving dish or bowl. Sprinkle the crushed nuts and fried garlic over the top.
Nutrition Facts

Servings Per Recipe 4

Amount Per Serving
Calories 255
Calories from Fat 110
Total Fat 12g
19%
Saturated 3g
13%
Cholesterol 10mg
3%
Total Carbohydrate 30g
10%
Dietary Fiber 2g
10%
Sugars 3g
Protein 8g