Carrot Som Tam
Shredded carrot most closely matches the texture, if not the colour or flavour, of green papaya. This recipe is similar to one that has proved successful at the restaurant chain in Thailand where I used to work, and also utilizes ingredients easily found outside of the country. You can of course substitute fresh string beans for the long beans.
For the photo, I left out the dried shrimp, since I don't think they add anything to the dish and didn't want to buy a big bag of them for this one dish. By leaving out the shrimp and using soy sauce in place of fish sauce, you can easily make this dish vegetarian.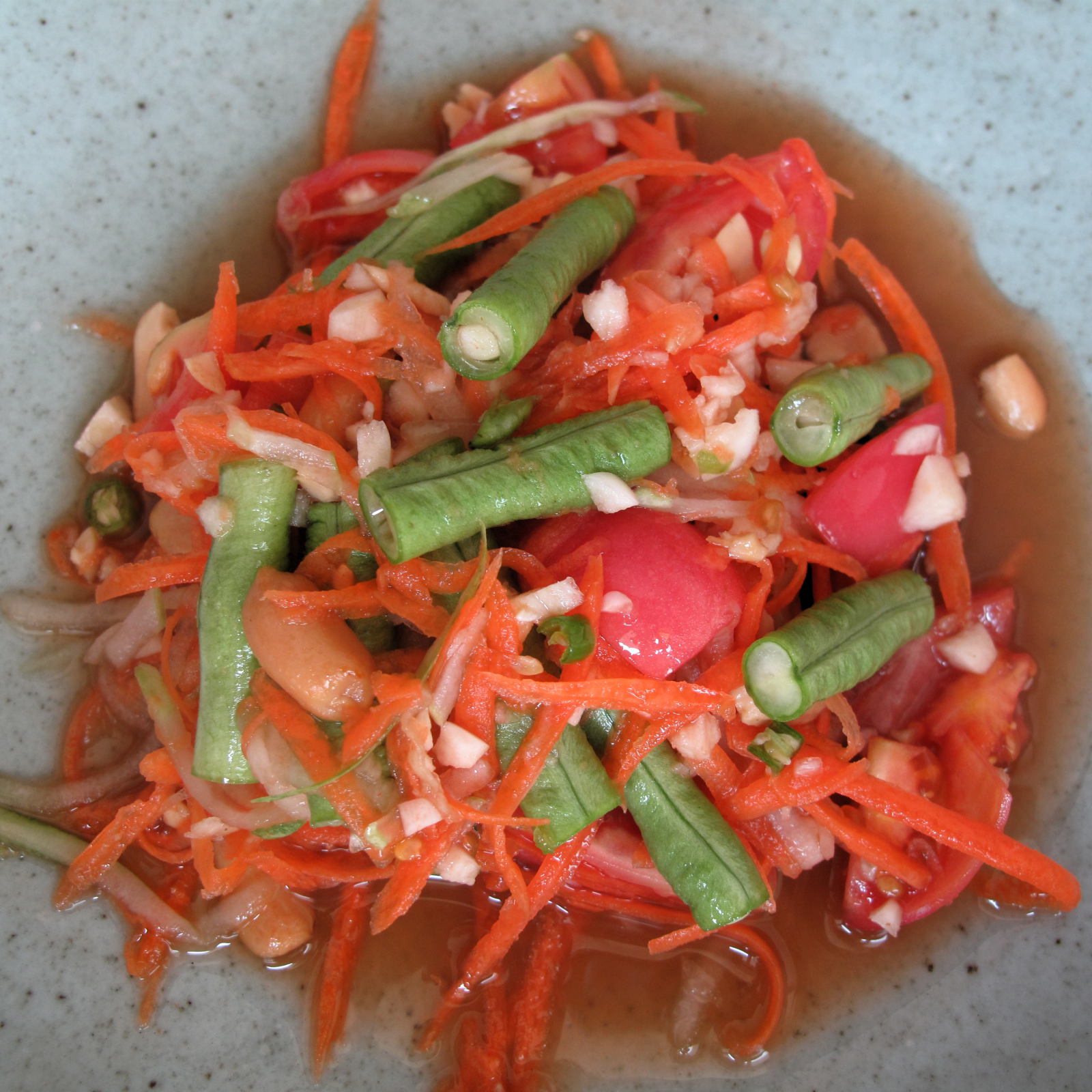 Ingredients
Servings: 4
1

/

2

cup grated
Carrots

1

/

4

cup, pared, chopped
Cucumber
1
tsp chopped
Garlic
2
pepper chopped, about 1 tsp
Red hot chilis (Thai)

1

/

4

cup slices
Yardlong bean
2
cup quartered
Tomatoes
1
oz roasted
Raw peanuts
2
tbsp
Fish sauce
1
tbsp
Lime juice

1

/

2

tsp
Palm sugar
1
tbsp (optional)
Dried shrimp
Preparation
Pound the garlic and chillies in a mortar and pestle. Add fish sauce, lime juice, palm sugar, fried peanuts, long beans, and tomato. Pound until almost shattered.
Add shredded carrot, shredded large cucumber and dried shrimp. Mix well to combine.
Transfer the salad to a serving plate. Serve with more long beans and carrot sticks.
Nutrition Facts

Servings Per Recipe 4

Amount Per Serving
Calories 80
Calories from Fat 35
Total Fat 4g
6%
Saturated 0g
2%
Cholesterol 0mg
0%
Total Carbohydrate 7g
2%
Dietary Fiber 2g
6%
Sugars 3g
Protein 5g