Nutty Corn Cakes
One of my favorite Indonesian side dishes is corn cakes. They come in a lot of different types, since it seems almost every regional cuisine has some kind of them. I found this recipe in a small book of Indonesian favorites. It calls for peanuts, which I'm not sure I've had before. If you're allergic, just leave them out.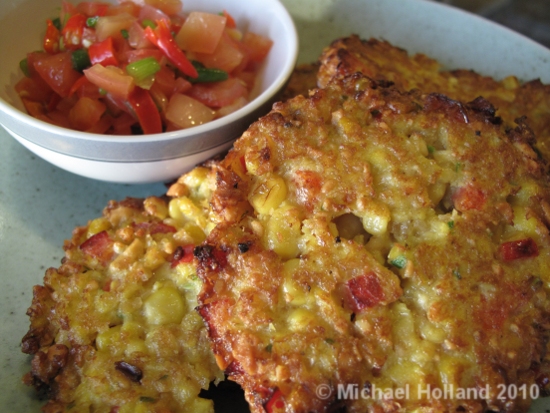 Ingredients
Servings: 6
1
can (303 x 406)
Sweet corn

1

/

2

cup
Roasted peanuts
3
medium (4-1/8" long) chopped
Spring onions
2
tsp grated
Ginger
1
clove crushed
Garlic

1

/

2

medium (approx 2-3/4" long, 2-1/2 dia.) finely diced
Red bell pepper
1
tsp, whole ground
Ground cumin
1
large lightly beaten
Egg

1

/

2

cup
Vegetable oil
2
tbsp
Rice flour, white
Preparation
Place half the corn, the peanuts, spring onions, ginger, garlic and cumin in a food processor. Mix until finely chopped and a bit mushy.
Transfer the mixture to a bowl and mix in the egg, rice flour, red peppers and the rest of the corn.
Heat the vegetable oil in a skillet. Once hot, form the corn mixture into patties and fry both sides until golden brown. I had a bit of trouble with this until I hit on the idea of using an egg ring to hold the patties together until they were cooked well enough.
Serve with dabu-dabu or some other spicy sauce.
Nutrition Facts

Servings Per Recipe 6

Amount Per Serving
Calories 319
Calories from Fat 232
Total Fat 26g
40%
Saturated 3g
13%
Cholesterol 31mg
10%
Total Carbohydrate 19g
6%
Dietary Fiber 3g
12%
Sugars 4g
Protein 6g