Sambal Matah
Despite spending a lot of time in Indonesia, and Bali in particular, during my time living in Bangkok, I never ran across sambal matah, as such, until I returned to the States. I found it in Trader Joe's of all places, but they stopped carrying it. I liked it so much that I had to find a way to make it. Oddly enough, most of the recipes I found didn't line up with the sauce I had come to like cooking with.
Unlike most sambals, which are generally condiments served with food, with its oil base this particular sauce is best used in cooking, especially stir-fries. I usually use this to fry up some tempe — something I did acquire a taste for in Indonesia — with fresh vegetables like broccoli or green beans.
I generally use peppers from a jar, since fresh cherry peppers are hard to come by. Even in season they can be a little expensive, unless you wait until they're almost out of season. A one quart jar of slices yields about two cups of diced peppers for this recipe. You can adjust the balance of oil and sweet soy sauce to suit your taste. I don't generally measure things when making this sauce and just use enough liquids to fill up the jar!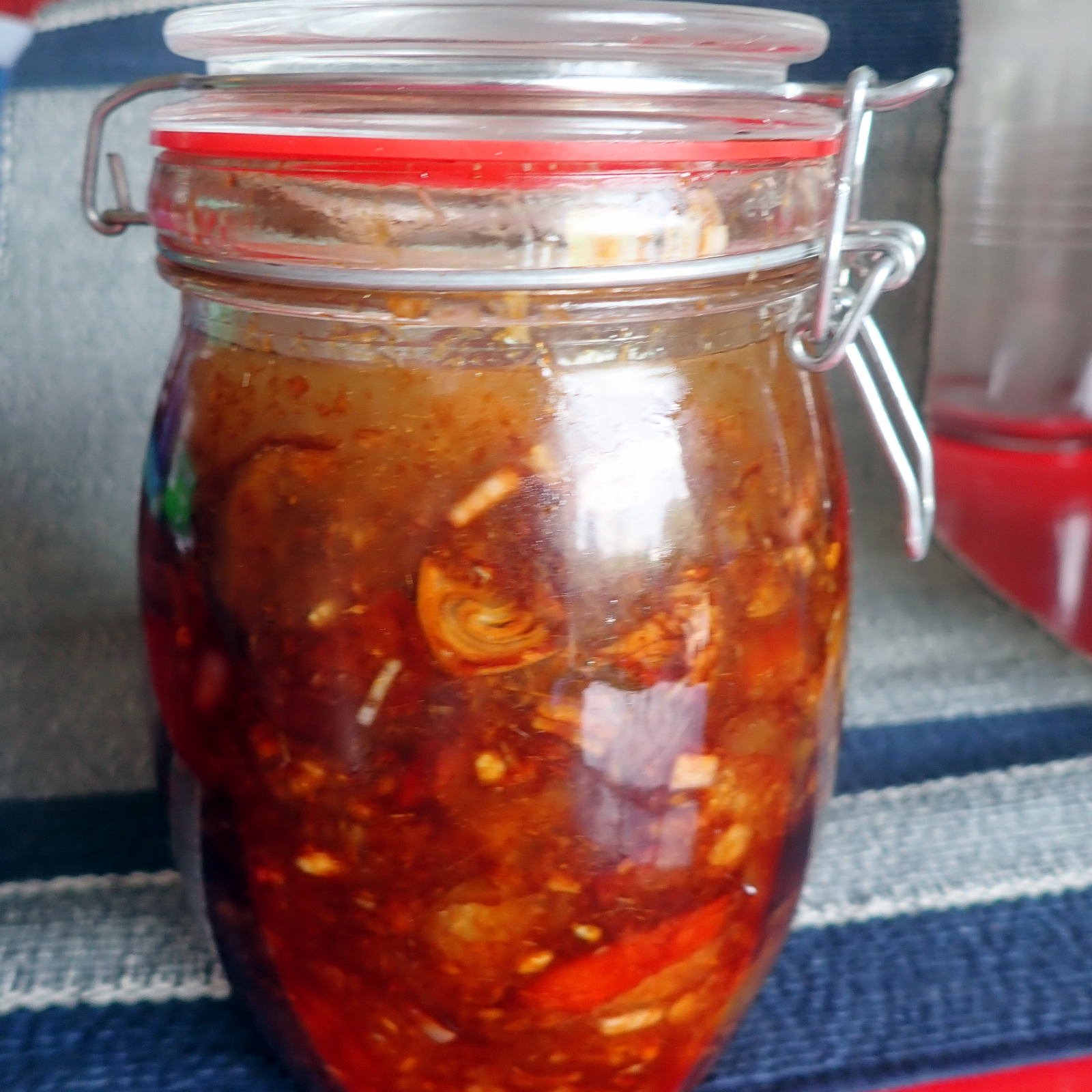 Ingredients
4
Tbl chopped
Shallots, raw
1
Tbl chopped
Garlic

1

/

2

cup
Lemon grass (citronella), raw
1

1

/

2

cup
Safflower oil

1

/

2

cup
Sweet Soy Sauce
2
cups chopped
Cherry peppers
Preparation
Clean up the lemon grass, which will be three or four stalks by removing the outer layers, cutting off the roots and chopping into short lengths. Discard the green tops. Place the rest in a food processor along with the garlic and finely chop.
Add some of the oil (about half a cup or so) and continue running the processor until you get a smooth paste.
Stir together the paste with the remaining ingredients.
The sauce will keep refrigerated in a jar for a few weeks. It will tend to settle with the oil rising to the top, so give it a good stir before using. One or two heaping tablespoons adds just the right punch to stir-fries.
Nutrition Facts

Servings Per Recipe 12

Amount Per Serving
Calories 282
Calories from Fat 245
Total Fat 27g
42%
Saturated 2g
10%
Trans Fat 0g
Cholesterol 0mg
0%
Total Carbohydrate 10g
3%
Dietary Fiber 0g
1%
Total Sugars 7g
Protein 0g