Oat-Peanut Protein Cookies
I resisted the COVID quarantine baking craze for about two months before finally succumbing, but I still wanted to keep it healthy. Somebody on Instagram posted a picture of some oatmeal walnut protein cookies, without the recipe, so I did a little searching. I found some samples that had most of the right ingredients but didn't quite hit the mark of what I was looking for, so I decided to take the elements I liked and make up a new recipe. I was quite suprised to have hit the mark on the first attempt. It's perfectly good without any added sugar, and if you wanted to make it completely vegan you just have to replace the whey protein with something plant based like pea. In that case, you might want to add a teaspoon of vanilla to counteract the taste.
I used oat milk, which I make at home using a simple recipe, but you could use any dairy free milk, or even real milk if desired.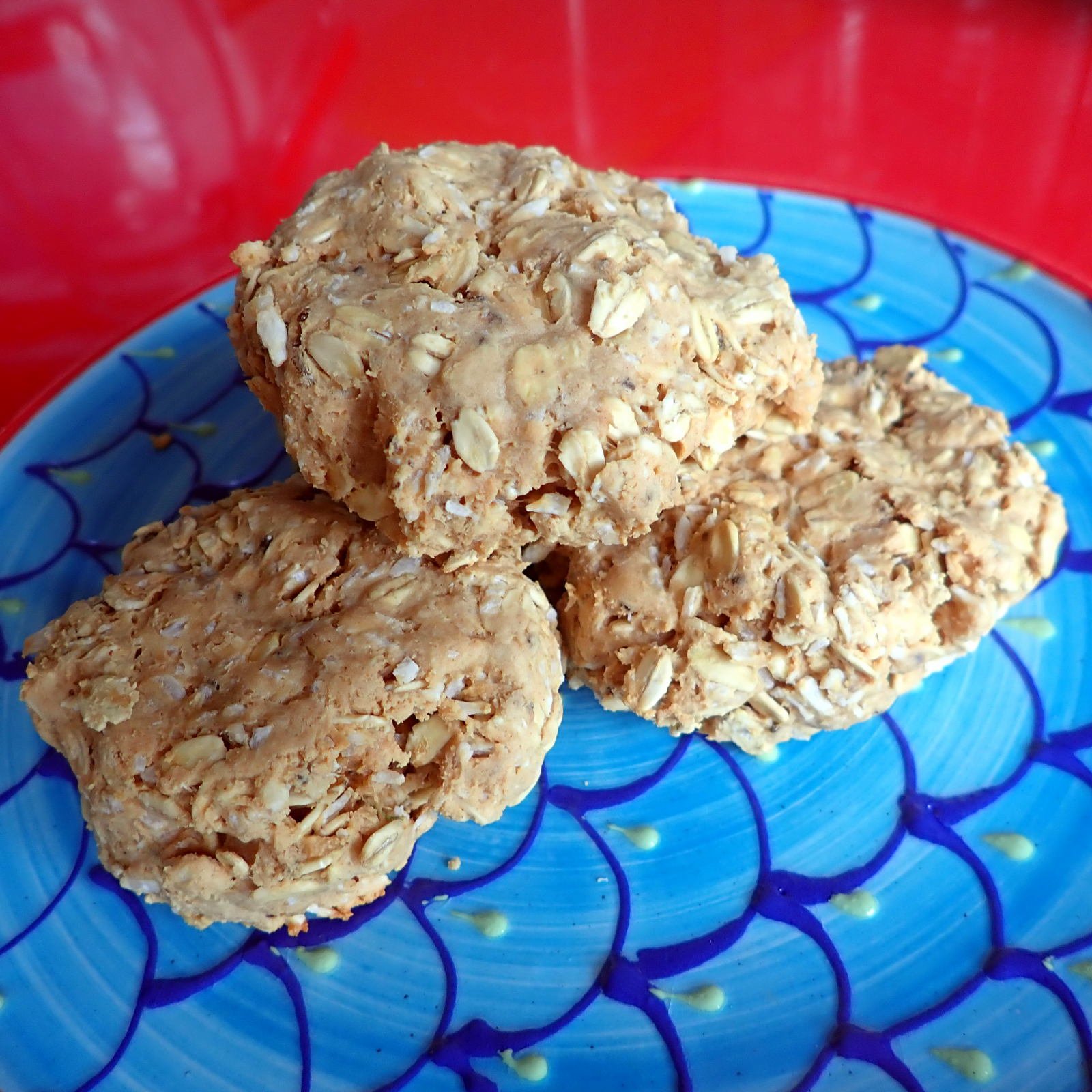 Ingredients
60
grams
Whey Protein Powder
1
cup
Oats, raw

1

/

4

cup
Coconut, fresh
1
tsp
Chia seeds
dash
Salt, optional
1
cup
Oat Milk

1

/

3

cup
Peanut butter powder
2
Tbl
Coconut oil, melted
Preparation
Preheat the oven to 350°. Lightly oil a cookie sheet.
Grind or crush the chia seeds in a small mortar. Add a couple of tablespoons of the oat milk to the crushed seeds and set aside.
Stir together the oats, coconut, whey powder and salt in a large bowl.
In a separate bowl, combine the peanut butter powder, coconut oil and softened chia seeds. Add in the oat milk to form a wet paste.
Mix the paste into the dry ingredients. This is best done by hand. Add more oat milk if necessary until the mixture will hold together.
Form large balls about 2 inches around from the dough and place them on the cookie sheet, then flatten them a little.
Bake the cookies for 10 minutes, or slightly longer if you want them crispy rather than chewy. Cool for 10 minutes or so before removing them to a plate.
Nutrition Facts

Servings Per Recipe 8

Amount Per Serving
Calories 178
Calories from Fat 88
Total Fat 10g
15%
Saturated 7g
34%
Trans Fat 0g
Cholesterol 15mg
5%
Total Carbohydrate 13g
4%
Dietary Fiber 4g
15%
Total Sugars 2g
Protein 10g