Corn Chowder
This is another one of those recipes I've had copied down from some unknown source for many years. I've made this a number of times over the years. The original recipe called for five ears of fresh corn, but I find this a great light meal for cold winters (well, several meals, since it makes a lot.) For the photo below, I used frozen roasted corn from Trader Joe's. I probably also used a lot more potatoes, onions and carrots than the recipe calls for, since I used a whole potato along with some pre-chopped carrots, celery and onions (mirepoix), from Trader Joe's.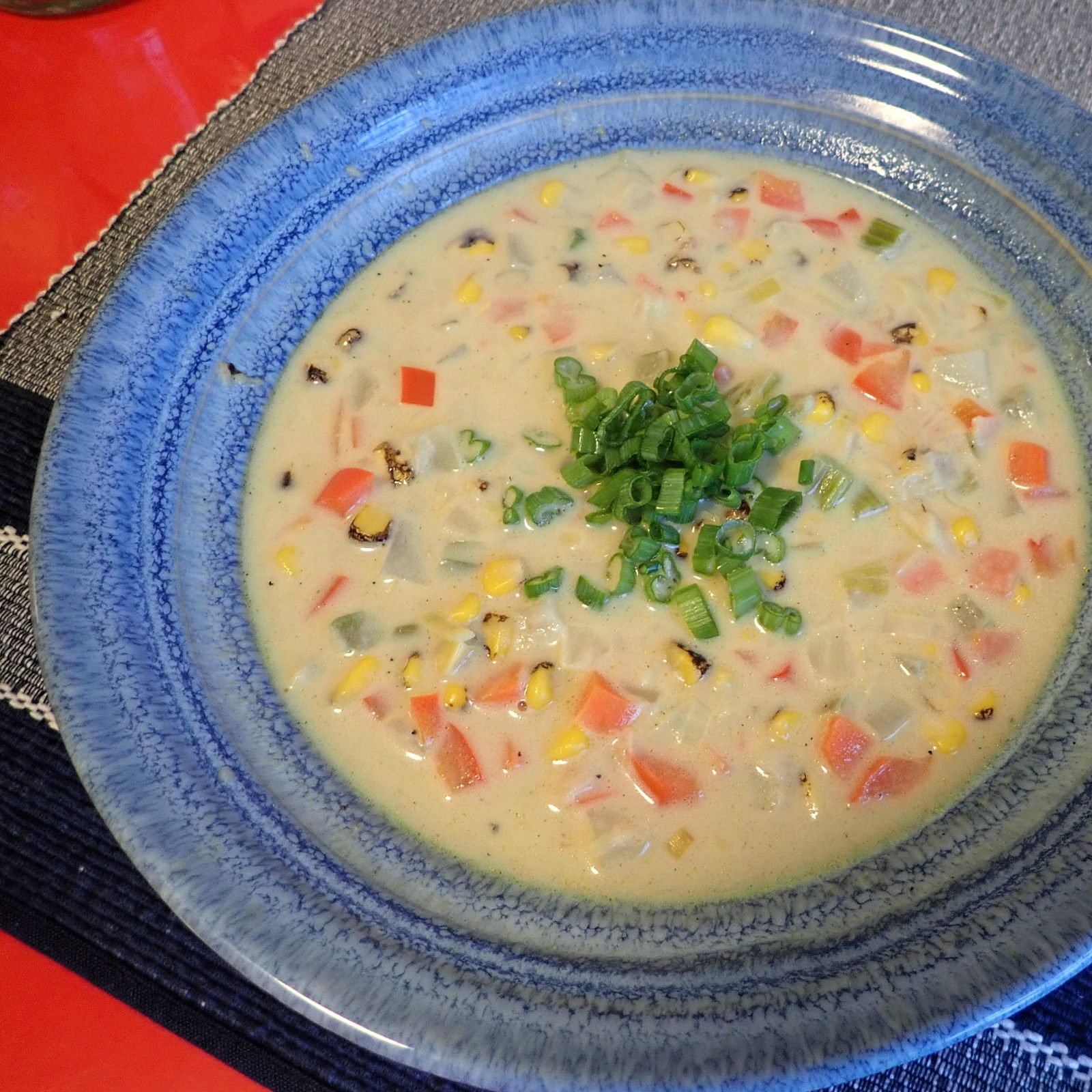 The original recipe called for the bell pepper to be roasted before being chopped, but being lazy I prefer to just use fresh peppers tossed in with the other chopped vegetables. I also tend to use no-chicken or vegetable stock to keep this dish vegetarian.
Ingredients
Servings: 12
4

1

/

2

cup
Sweet Corn
1
Whole, diced
Red bell pepper

1

/

2

cup, chopped
Celery

1

/

2

cup, chopped
Leek

1

/

2

cup, chopped
Onions, yellow, raw

1

/

2

cup, diced
Potatoes, peeled

1

/

2

cup diced
Carrots
2
tbsp
Butter
6
cup
Chicken stock
1
cup
Heavy cream

1

/

4

cup chopped
Chives, raw
Preparation
Saute the celery, leeks, onion, potatoes, carrots and pepper in the butter until soft.
Add the corn and stock. Simmer for 10 minutes.
Stir in the cream and simmer for another 10 minutes.
Season with salt and pepper. Serve with chopped chives.
Nutrition Facts

Servings Per Recipe 12

Amount Per Serving
Calories 191
Calories from Fat 102
Total Fat 11g
17%
Saturated 6g
32%
Trans Fat 4g
Cholesterol 31mg
10%
Total Carbohydrate 18g
6%
Dietary Fiber 2g
8%
Total Sugars 7g
Protein 6g