Beef Rendang
Rendang apparently has its origins in the Minangkabau ethnic group of west Java, but it can be found all over Indonesia as well as neighboring countries. In many ways, this is a very classic Southeast Asian curry, where meat is simmered in a spicy coconut milk stew until the liquid is completely reduced.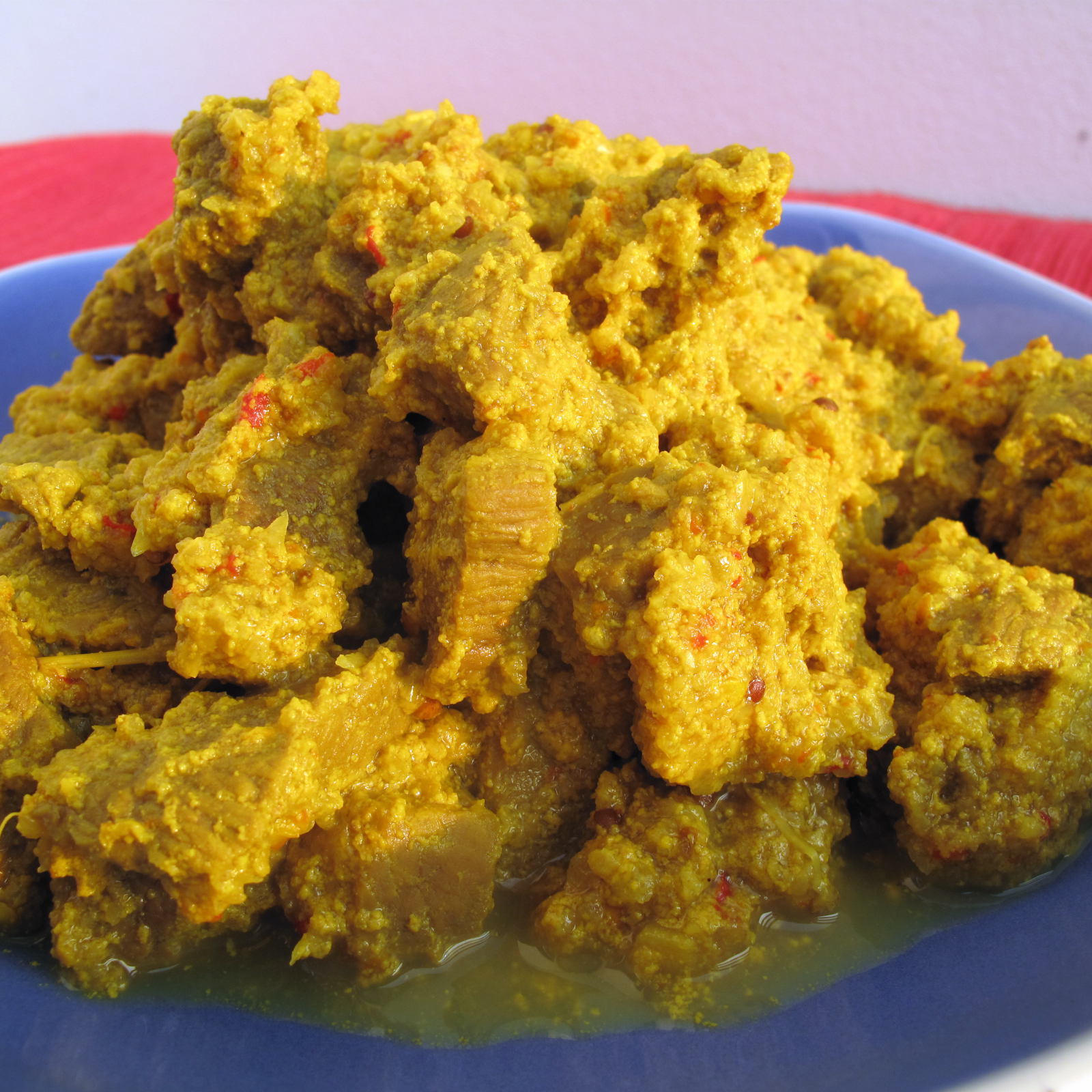 The longer you cook this dish, the better. Tradition has it that it should be cooked at least four hours. This recipe cuts that down to a couple of hours, but this is a great dish for a crock pot if you have one.
Ingredients
Servings: 8
2
lbs fat trimmed and cubed
Chuck or rump steak
2
large chopped
Onions
4
cloves chopped
Garlic
4
pepper sliced
Green hot chilis (Spur or Serano)

1

/

2

cup
Water
2
tsp
Coriander seed
3
tbsp
Tamarind paste
1
tsp
Turmeric, ground
10
leaves
Curry leaves
1
stalk cut lengthwise
Lemon grass
4
cup
Coconut Milk
Preparation
Put the cubed steak in a mixing bowl.
Place the onions, garlic, ginger, chilies and water in the bowl of a food processor. Blend until smooth. Pour the mixture over the beef.
Add the coriander, tamarind paste, turmeric, curry leaves and lemongrass to the beef mixture and stir until combines.
Transfer the mixture to a pan and stir in coconut milk. Bring to a boil over high heat, and then reduce to medium. Simmer uncovered for 1 hour, stirring occasionally. Reduce heat to very low and simmer for another 30 minutes, stirring frequently. You need to keep stirring so that the coconut milk won't separate.
Remove the lemongrass before serving.
Nutrition Facts

Servings Per Recipe 8

Amount Per Serving
Calories 707
Calories from Fat 366
Total Fat 41g
63%
Saturated 28g
139%
Cholesterol228mg
76%
Total Carbohydrate13g
4%
Dietary Fiber 2g
6%
Sugars 3g
Protein 76g