Mussaman Curry
Mussaman curry is probably the most 'un-Thai' style of Thai curries. It's more like a stew than other Thai curries. The word mussaman has no meaning in Thai, other than as the name of this curry. It may be, like several words in the modern Thai language, a corruption of a foreign word, probably Persian if the stories around this recipe are to be believed. The legend of the dish's origin is that it is derived from a recipe bought by the first Persian ambassador to the Court of Ayutthaya (the capital of old Siam). The envoy remained in Siam for the rest of his life, and established the Bunnag family, which even today is among Thailand's most powerful clans.
There is another theory that mussaman curry originated in southern Thailand, where it may have been based on dishes introduced by Arab traders. Since this curry is one of the few well know Thai dishes that uses beef rather than pork, it seems possible that the name mussaman is a corruption of 'Muslim.'
Mussaman curry is one of the most complex of all Thai curries. It uses many more ingredients than most curries, and also takes more time to prepare than almost any other dish. The extra time is largely due to the use of potatoes, although a 'long time' to prepare a Thai dish is 20 minutes or more, compared to most other curries that require 10 minutes at most.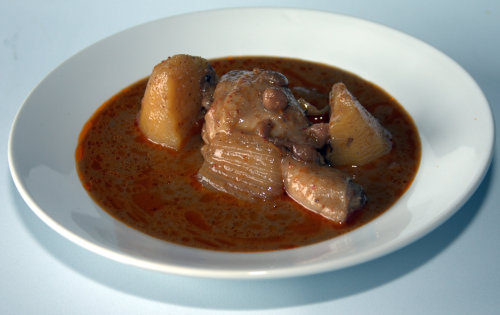 Ingredients
Servings: 4
| | | |
| --- | --- | --- |
| 4 | cup | Coconut cream |
| 4 | cup | Coconut Milk |
| 32 | oz (or beef) | Chicken breast meat |
| 1 | cup | Roasted peanuts |
| 4 | tbsp, ground | Cardamom |
| 10 | Potato small (1-3/4" to 2-1/4" dia) | Potatoes |
| 1 | large sliced | Onions |
| 20 | bulbs | Shallots |
| 1 | tbsp | Fish sauce |
| 1 | tbsp | Salt |
| 1 | tbsp | Tamarind paste |
| 2 | tbsp | Palm sugar |
| 3 | tbsp | Sugar |
| 1 | cup | Mussaman Curry Paste |
Preparation
Heat the coconut cream in a large pot to simmering. Stir in the prepared curry paste and continue to simmer until the fragrance is released. Add five tablespoons of fish sauce, five tablespoons of the tamarind juice and two tablespoons of the granulated sugar. Mix well until the fragrance returns, then add one tablespoon of the palm sugar.
Heat the coconut milk along with the meat in a pot. When it begins to simmer, pour in the coconut cream mixture along with the remainder of the seasonings.
Add the new potatoes and test the taste. Add more tamarind juice to make it more sour, or additional salt if needed.
When the potatoes are nearly done, add the onions, shallots, peanuts, cardamom leaves and cardamom seeds. Remove from heat.
Nutrition Facts

Servings Per Recipe 4

Amount Per Serving
Calories 2,864
Calories from Fat 1,590
Total Fat 177g
272%
Saturated 125g
623%
Cholesterol 496mg
165%
Total Carbohydrate 148g
49%
Dietary Fiber 22g
86%
Sugars 24g
Protein 192g