Instant Noodle Salad
In Thai: Som Tam Mama
Instant noodles - often called Ramen noodles in the US - are a very popular light meal or snack in Thailand. While they may be something you thought you left behind when you left college, chances are you never ate this well back in school.
This is not a very common dish, but I have seen it on the menu of some Thai restaurants, although not those that cater to westerners. The Thai-language version I translated this recipe from called for shrimp paste and fermented fish sauce (and by 'fermented' they mean rotten). Since I'm not a big fan of overly fishy-tasting foods and prefer lighter dishes that can be vegetarian, I've adjusted the recipe.
Traditionally, the garlic and chilies would be mashed together in a big mortar and then the other dressing ingredients would be stirred in. You can get quite satisfactory results by just mincing them. You can also use shallots instead of garlic. Tamarind paste (or sauce) is very sour, so you may need to use more sugar if you add it.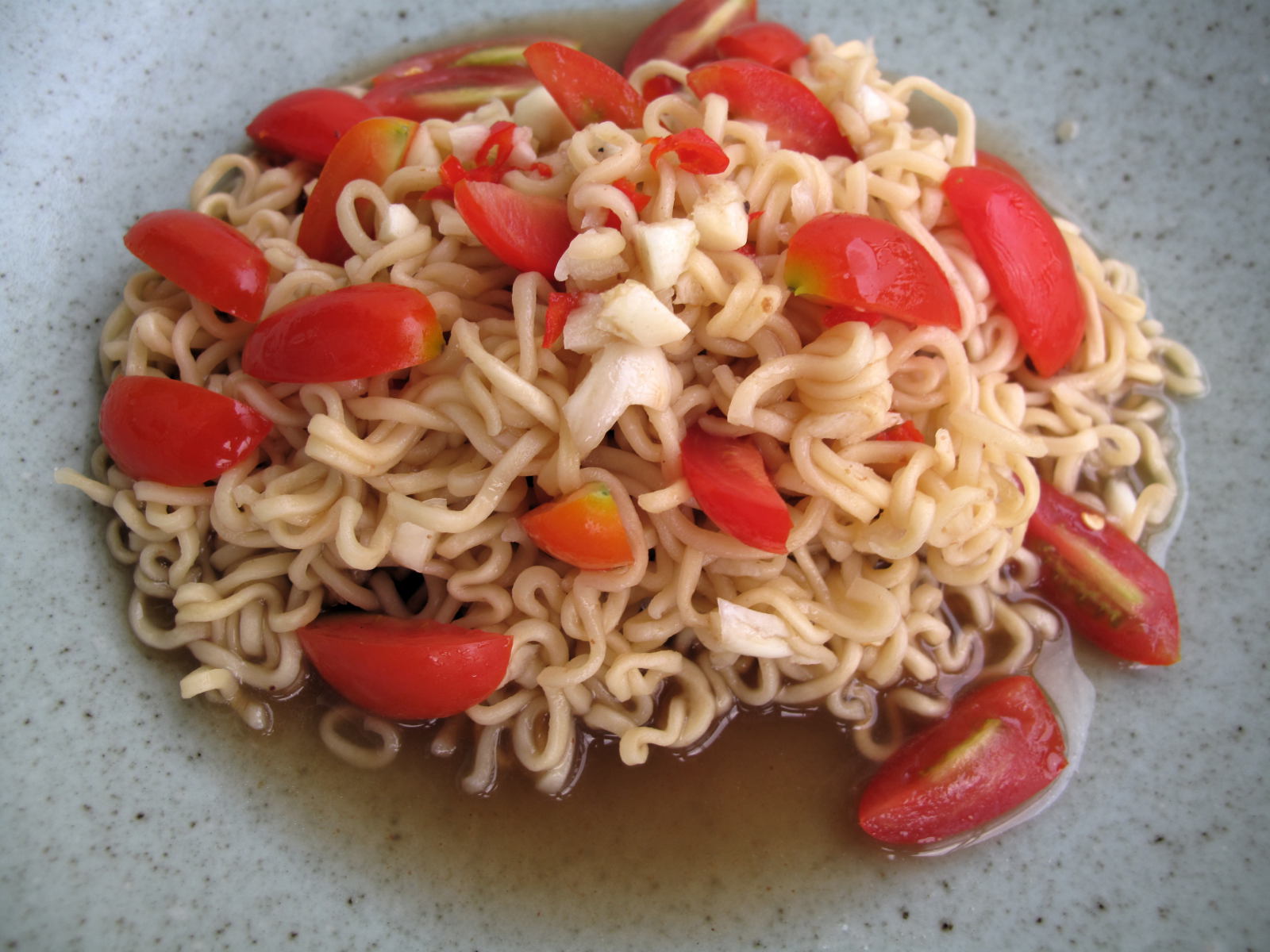 Ingredients
Servings: 2
1
package without flavor packet cooked and cooled slightly
Instant 'Ramen' noodles
2
tsp
Sugar
4
tbsp (2 limes)
Lime juice
1
tbsp
Tamarind paste
5
pepper minced
Red hot chilis (Thai)
5
cloves minced
Garlic

1

/

2

cup cherry tomatoes (5 whole tomatoes)
Cherry tomatoes
Preparation
Stir together the sugar and lime juice. It's best to leave this to set a little while to allow the lime juice to dissolve the sugar. Then stir in the chilies and garlic, as well as the tamarind paste if you decide to use it.
Cook the noodles, then drain them and set aside until they're warm enough to touch. Pour the dressing over the noodles and stir together.
Transfer the noodles to a serving dish and then arrange the tomatoes on top.
I like this dish when the noodles are still a little warm, but it's good at room temperature.
Nutrition Facts

Servings Per Recipe 2

Amount Per Serving
Calories 303
Calories from Fat 70
Total Fat 8g
12%
Saturated 3g
17%
Cholesterol 0mg
0%
Total Carbohydrate 51g
17%
Dietary Fiber 4g
16%
Sugars 12g
Protein 8g