Vegetarian Burrito Filling
This is one of my favorite lazy bachelor recipes. It makes enough to keep me from having to cook for a week or so. In fact, not only does it make good leftovers, it actually improves with age - so much so that I generally make it a day ahead of when I want to start using it.
I got the original recipe for this off the Internet many, many years ago, and I don't think I've changed it too much. This is a really easy recipe, as it basically just takes "one of everything" - one whole onion, a whole bell pepper, a whole can (standard can size of 15.5 ounce or 425 gram) of corn, another of beans (I prefer black beans, but pinto beans are good). The 'secret' to getting the taste right is probably the salsa. Use a "fresh" salsa (not taco sauce) made with chopped tomatoes, onions, chilies, etc.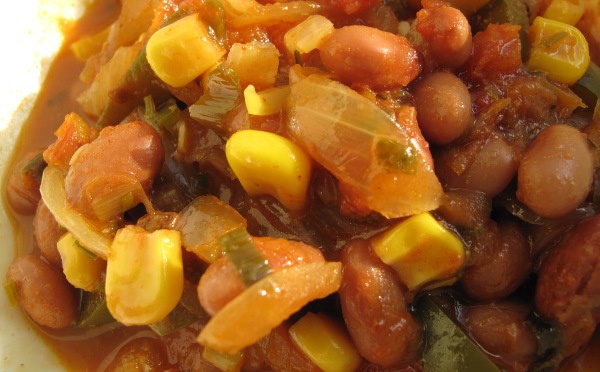 Ingredients
Servings: 12
| | | |
| --- | --- | --- |
| 1 | large thinly sliced | Onions |
| 1 | large chopped | Green bell pepper |
| 1 | can (303 x 406) drained | Sweet corn |
| 2 | cup | Black beans |
| 2 | cup | Salsa |
| 1 | tsp | Ground cumin |
| 1 | tbsp | Soy sauce |
| 2 | tbsp | Vegetable oil |
Preparation
Heat a large skillet over high heat. Add the oil and sauté the onion and bell pepper until soft.
Stir in the sweet corn, beans, salsa and seasonings. Mix well and allow it to come to a simmer, then remove from heat.
For the best taste, store the filling in the refrerator overnight before using. The mixture will keep in a tightly covered refrigerated container for at least a week.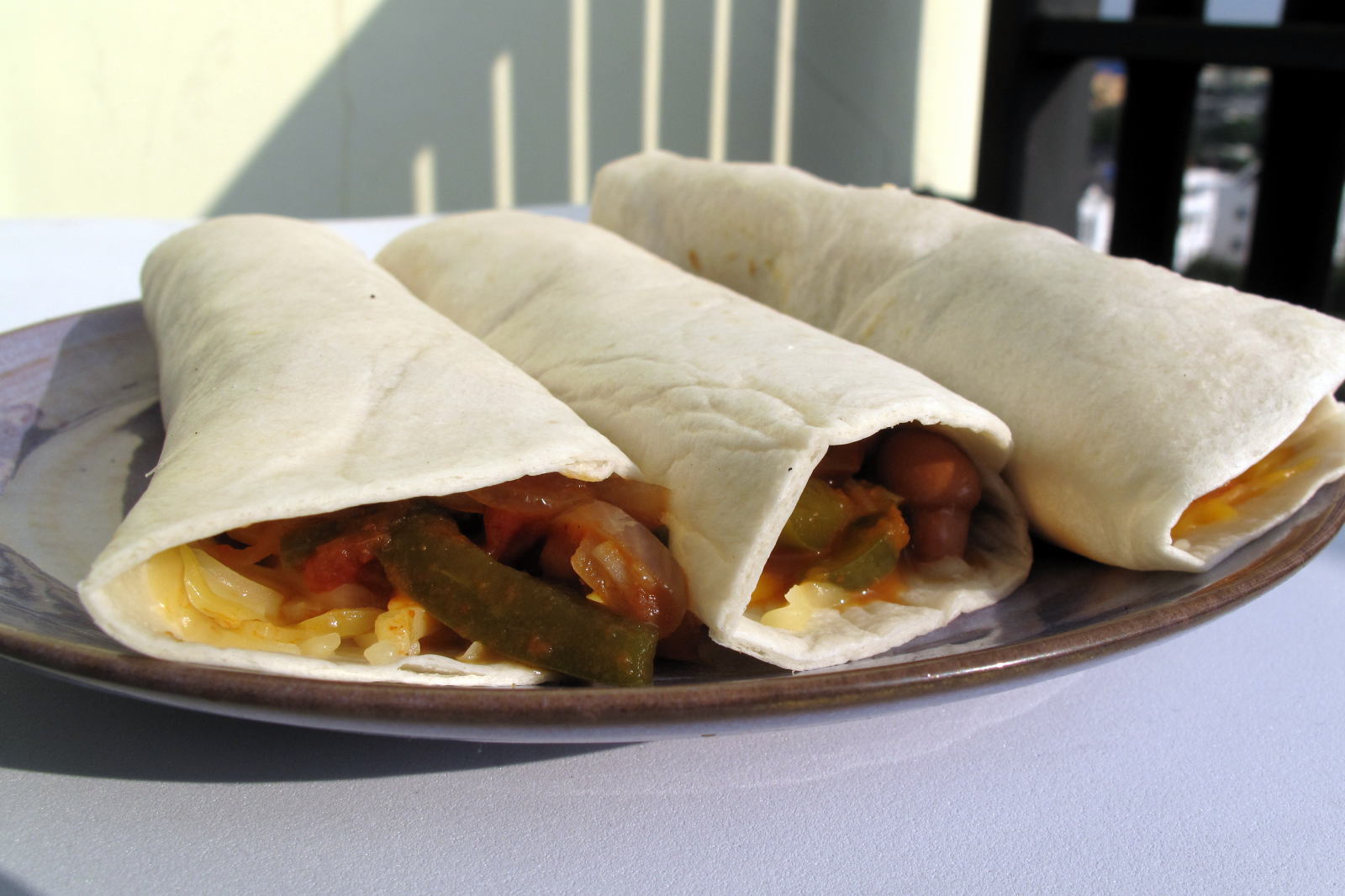 Serving Suggestion
Warm up some of the filling in a microwave. Using a non-stick skillet, heat up a soft flour tortilla. Spoon one or two tablespoons of the filling onto the tortilla. Add some cheese, lettuce, sour cream or whatever is your taste, and roll up the burrito.
Alternatively, you can add one or two tablespoons of the mix to rice as it's cooking. It works best if you add it 5 to 8 minutes before the rice is done.
Nutrition Facts

Servings Per Recipe 12

Amount Per Serving
Calories 164
Calories from Fat 27
Total Fat 3g
5%
Saturated 0g
1%
Cholesterol 0mg
0%
Total Carbohydrate 28g
9%
Dietary Fiber 6g
25%
Sugars 4g
Protein 8g