Spicy Tom Yum Noodles
Even though many people strongly identify the spicy tom yum soup with Thai food, the dish is actually quite rare on the street. You almost never find it among the other spicy foods at the curry stall. However, you can easily find "tom yum taste" at many noodle stalls. Either small strands of rice noodles or wheat noodles can be found tom yum style, but to my mind, wheat noodles deliver the best taste.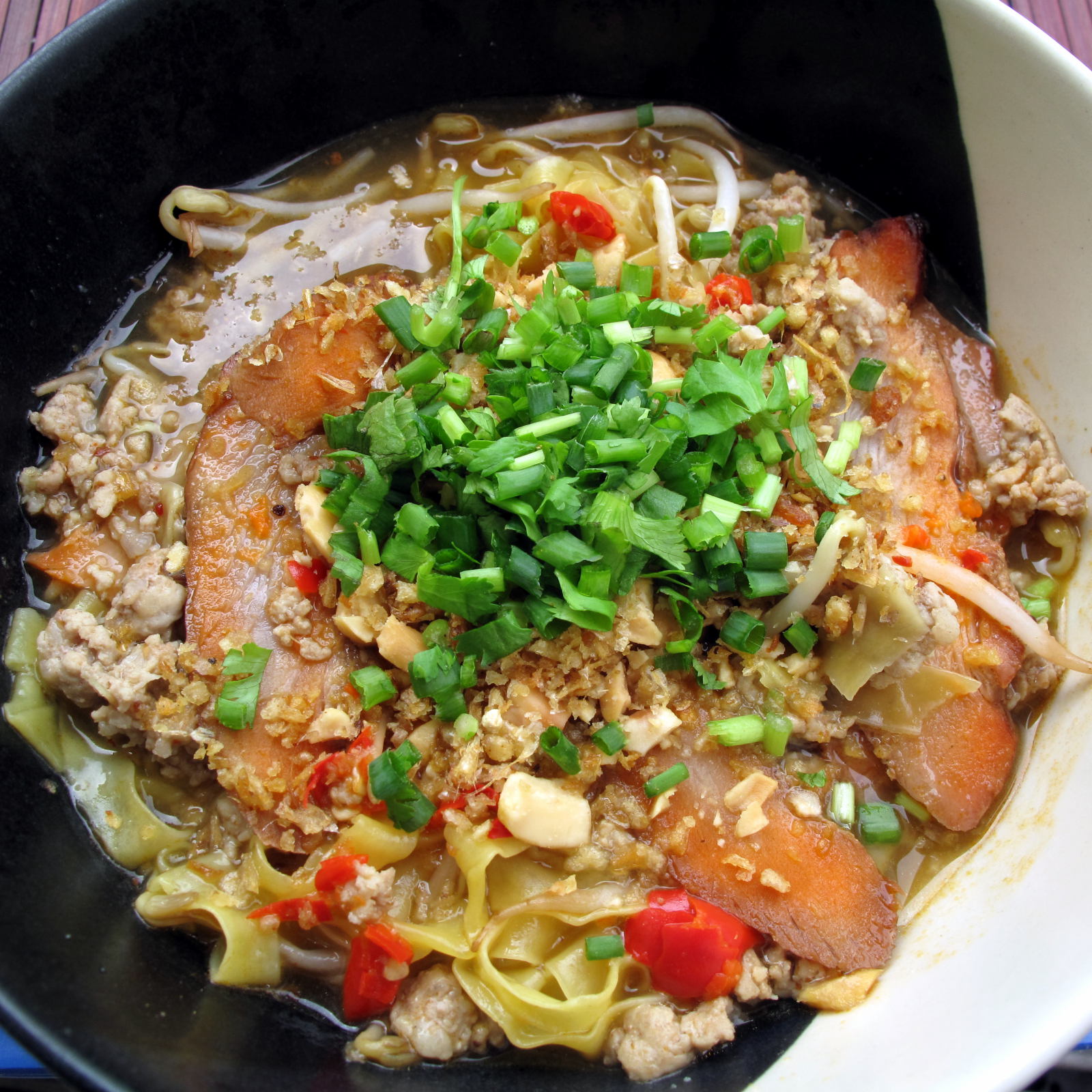 For those unfamiliar with the dish, Tom Yum noodles is not simply the classic Tom Yum soup with noodles, but rather a similarly spicy dish streamlined to be made quickly in a street stall. You won't find chunks of lemongrass or galangal floating in your noodles, but you will find peanuts. It might sound odd, but it's really very good.
This recipe shows but one of the incredible number of variations on the basic noodle soups that Thais love so much. The many variations probably explains why noodles are so popular at lunch times. You can eat noodles every day, yet it would take you a long time before you could go through all the possible different styles of noodles.
This is a recipe for a single serving. The amounts are 'approximate' measurements that you'll want to adjust to taste. For the photo, I used some flat fresh noodles I found, but you can use regular fresh or dried ba-mee.
Ingredients
Servings: 1
1
pepper
Red hot chilis (Thai)
1
tbsp
Vinegar
4
oz
Egg noodles

1

/

4

cup
Bean sprouts
1
tbsp
Pork, fresh, ground, raw
1
tbsp chopped
Spring onions
1
sprigs
Coriander (cilantro) leaves
1
tsp deep fried
Garlic
1
tsp
Fish sauce
1
tsp
Sugar
2
tsp, ground
Black pepper
1
oz coursly ground
Roasted peanuts
Preparation
To make chili sauce, grind 1 tablespoon of chopped mouse dropping chillies and 1 tablespoon of vinegar together.
When preparing the noodles, Thai cooks in food stalls will cook the chopped pork by swishing a single serving around in the large pot of stock kept on hand for making the noodle soups. In a western kitchen, it may be easier and safer to fry up all of the pork at once ahead of time.
Heat a large pot of water or stock with a little olive oil in it over a high flame. Once it comes to a boil, you can reduce the heat slightly to keep it simmering. Put a single serving of noodles and bean sprouts in a basket and swish it around in the hot water to heat through. It only takes a few seconds. After a quick shake to remove excess water, place the noodles in a serving bowl. Spoon a bit of each of the pork, spring onions, coriander and fried garlic over the top. Add fish sauce, sugar, pepper, chilli sauce, roasted chilli oil and ground peanuts. You can serve these remaining ingredients 'on the side' in separate condiment bowls to allow the guest to season for themselves.
Nutrition Facts

Servings Per Recipe 1

Amount Per Serving
Calories 1,180
Calories from Fat 274
Total Fat 30g
47%
Saturated 7g
36%
Cholesterol212mg
71%
Total Carbohydrate183g
61%
Dietary Fiber 13g
51%
Sugars 13g
Protein 47g