Spicy Drunken Noodles
I've never been able to find out exactly how this dish got its name, which in Thai is kwiteeo pat kee mao. Unlike Chinese 'drunken' recipes that I have known, there's no alcohol used in this dish, ever. The basic ingredients are similar to those used in stir-fried meats with garlic and holy basil, called pat krapao in Thai. It does appear that the name actually refers to the diner, rather than the dish. In other words, the name should be translated as 'drunkard's noodles' but that just doesn't have quite the same ring.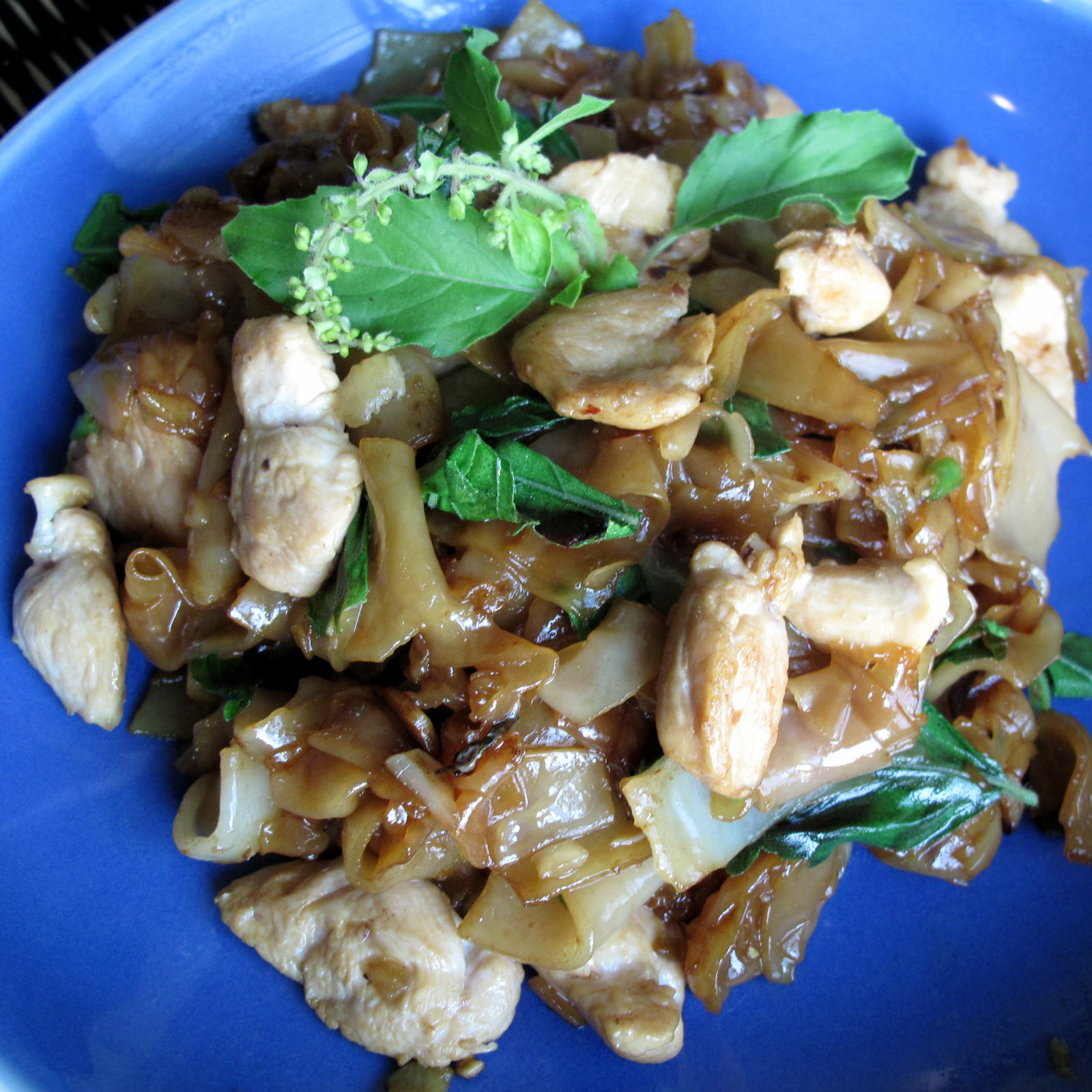 But why would drunkards want to eat this spicy noodle dish? It's just a guess, but I propose that it's because alcohol easily neutralizes the heat of the chilies, and the noodles are easily digested by the upset stomachs to which heavy drinkers are prone. Others have proposed that it's because the hot chillies are believed to be sobering. Men who may have enjoyed one too many beers may partake of this dish before heading home to the wife. Speaking from personal experience, I can say that extra-spicy food can help you to get over a headache (or hangover, as the case may be).
You can make this dish with chicken, pork, beef, prawns or just about any other meat. You can also use Italian pastas such as spaghetti or fettuccine instead of rice noodles. This 'fusion' of east and west is quite popular in Thailand. Another common variation is to use 'Shanghai' noodles. These are similar to glass noodles, but are wide flat cuts that tend to curl up when cooked.
Ingredients
Servings: 4
2
cup
Rice noodles
2
tbsp
Soy sauce
15
pepper
Red hot chilis (Thai)
10
cloves
Garlic
3
tbsp
Vegetable oil

1

/

4

lb cut in bite-sized pieces
Chicken breast meat
1

1

/

2

tbsp
Fish sauce
2
tsp
Sweet Soy Sauce
3
tsp
Sugar
1
cup leaves, whole
Holy basil
Preparation
If using fresh noodles, separate and unfold the noodles in cold water so that they don't stick together, then drain. Sprinkle the black soy sauce over the noodles and allow to marinate until the noodles take on a brown color. Set aside.
Pound together the chillies and garlic to make a paste.
Heat a wok and over medium flame. When hot, pour in the vegetable oil, and when heated stir-fry the chili - garlic paste until its fragrance is released. Add the chicken and continue stir-frying until cooked through. Stir in the noodles and heat through. Season with the fish sauce, white soy sauce and sugar. Stir in the holy basil leaves and cook just until wilted and the wonderful fragrance of the holy basil is released.
Serve in a deep plate. Fancier places will garnish the dish with holy basil leaves that have been deep fried to a crispy brittleness.
Nutrition Facts

Servings Per Recipe 4

Amount Per Serving
Calories 578
Calories from Fat 121
Total Fat 13g
21%
Saturated 1g
7%
Cholesterol62mg
21%
Total Carbohydrate91g
30%
Dietary Fiber 4g
15%
Sugars 16g
Protein 25g