Stir-Fried Noodles with Soy Sauce
In Thai, this dish is simply called kwit-teeo pat see-eew, or rice noodles stir-fried with soy sauce. You'll note it uses all three kinds of soy sauce commonly used in Thai kitchens. I think this dish goes best with pork, but you'll also easily find it on the street with chicken. Seafood is less common due to the over-powering tastes of the sauces.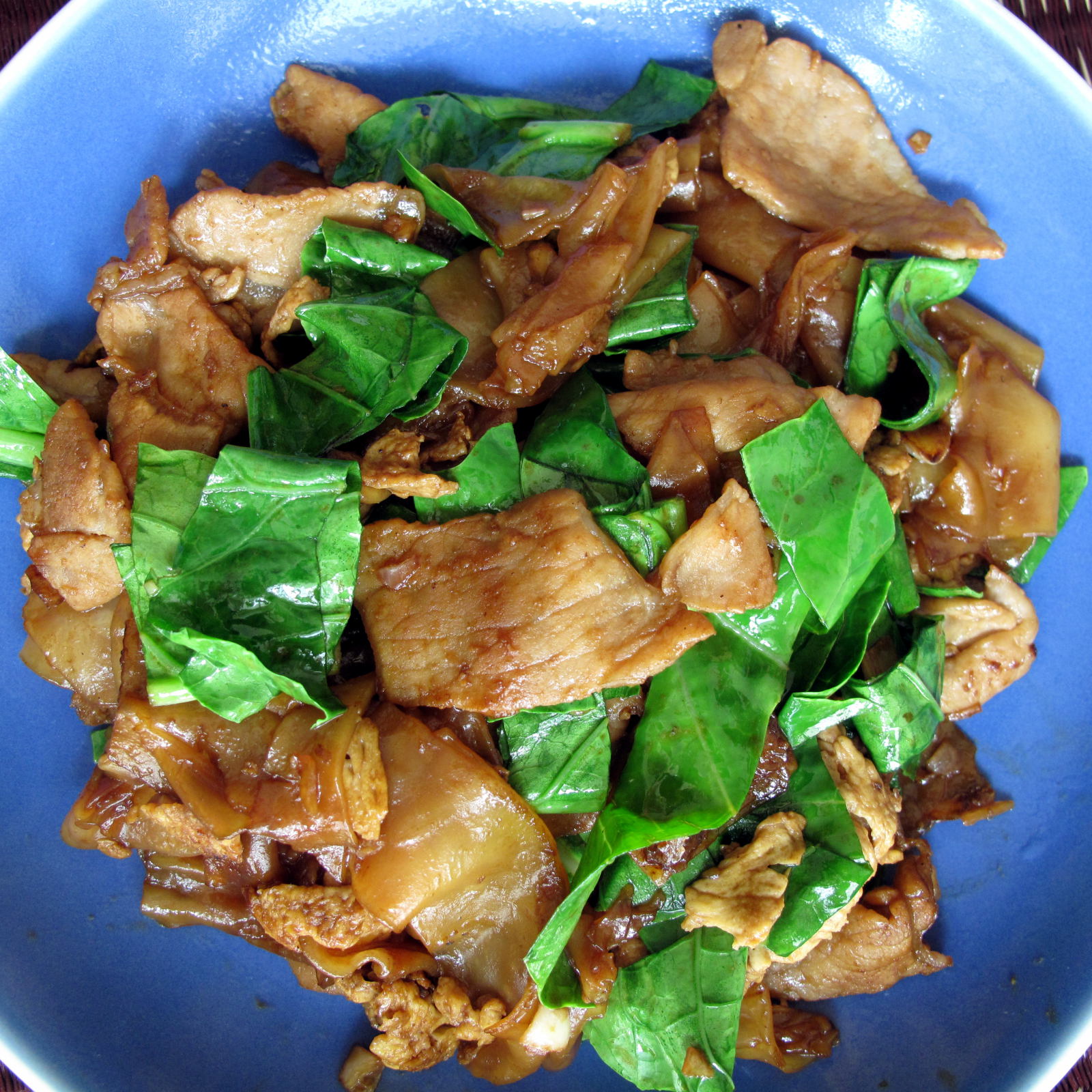 Ingredients
Servings: 2
1
cup
Rice noodles
4
stalks
Chinese broccoli
3
tbsp
Vegetable oil
1
tbsp chopped
Garlic
4
oz sliced thin
Pork tenderloin
2
tbsp
Soy sauce
1

1

/

2

tbsp
Seasoning sauce
1
tbsp
Sweet Soy Sauce
4
tsp
Sugar
2
large
Egg
1
tsp, ground
Black pepper

1

/

2

tsp
Salt

1

/

2

tsp
Flour
Preparation
To make the marinated pork, stir sliced pork together with 1 tbsp soy sauce, 1 tsp sugar, salt and flour. Marinate at least 30 minutes.
Separate the rice noodles and set aside.
Wash the kale leaves and slice them into bite sized pieces.
Heat the wok with two tablespoons of the vegetable oil. Stir-fry the garlic until crispy. Add the marinated pork and stir-fry until cooked through. Add the rice noodles and cook through. Season with the white soy sauce, seasoning sauce, black soy sauce and sugar, stir-frying to mix thoroughly. Push the noodle and pork mixture to one side of the wok and add the remaining one tablespoon of vegetable oil. Scramble the eggs in the vegetable oil. When the eggs are set, mix them in with the noodles and pork, then add the kale and stir-fry until the kale begins to wilt. Transfer to plates, sprinkle the ground black pepper over the noodles and serve with ground dried chillies and spur chillies in vinegar.
Nutrition Facts

Servings Per Recipe 2

Amount Per Serving
Calories 801
Calories from Fat 266
Total Fat 30g
45%
Saturated 4g
22%
Cholesterol 297mg
99%
Total Carbohydrate 85g
28%
Dietary Fiber 3g
11%
Sugars 16g
Protein 46g