Thai Fried Chicken
Thailand has long enjoyed its own special style of fried chicken, made with their very own blend of 'secret' herbs and spices. Fried or grilled chicken is found throughout the kingdom with regional variations. For me, fried chicken always makes me think of the beach. Just about any stretch of beach in Thailand that is well visited will have a string of shacks selling fried or barbecued chicken, along with som tam and sticky rice. It's the perfect beach food, since you can eat it all with your hands and not care about how sticky your fingers get.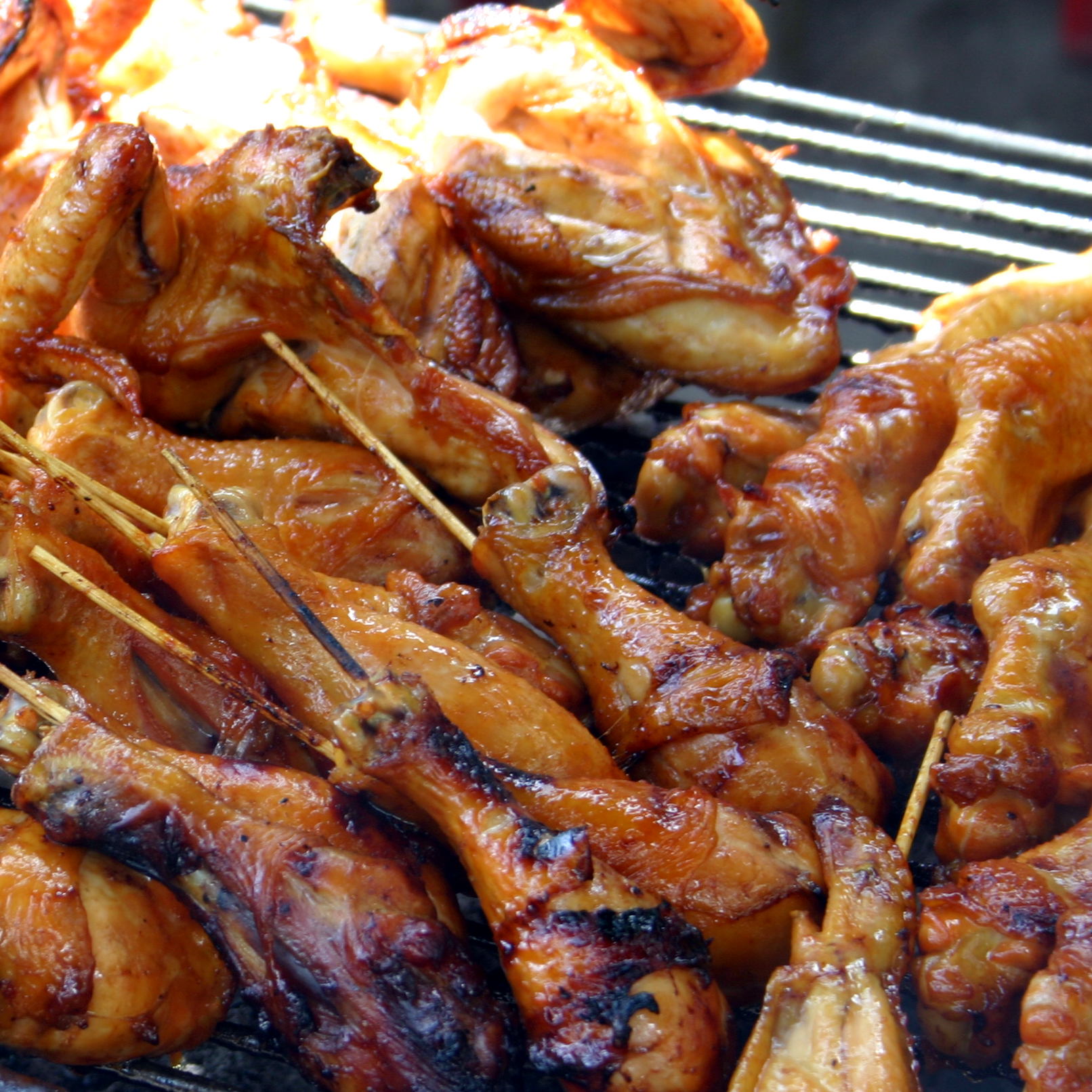 This very Thai styled 'picnic' can be found just about anywhere in the country where people might come to spend some relaxing time outdoors, even far away from the ocean. In Chiang Mai, you'll find a collection of stalls on the street next to the entrance to the city's popular zoo. Families planning to spend a day visiting the pandas, tigers and other animals on display will stop at the stalls and stock up on fried chicken, grilled sausages, som tam, sticky rice and other delicacies. Large charcoal grills are piled high with meats from mid-morning onward to fill this demand.
One of the most famous purveyors of Thai style fried chicken is Mr Abdulah Ahdum, who founded Jeerapun Fried Chicken. Abdulah came from a family of ten, and began learning the 'art' of making Thai fried chicken from his father at the tender age of nine. Originally, the family set up their stalls at the many festivals and fairs held around Bangkok throughout the year.
Although seemingly born into the trade, Abdulah tried his hands at many things over the years, and even went to seek his fortune in the USA for a few years. Things didn't quite work out in America, so Abdulah returned to Thailand and eventually revived his father's fried chicken business. Although now retired, the stall is still run by his sons, and sells more than 100 whole chickens every day.
Over the years, Abdulah made many refinements to the traditional Thai way of preparing fried chicken. He found that baking the chicken until it was about 70 percent cooked before grilling it resulted in chicken that was cooked all the way through just right. If grilled directly, the chicken may burn on the outside while remaining raw on the inside.
Ingredients
Servings: 6
| | | |
| --- | --- | --- |
| 1 | whole about 2 lbs | Chicken - whole or parts |
| 2 | stalks | Lemon grass |
| 2 | whole bulbs | Garlic |
| 2 | tsp | Salt |
| 1 | tbsp, ground | Black pepper |
| 1 | tbsp | Soy sauce |
| 1 | tbsp (optional) | Fish sauce |
| 1 | tbsp ground | Coriander Roots |
| 1 | tsp | Seasoning Sauce |
| 2 | tbsp | Lime juice |
Preparation
Wash the chicken and if using a whole chicken, separate it into parts.
Rub the lime into the chicken, then rub in the salt.
Grind together the lemongrass, garlic, pepper and coriander roots to form a smooth paste. Stir in the soy sauce, fish sauce and seasoning sauce.
Rub the paste into the chicken and allow to marinate for at least 2 hours.
Slow-grill the chicken over a low flame, or coals that are past the height of the heat. For a whole chicken, allow 1½ to 2 hours.
Abdulah Ahdum recently shared his secrets to making the best Thai styled fried chicken. Among them are:
Use "Thai" garlic with small cloves. It gives a better taste than the large clove variety.
For best results, marinate the chicken over night in the refrigerator.
Jeerapun Fried Chicken is baked before being barbecued. The whole chickens are baked in an oven until cooked about 70 percent through, then barbecued over warm – not hot – coals for about two hours.
When grilling, Abdulah first barbecues the chicken over a hot flame until the skin just begins to dry, then he transfers the chicken to a grill with a very low flame to cook.
Nutrition Facts

Servings Per Recipe 6

Amount Per Serving
Calories 52
Calories from Fat 22
Total Fat 2g
4%
Saturated 1g
4%
Cholesterol 20mg
7%
Total Carbohydrate 4g
1%
Dietary Fiber 0g
2%
Sugars 0g
Protein 4g