Dabu-Dabu
I first encountered dabu-dabu on a trip around North Sulawesi, where it's the local sambal (the generic Indonesian word for chili sauce). Although almost certainly developed locally, dabu-dabu is definitely a dead ringer for Mexican salsa. It went very well with another Indonesian favorite: corn cakes.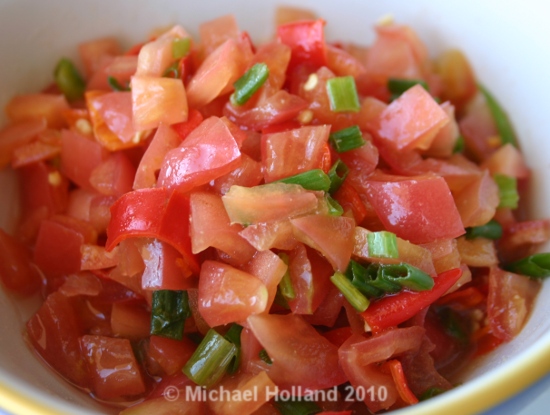 I did a little investigating and found several recipes for dabu-dabu. It seems that like any popular dish, there are as many recipes as there are cooks, but the basics remain the same: tomatoes, chilies, lime juice and oil. Common variations include using shallots in place of green onions and the addition of fresh basil. No matter how you make it, be sure to give it a day or more to "ferment" before using. Otherwise it will taste quite "rough".
Ingredients
Servings: 4
1
cup (Plum tomatoes preferred)
Tomatoes
10
pepper chopped
Red hot chilis (Thai)
3
medium (4-1/8" long) chopped
Spring onions
2
Tbl
Lime juice
2
tablespoon
Olive oil

1

/

2

tsp
Sugar
Preparation
Mix all the ingredients together.
Store in the refrigerator for at least one day before using.
Nutrition Facts

Servings Per Recipe 4

Amount Per Serving
Calories 132
Calories from Fat 72
Total Fat 8g
12%
Saturated 1g
6%
Cholesterol 0mg
0%
Total Carbohydrate 15g
5%
Dietary Fiber 2g
10%
Sugars 7g
Protein 3g