Red Chili Dip
This recipe for Nam Prik Ong makes a small portion suitable as an appetizer for about four people. For larger groups, simply scale it up. Some versions of this recipe call for the addition of a small portion (1 teaspoon) of shrimp paste, a tofu sheet or fermented soy beans. I think the dish does fine without them, as they are difficult to find and the quantities needed are so small.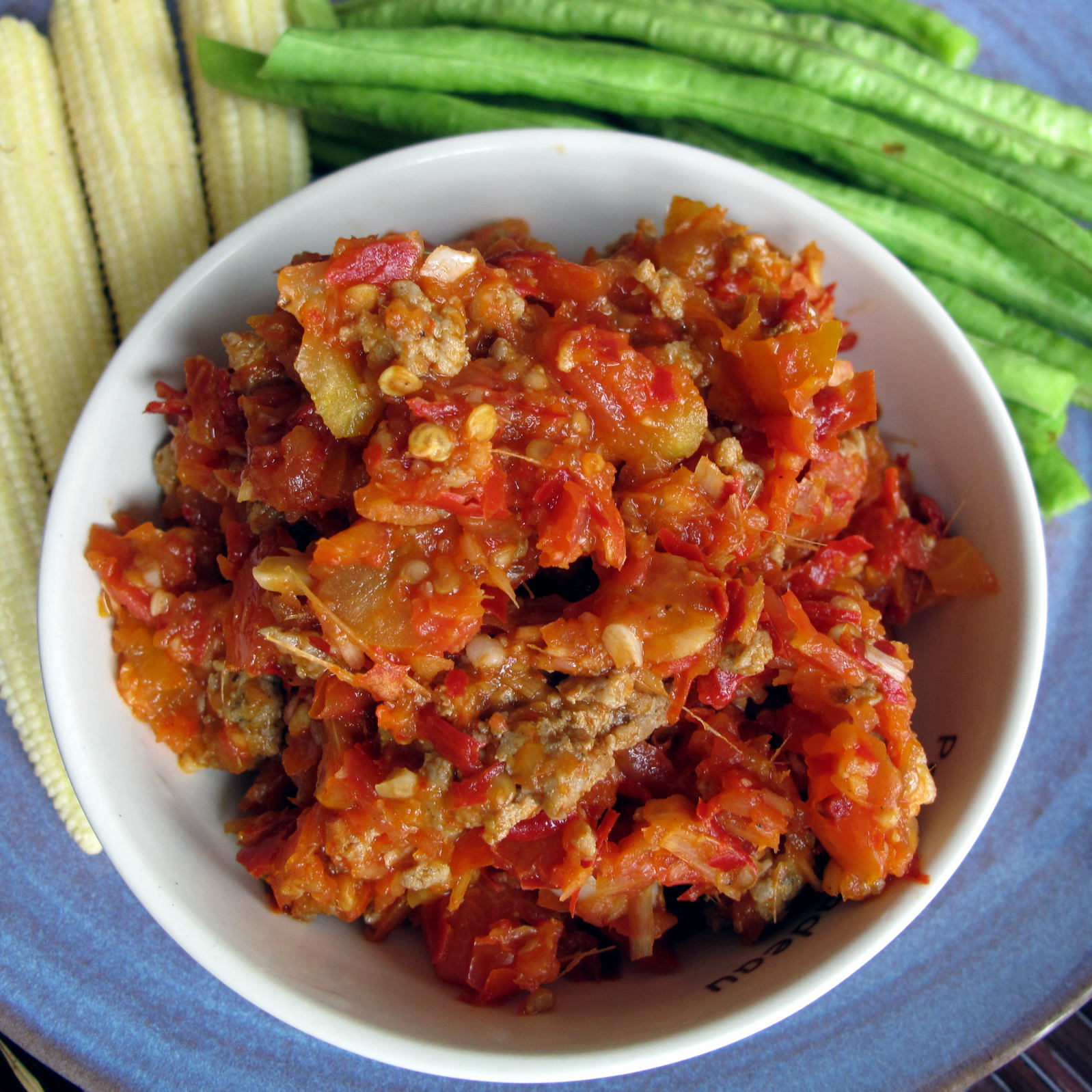 Ingredients
Servings: 4
| | | |
| --- | --- | --- |
| 1 | oz (about 3 Tbl) | Pork, fresh, ground, raw |
| 5 | pepper soaked in water | Dried red chilis |
| 1 | tbsp chopped | Lemon grass |
| 3 | tbsp chopped | Shallots |
| 5 | cloves | Garlic |
| 1 | cup Cherry tomatoes preferred | Tomatoes |
| 2 | tsp | Salt |
| 4 | fl oz | Water |
| 2 | tbsp | Vegetable oil |
Preparation
Grind the dried chili, lemongrass and salt to a fine paste with a mortar and pestle or food processor. Add the shallots and (5) whole garlic cloves, and continue grinding.
Add the tomatoes and gently mix them into the paste. If using a food processor, use a low setting. Stir in the ground pork.
Heat the vegetable oil in a wok or skillet. When hot, stir-fry the chopped garlic until it is crispy and fragrant. Transfer the chili paste to the wok and stir-fry over low heat to cook the pork. Add the water and simmer until reduced to a nice thick sauce. Transfer to a serving bowl.
Nam prik ong
is typically served at room temperature with raw vegetables such as sliced cucumbers or gherkins, cut long beans, cabbage, carrots, etc. With a little more meat added, this can also make an interesting spaghetti sauce.
Nutrition Facts

Servings Per Recipe 4

Amount Per Serving
Calories 124
Calories from Fat 81
Total Fat 9g
14%
Saturated 1g
6%
Cholesterol 5mg
2%
Total Carbohydrate 9g
3%
Dietary Fiber 1g
4%
Sugars 1g
Protein 3g