Apple Blueberry Cake
Many years ago, before I moved to Thailand, I wrote a bunch of recipes in a journal that I've carried with me ever since. The funny thing is, in looking through the book from time to time, some of the recipes I've never made. They must have just sounded good at the time, as many of them still do. I have no idea where I got most of these, so I can't attribute the original source to them.
This is one of those recipes that I don't think I've made before. Apples and blueberries doesn't sound like a natural combination, but they do come together quite nicely in this cake, making it a not-too-sweet treat that would be good for a brunch dessert. I'm very tempted to use a smaller square pan for this recipe, to get a thicker cake.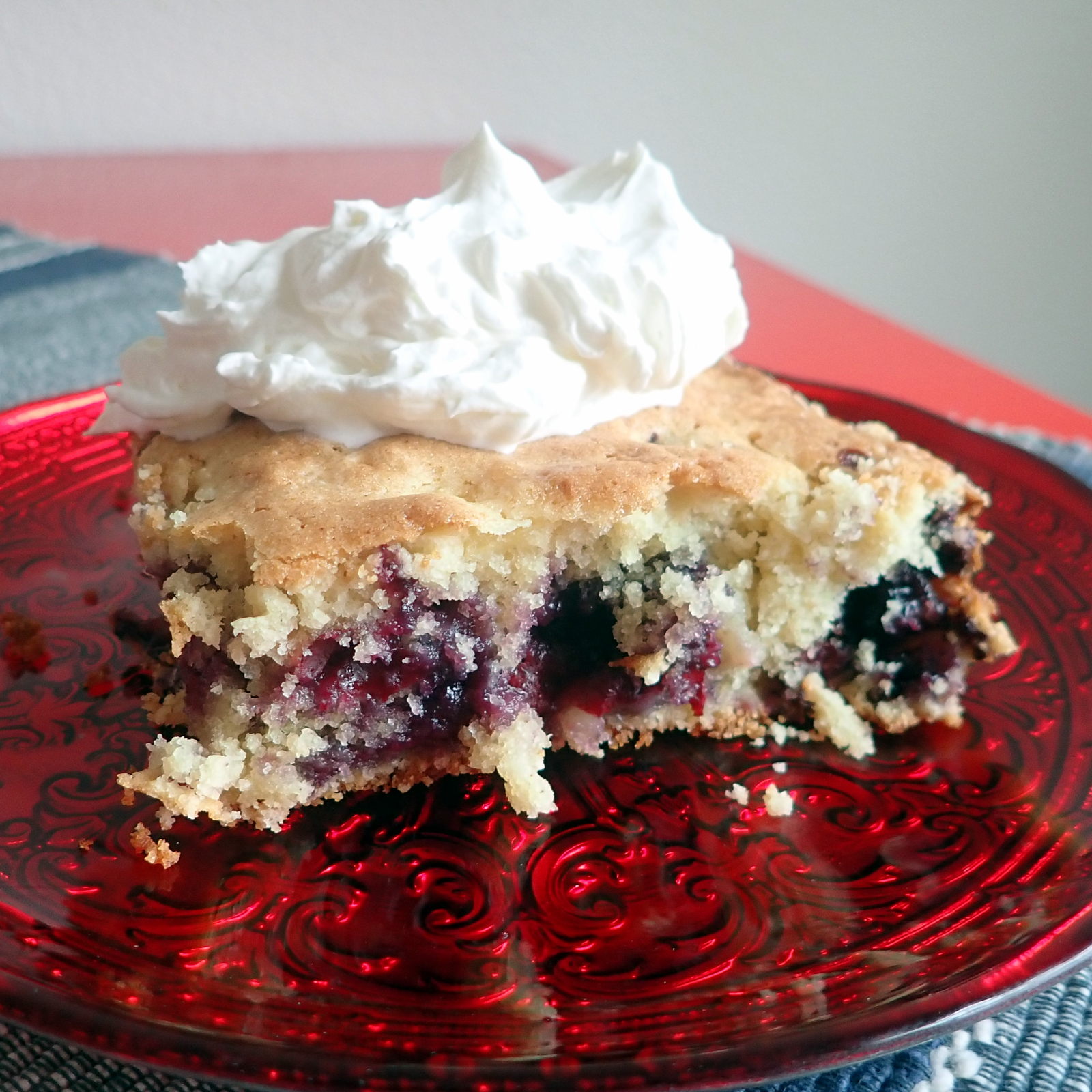 Ingredients
Servings: 12
1

/

4

cup
Heavy cream
1
stick (

1

/

2

cup)
Butter, unsalted
1

1

/

4

cup
Sugar
3
Eggs
2

1

/

3

cup
Flour
2
tsp
Baking powder
1
tsp
Salt
2
cups, coarsely chopped
Apple, peeled & cored
2
cups
Blueberries
Preparation
Preheat oven to 350°F
In a 1 quart saucepan, cook butter and cream over low head, stirring occasionally, until the butter melts. Set aside.
In a large mixing bowl, combine sugar and eggs. Beat at medium speed, scraping bowl often, until well mixed.
Add butter mixture, flour, baking powder and salt. Continue mixing until smooth.
By hand, stir in the chopped apples and whole blueberries.
Spread into a greased and floured 13"x9" pan.
Bake for 45 to 55 minutes.
Serve warm with whipped cream, or ice cream.
Nutrition Facts

Servings Per Recipe 12

Amount Per Serving
Calories 289
Calories from Fat 129
Total Fat 14g
22%
Saturated 10g
49%
Trans Fat 1g
Cholesterol 141mg
47%
Total Carbohydrate 49g
16%
Dietary Fiber 2g
7%
Total Sugars 6g
Protein 5g