Mint Patties
Mint patties turns out to be a surprisingly tricky recipe to master. The candy is deceptively simple, but I've had many a failure because the mint centers don't set enough when frozen and the whole thing flattens out when exposed to the hot chocolate coating. That's one advantage to using a silicon mold like I used for the patties pictured. It's much easier to spoon a bit of chocolate into the bottom of the mold, press the frozen center into it and then cover the top with more chocolate.
It should go without saying, but this is one of those recipes that you don't want to cut corners on the key ingredient. The better the mint extract you use (and definitely stay away from the imitation stuff), the better the taste. I've been using Flavorganics Organic Peppermint Extract, which I've found is available on Amazon. The mints I've made with it have definitely gotten raves.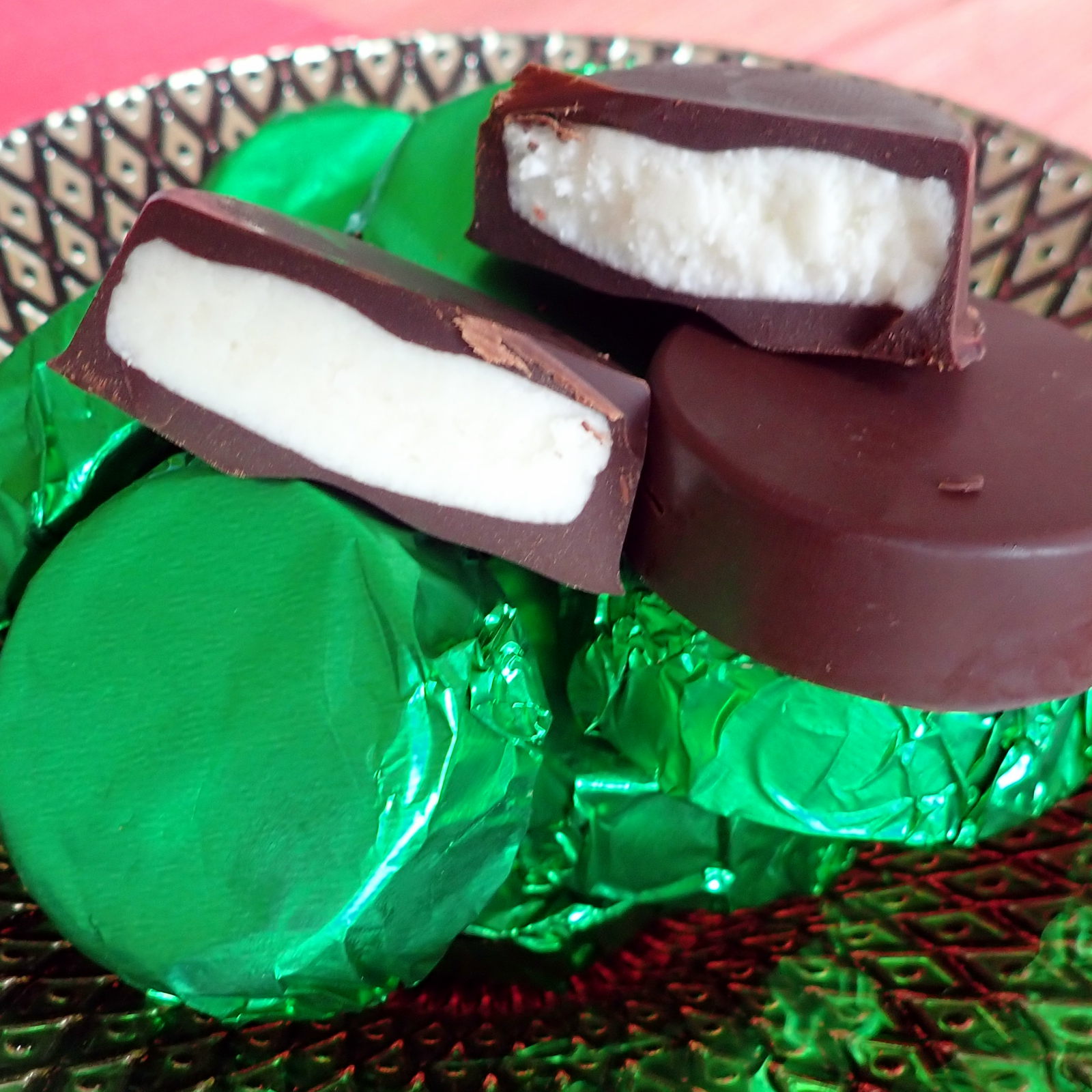 Ingredients
Makes: About 1 dozen
| | | |
| --- | --- | --- |
| 1 | cup | Powdered sugar |
| 2 | tsp | Peppermint extract |
| 2 | Tbl | Cream |
| 8 | oz | Dark chocolate |
Preparation
Sift the powdered sugar into a bowl and add the peppermint extract.
Work the oil into the sugar using your hand. Then add the cream and work the mixture into a sticky dough.
You may need to use a little more cream. You don't want the dough crumbly but not too soft either.
Pinch off a bit of the dough and work it into a small patty. You may want to keep it a bit plump, since it will tend to flatten a bit when heated by the melted chocolate.
Place the patties on wax paper and freeze for about an hour or more.
Melt the chocolate in the top of a double boiler.
Dip the cooled patties in the chocolate to coat, then set on wax paper to cool.
I generally store the finished candy in the refrigerator until shortly before eating. You can also freeze them. I was able to find the little colored foil squares for the patties in on Amazon.