Lemon-Tequila & Cocoa-Nocino Balls
It's coming to that time of year when I start making my holiday treats. I generally begin well before Thanksgiving because some of the things I make, like these little adult confections, require some time to age before they're best to eat. This recipe started out as a basic rum ball, but over the years I've experimented with different cookies, crackers and alcohols. These two recipes represent the ones I think are the best. Other variations include ginger snaps with spiced rum, and cinnamon crackers with cinnamon infused rum.
The crackers, wafers, biscotti or whatever is the most important ingredient in this recipe, as that's what will dominate the taste, and of course it needs to compliment the alcohol used. For the tequila-lemon balls, the best results come from using Trader Joe's Meyer Lemon wafers. I've also had good results with orange biscotti. For cocoa-nocino, I also like the Trader Joe's product, chocolate-hazelnut biscotti. In both cases, an entire packet provides just the right amount of ground cookies for this recipe.
If you're not familiar with it, nocino is a liqeur from northern Italy made with green walnuts. It reminds me a bit of Kahlua, which you could use in it's place, although I think of Nocino as a little less sweet with a little more body. I discovered the liquer through a local distillery, Stone Barn Brandyworks, which makes this along with other fruit brandies and liquers.
Note that the most important part of this recipe is the use of a cookie tin to store and age the balls. You can find these at craft stores in the season, or you can of course just buy a tin of butter cookies. Glass, or worse, plastic "Tuperware" containers just won't do. Your balls will end up tasting like plastic.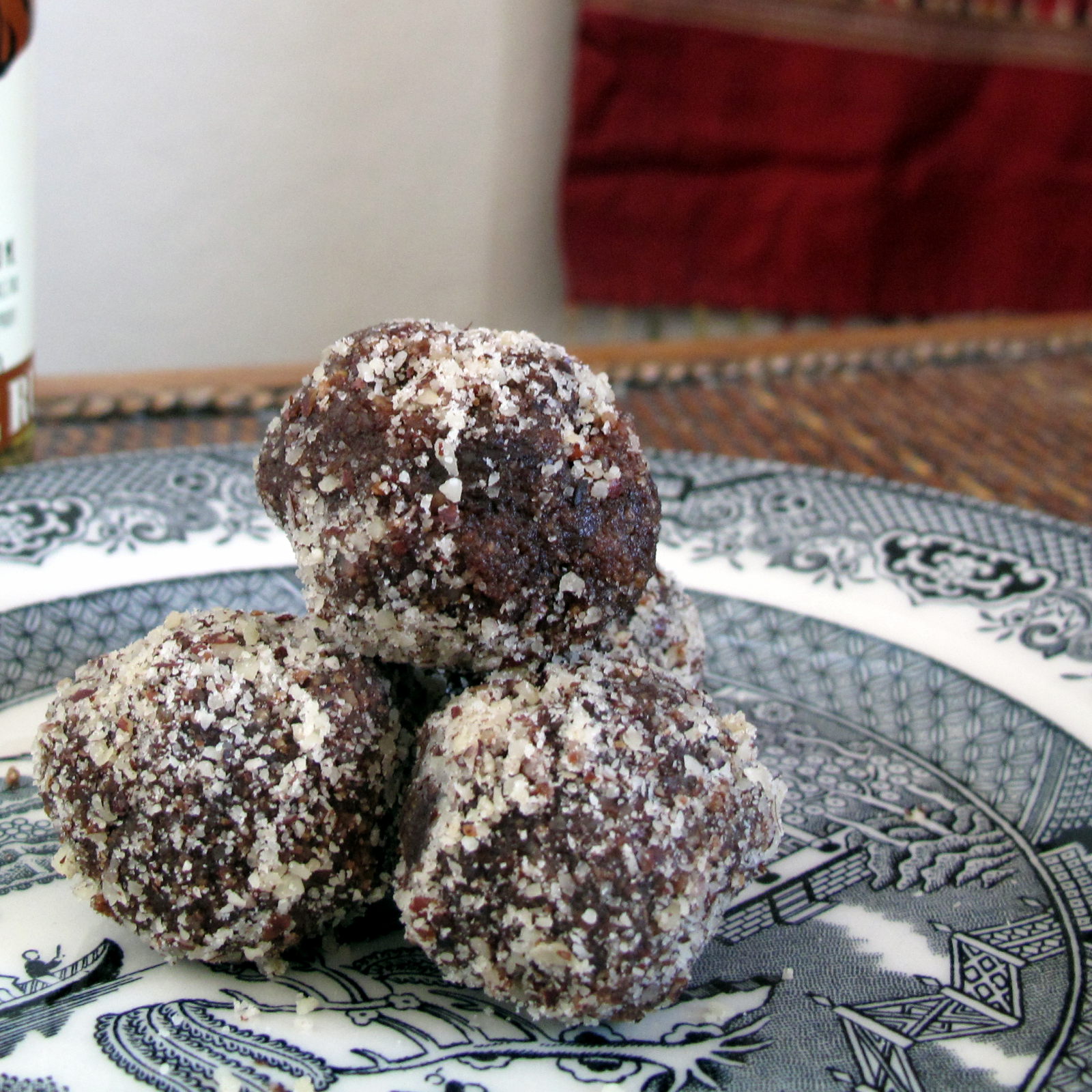 Ingredients
Tequila-Lemon
Cocoa-Nocino
2
cups, finely ground
Lemon Wafers
Chocolate Biscoti
1
cup
Powdered sugar
Powdered sugar
1
cup
Almond meal
Ground hazelnut
1

1

/

2

Tbl
Honey
Corn syrup

1

/

4

cup
Tequila
Nocino
Preparation
Place the cookies or wafers in a food processor and run until they're ground fine.
Add the powdered sugar and ground nuts, and mix for a few pulses of the processor.
Mix together the honey or corn syrup with the desired alcohol.
Start the food processor and slowly pour the liquid into the dry ingredients.
Run the processor until everything is mixed. You should have a thick dough.
Form the dough into small balls about 1" around. I like to use a small ball-scoop for this.
Roll the balls in some additional ground nuts to coat and place them in the tin.
Cover the tin and store in a cool place for about two weeks before eating.
The balls will actually keep in a tightly closed tin for more than a month. Just keep them in a cool dry place, but not the refrigerator. They will dry out quickly if kept that cold.