Chocolate 'Brownie' Pie
Thanksgiving dessert may mean pumpkin pie to most people, and while that eponymical dish certainly wasn't unknown around our house, what always sticks in my mind about the biggest meal of the year was this somewhat odd combination of pie and cake. It has made an appearance at every Thanksgiving I can remember. I have no idea where my mother got the recipe, but I think the attraction for her was that it was simple to make (to be honest, she wasn't the greatest of cooks) and could be made a day or two ahead of time.
This is indeed a very quick and easy dessert to make. It definitely pays to have all the ingredients prepped before you start. I usually separate the eggs so the whites can warm up while I heat the oven and measure out the rest of the ingredients. Perhaps the hardest part these days is finding the chocolate wafers. It used to be that every supermarket carried them, but now they're getting hard to find in my part of the world. Worst case, you can get them on Amazon. A food processor is definitely handy for grinding the wafers and chopping the nuts.
Mom always made this into two pies, but for the photo I made a single pie in a spring mold.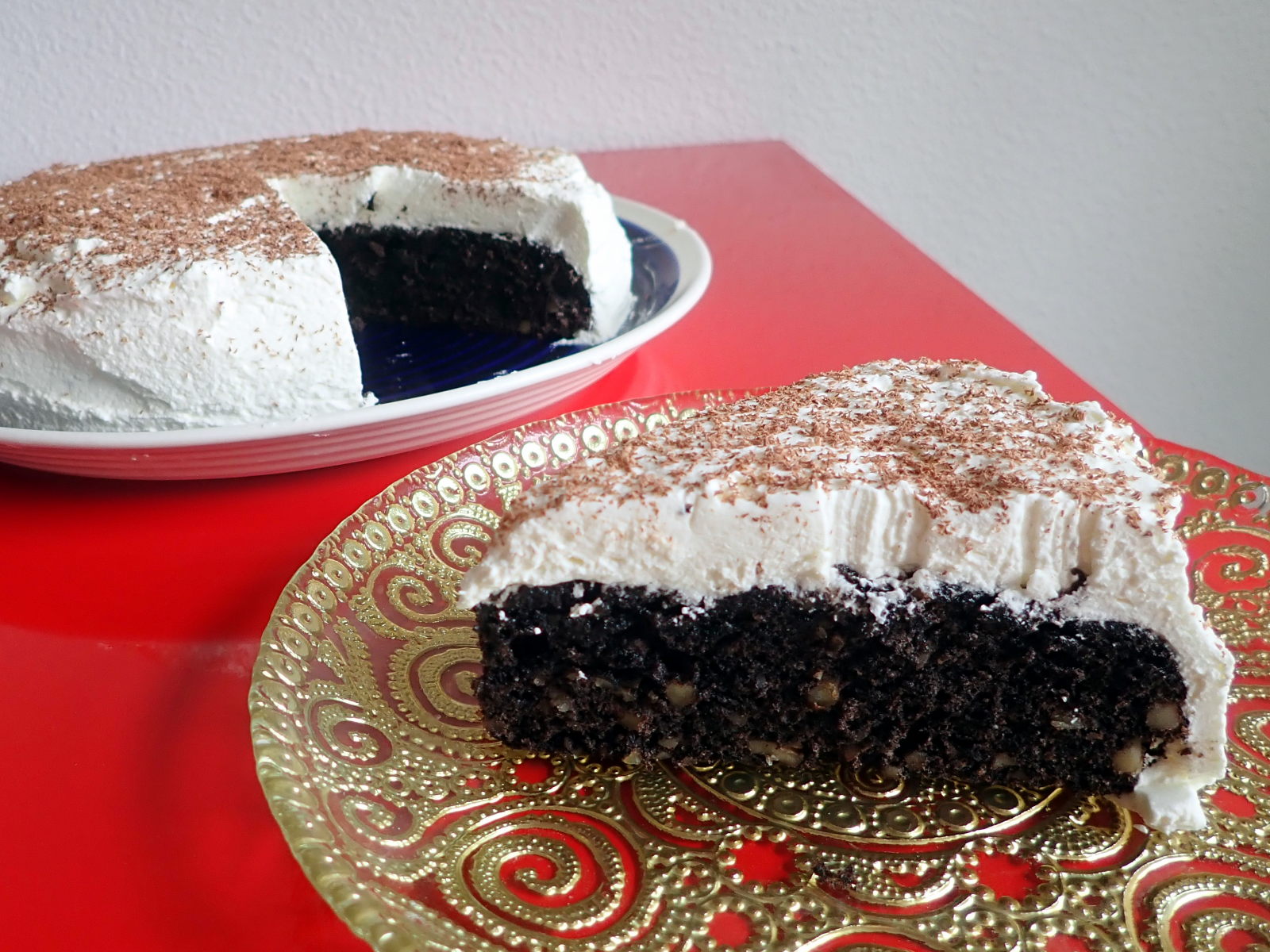 Ingredients
Makes two pies
6
egg whites
1 box
9 oz crushed
Nabisco Famous Chocolate Wafers

1

/

2

cup
Sugar
1
tsp
Vanilla extract
1
cup, chopped
Nuts (walnuts)
1
cup
Heavy whipping cream
Preparation
Preheat the oven to 350°F
Whip the egg whites into stiff peaks.
Gradually add the sugar and vanilla.
Fold in the ground wafers and chopped nuts.
Pour the batter into two greased pie pans or one spring mold.
Bake for 25 minutes
Cool the pie thoroughly before topping with whipped cream.
The batter won't rise that much when baked. It will remain springy when cooled. The texture is probalby more cake-like. I would compare it to a brownie in both taste and texture. It will keep in the refrigerator for a few days at least.
Nutrition Facts

Servings Per Recipe 16

Amount Per Serving
Calories 235
Calories from Fat 142
Total Fat 16g
24%
Saturated 5g
26%
Trans Fat 0g
Cholesterol 17mg
6%
Total Carbohydrate 21g
7%
Dietary Fiber 2g
8%
Total Sugars 11g
Protein 5g