Black Bean and Corn Chili
While I like to cook, I don't necessarily like to spend hours in the kitchen making my daily meals. I like quick dishes as well as some things I can make in advance. Chili is one of those dishes I've always liked, but most recipes I've ever encountered seemed to require hours of preparation. The idea for this recipe came from a dish I was served in the Bahamas, of all places. Like this, the dish was vegan. The discovery of the instant refried beans at Natural Grocers was what really makes the recipe work for me. It makes the dish thick and hearty without using any other thickeners.
The one concession I make to spending more time than absolutely necessary to make this dish is to cook my own beans. You can of course use canned beans ready to use, but they can be a bit over-cooked for my taste. Preparing them myself also gives me a chance to season the beans. Unlike what most traditional cookbooks say, I don't soak the beans overnight. Cooking them for an hour or so more than does the job.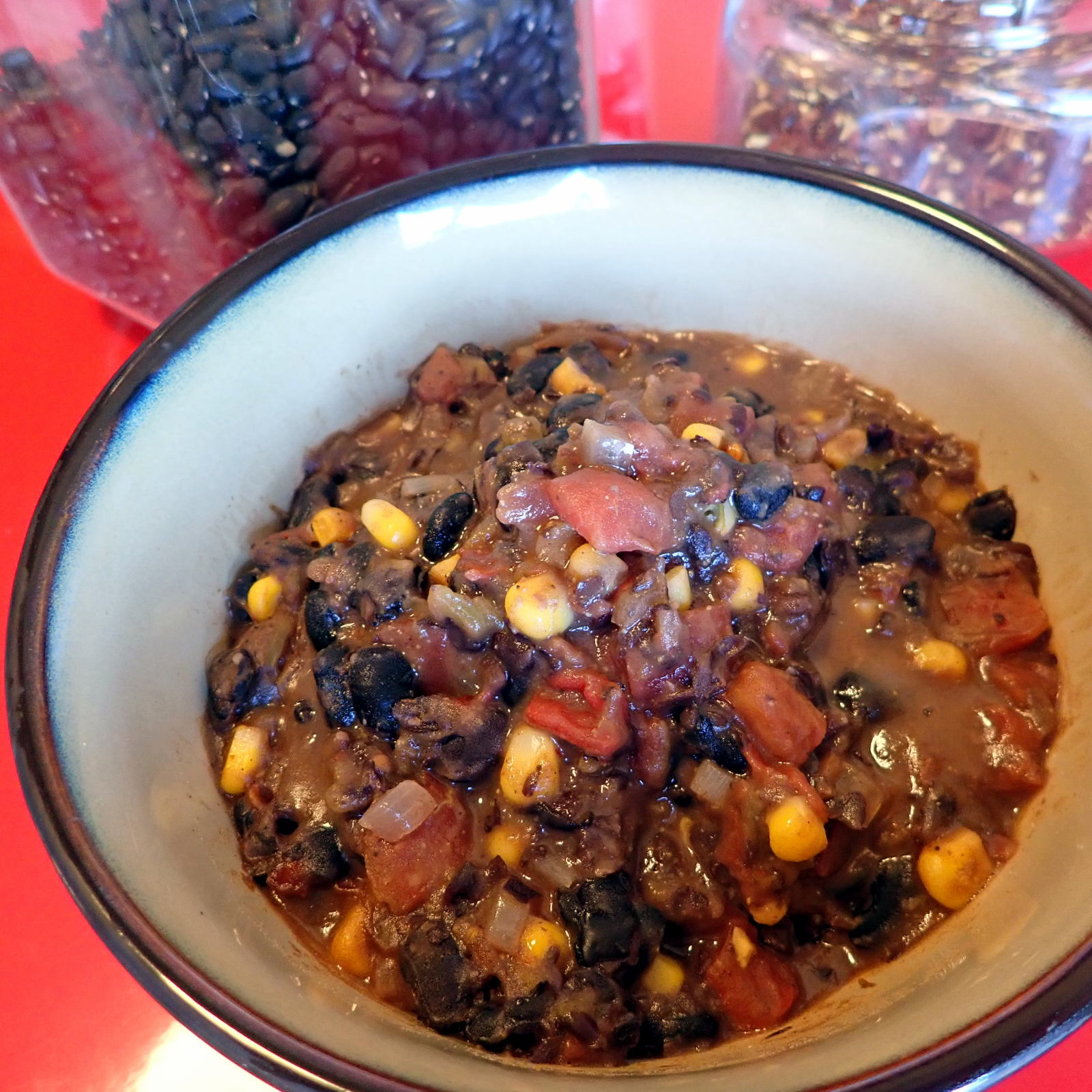 Ingredients
1
cup
Dried black beans
4
tbsp
Safflower oil

1

/

2

whole chopped
Onions, red, raw
2
7 oz cans
Diced green chilies, fire roasted
1
cup
Corn, yellow, whole kernel, frozen
2
10 oz cans
Diced tomatoes with lime juice & cilantro
2
tsp
Ground cumin
1
tsp
Dried chili flakes

3

/

4

cup
Instant refried black beans

1

/

2

cup
Vegetable broth
Preparation
To prepare the black beans, cover them with plenty of water in pot over high heat. Optionally, add a teaspoon or so of ground cumin and a dash of crushed red pepper flakes.
Once the water comes to a boil, reduce heat, cover, and simmer for at least 60 minutes. Extend the cooking time if the beans are still too firm.
Drain the beans and set aside. I usually make them a day ahead and keep them in the refrigerator.
Now, to prepare the chili, heat the oil and saute the chopped onion until it starts to brown.
Add the green chilies, cooked black beans and corn, stirring to combine after each addition.
Stir in the diced tomatoes, then add the seasoning, instant refried black beans and vegetable broth.
It will take a few minutes for the refried bean flakes to absorb the liquid. You may need to add a bit more if the chili still seems dry.
Let the chili simmer for a few minutes, then remove from heat and let set a while before serving. Or, transfer to storage containers to use for meals as needed.
Nutrition Facts

Servings Per Recipe 6

Amount Per Serving
Calories 170
Calories from Fat 90
Total Fat 10g
15%
Saturated 3g
16%
Trans Fat 0g
Cholesterol 0mg
0%
Total Carbohydrate 19g
6%
Dietary Fiber 5g
22%
Total Sugars 5g
Protein 11g